Almay
TINA.org investigated Revlon's Almay Simply American™ marketing campaign and found that the campaign — which included television commercials, social media, online ads, and a national bus tour, all replete with American flags and other patriotic symbolism  — made the implied, unqualified claim that the Almay product line was Made in the USA when more than 95 percent of the cosmetics sold on the Almay website failed to meet the legal standard for making such a claim.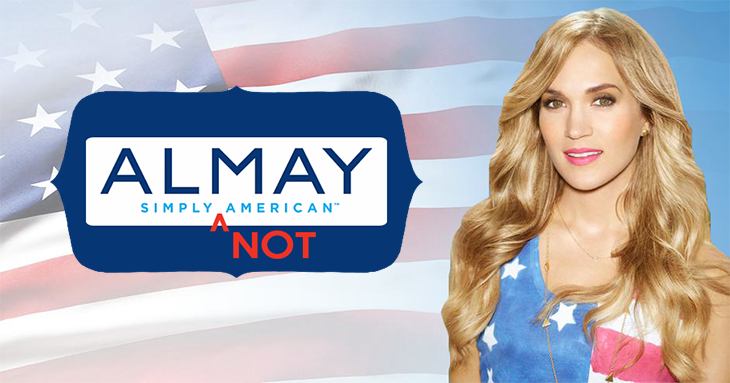 Sent warning letter to company
Filed complaint with FTC
Filed complaint with NY attorney general
Revlon removed deceptive origin marketing
2017
April 1
Revlon removes the slogan "Almay The American Look™."
2015
July 1
As a result of TINA.org's efforts, Revlon changed its "Almay Simply American™" slogan to "Almay The American Look™."
May 19
TINA.org sends complaint letter to the FTC, as well as to the New York Attorney General's Office, asking them to take action to halt Revlon's deceptive marketing.
May 15
Revlon responds to TINA.org disagreeing with TINA.org's findings and asking that it "discontinue any further inquiry into Almay's advertising."
May 8
TINA.org sends warning letter to Revlon regarding its deceptive Almay Simply American campaign, and asking that the company correct the issues within one week.
'Almay Simply American' Slogan Gets a Makeover
'Almay Simply American' Slogan Gets a Makeover
Changes come after TINA.org files complaint.
Almay Cosmetics Containing PFAs
Almay Cosmetics Containing PFAs
Allegations: Falsely marketing cosmetics as clean, healthy, and non-toxic when they contain harmful ingredients
Almay's Hypoallergenic Products
Almay's Hypoallergenic Products
In August 2018, a class-action lawsuit was filed against Revlon and Almay for allegedly misleadingly marketing Almay products as "hypoallergenic" when, according to plaintiffs, they contain allergens, irritants, and other…