CATrends: Marketing Claims for Products Containing PFAS
Class-action lawsuits target human and environmentally-friendly claims.
This article highlights a trend in class-action litigation as identified by our Class-Action Tracker. Thus the name of this feature, CATrends. (Apologies if you were expecting funny cat videos.)
Best Picture winner "Everything Everywhere All At Once" could've been about PFAS.
Short for per- and polyfluoroalkyl substances, PFAS are a class of thousands of synthetic chemicals prized for their ability to make products resistant to heat, oil, stains, grease and water. They are found in everything from personal care products and cosmetics, to fast-food containers and clothing, and, consequently, everywhere else too – in lakes, in rivers and in many types of animals, including humans. And once they're here, they're here to stay: PFAS don't break down naturally, earning them the nickname "forever chemicals."
Yet according to a flood of class-action lawsuits, some companies deceptively market products containing PFAS as compostable, as well as eco-friendly and sustainable when the chemicals are known to contaminate the environment. Products containing PFAS have also been marketed as safe, healthy and natural, despite exposure to the chemicals being linked to various health problems in humans, including liver damage, decreased fertility and cancer, plaintiffs allege.
Since 2020, more than 30 class-action lawsuits have been filed against companies that use PFAS in their products and then make human or environmentally-friendly claims about those products. Several of the lawsuits have come since the start of 2023, including one filed in January alleging that supplement company BioSteel Sports Nutrition markets a sports drink as healthy, clean and eco-friendly when it contains PFAS that are harmful to people and the environment.
[D]espite Defendant's consistent and pervasive marketing representations to consumers that their Product is a healthy sports drink, Plaintiff's independent testing has determined that the Product actually contains PFAS – a category of man-made chemicals with a toxic, persistent, and bioaccumulative nature which are associated with numerous health and environmental concerns. The presence of PFAS is entirely inconsistent with Defendant's uniform representations that the Product is clean, eco-friendly, and good for both consumers and the environment.
Class-action lawsuits have also been filed against beverage brands Simply Tropical, Capri Sun, POM Wonderful and Bolthouse Farms, for falsely marketing drinks containing PFAS as healthy and natural, according to plaintiffs. And a lawsuit against Keurig Dr Pepper alleges that while the company represents that it manufactures and distributes beverages "responsibly" and makes a "positive impact" on people and the planet, the bottles the company uses for its Nantucket Nectars contain harmful PFAS.
Defendants have also included Burger King and McDonald's, both of which were sued for marketing their burgers as sustainable when, according to plaintiffs, the wrappers they come in contain PFAS, and Chinet, Amazon and Target over compostable claims for disposable bowls that plaintiffs say incorporate PFAS.
Lastly, the outdoor retailer REI has been hit with a lawsuit claiming that its PFAS-containing waterproof clothing is falsely marketed as sustainable, and pending lawsuits against cosmetics companies – including L'Oréal, Almay and CoverGirl – allege they falsely market waterproof mascaras and other products as safe when they contain harmful PFAS.
What's next
TINA.org will continue to track these class-action lawsuits. But there are already signs that companies are going to fight back. Earlier this year, lobbying by the chemicals industry helped kill proposals in Congress that would have banned PFAS in food packaging, textiles and cosmetics, the Guardian reported.
Find more of our coverage on greenwashing here.
---
You Might Be Interested In
Deceptive Ad Trends to Be Wary of in 2023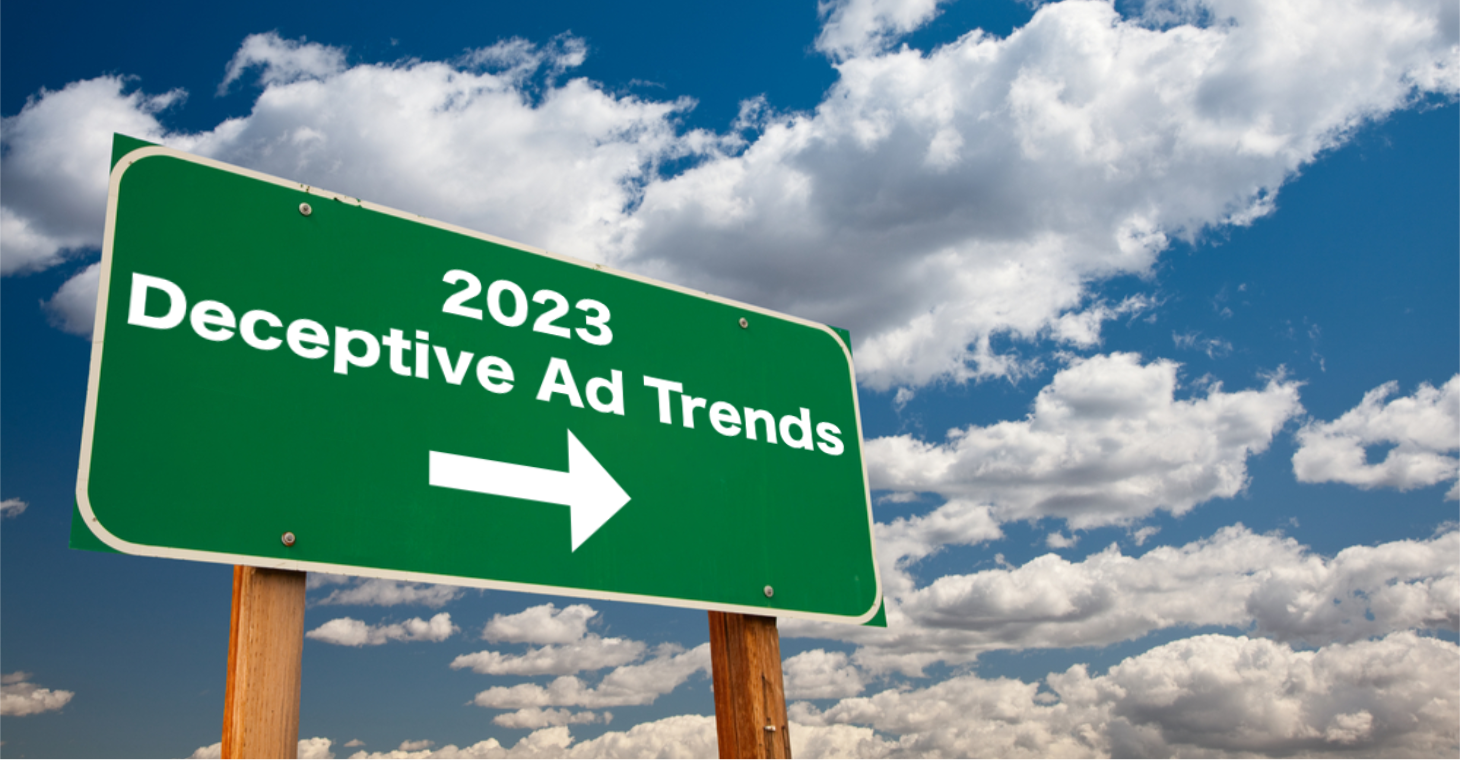 Deceptive Ad Trends to Be Wary of in 2023
And the regulatory efforts that seek to curb them.
CATrends: Lidocaine Pain Relief Patches
CATrends: Lidocaine Pain Relief Patches
Plaintiffs allege packaging misrepresents lidocaine dosages as 'maximum strength,' among other things.
CATrends: Noninvasive Prenatal Tests
CATrends: Noninvasive Prenatal Tests
Investigation gives birth to lawsuits challenging accuracy of prenatal tests.