TINA.org Reports Walmart's Made in USA Mess to FTC
False and deceptive made in USA representations prompts action.
|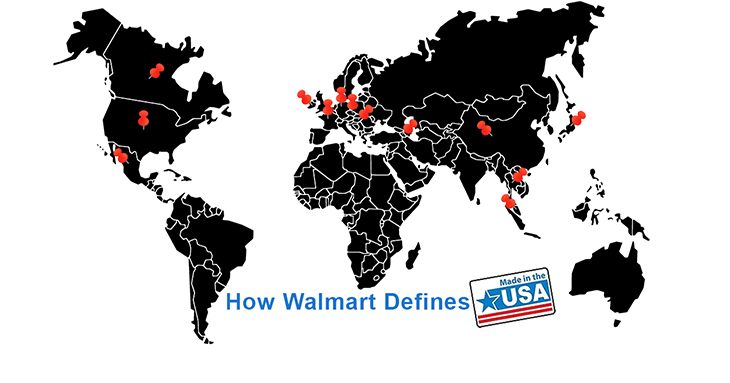 UPDATE 10/20/15: The FTC said that following an inquiry by the agency, Walmart took several steps to prevent consumer deception regarding Made in USA claims. The labeling issues were raised by TINA.org. Our original story about the TINA.org complaint to FTC follows. 
Walmart has missed a self-imposed deadline to rid its website of USA labeling errors following a TINA.org investigation that readily uncovered more than 100 false and deceptive made in the USA claims on the site. Three weeks after initially alerting the company to the misrepresentations, the world's largest retailer has yet to get its house in order.
After TINA.org sent Walmart a letter requesting changes, the company pledged it would fix the errors within two weeks. Walmart had called the errors a minor issue and attributed them to coding errors and incorrect information from suppliers. But the site is still riddled with made in the USA misrepresentations and TINA.org is now calling on the FTC to take action to compel changes.
"The fact that Walmart has yet to completely clean up its act shows that the problem was never minor or an easy fix," said Bonnie Patten, executive director of TINA.org, which on Tuesday filed a complaint with the FTC. "Now Walmart will have to answer to the FTC as to why consumers still can't trust its made in the USA representations."
TINA.org first notified Walmart of the USA labeling issues in a June 22 warning letter. The company has made some headway correcting made in the USA misrepresentations since then — for example, pulling its "Made in the USA" badge from six products (including two of its own brands) that have packaging indicating they are at least partly made in China. But 35 of the first 100 examples of errors that TINA.org published still contain conflicting origin information as of July 13.
More importantly, TINA.org has easily identified another 100 USA misrepresentations on the company's website, casting further doubt on Walmart's position that the problem is "limited to a small number of items." The second batch of errors includes Walmart's Great Value brand of aluminum foil that has specification information on Walmart.com stating that the product is assembled in the U.S. with U.S. components despite packaging that says it's a "Product of Armenia."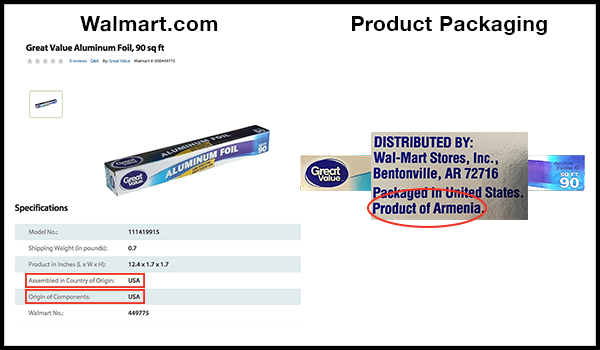 TINA.org reached out to Walmart for comment for this story but the company has not yet responded.
The American-made labeling mess comes amid Walmart's widely publicized effort to purchase an additional $250 billion in American products. Just last week the retailer held a U.S. manufacturing summit to buy up additional U.S.-made products to feature on its shelves and website. It also comes at a time when more than 80 percent of consumers say they are willing to pay more for made in the USA products than their foreign counterparts.
Suppliers not supplying answers
TINA.org reached out to several suppliers whose products were mislabeled on Walmart's site for information about the source of the errors. But many did not respond. Two companies that did respond did not reveal why the inaccurate labels were posted on the Walmart site.
Rubbermaid said the company follows the law when it comes to made in the USA claims but conceded that two of the 11 products listed on Walmart.com with the "Made in the USA" badge do not meet the requirements for the unqualified origin claim. USA labels for the two products that Rubbermaid named and that TINA.org listed in the first sampling — a food storage set and a deck box — have been removed from the site. However, the unqualified USA label of another Rubbermaid product included in the original list of 100 remains. That product, a 35-gallon container, has packaging that states in qualifying language that it is "Made in the U.S.A. of Global Components"
FTC labeling standards on unqualified claims — like the "Made in the USA" badge affixed to the container — require that a product must be "all or virtually all" made in the U.S.
Kimberly-Clark, which had three Depend products that TINA.org found were mislabeled in its initial review of Walmart's site, told TINA.org that "an investigation is underway with the end goal being to ensure our advertising is accurate."
This is the second complaint TINA.org has filed regarding made in the USA claims. In May, TINA.org alerted the FTC and the New York State Attorney General that Revlon's ongoing "Almay Simply American" campaign featuring Carrie Underwood was making deceptive made in the USA claims. Almay does not disclose in its TV ads or on its website that more than 95 percent of its products do not meet the legal standard for American-made. Revlon has since employed a new tagline — "Almay The American Look" — in some of its marketing.
Find more of our coverage on what made in the USA really means here.
UPDATE 7/28/17: Walmart has done away with its "Important Made in USA Origin Disclaimer" that attempted to shield it from Made in the USA misrepresentations on product pages. A new disclaimer states that Walmart has not verified that any product information is accurate and reiterates that consumers should rely on product packaging and manufacturer information.
---
You Might Be Interested In
SKKN by Kim's Sustainability Claims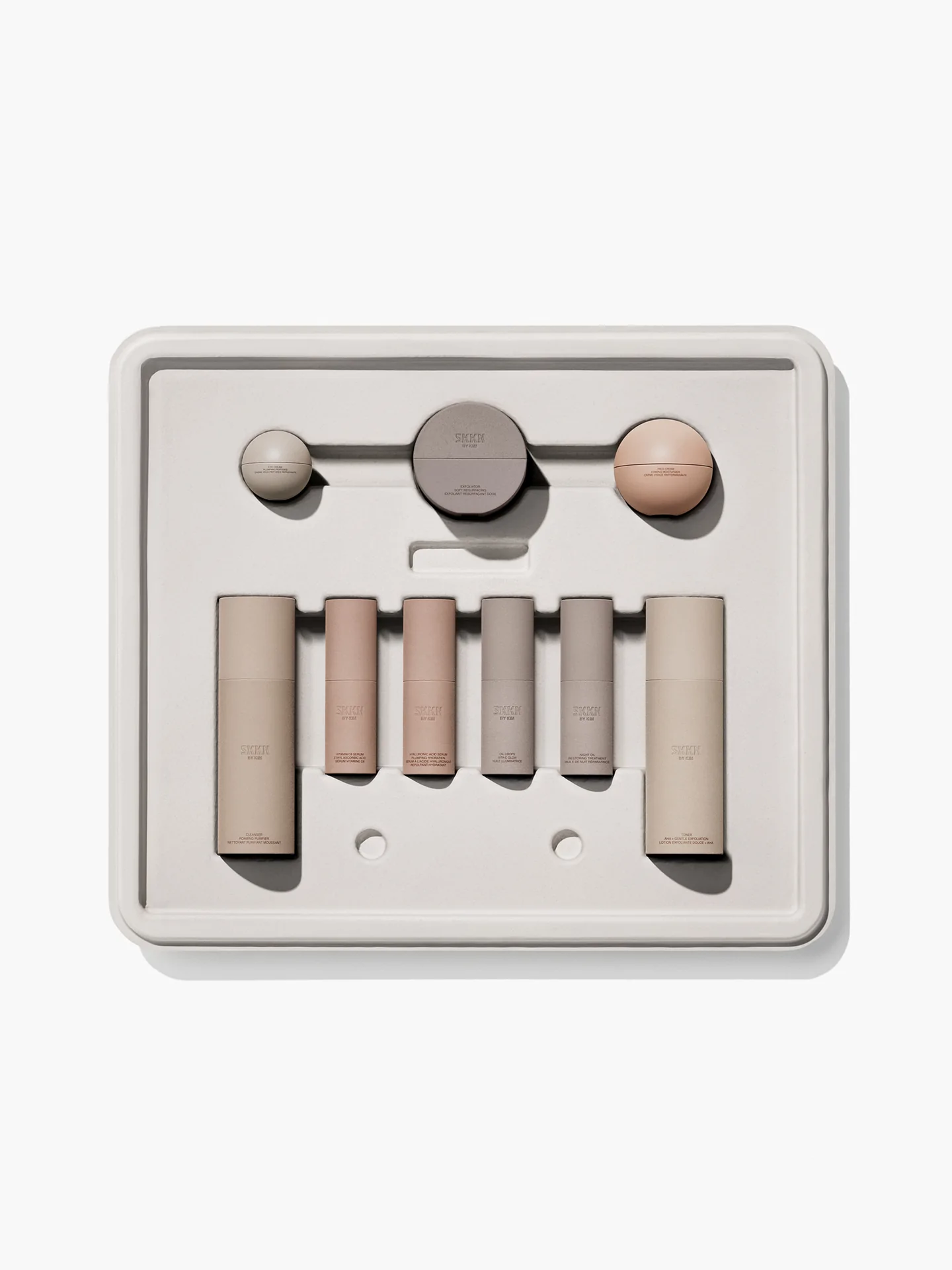 SKKN by Kim's Sustainability Claims
Consumers accuse Kim Kardashian of greenwashing.
Fungus Eliminator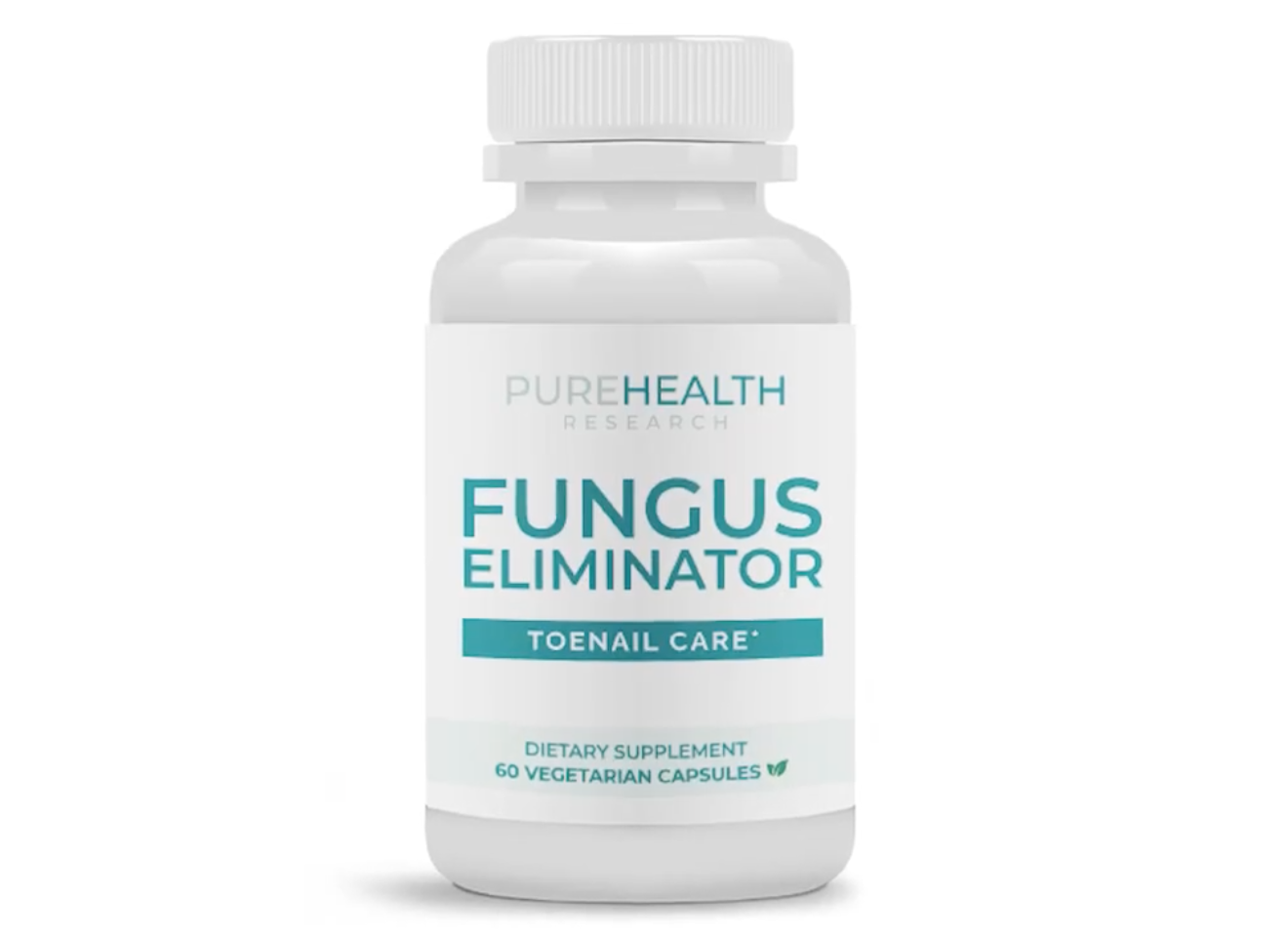 Fungus Eliminator
Forty-five million Americans are 'fighting a losing battle' against toenail fungus. Could this supplement be the solution?
Another One: TINA.org Calls Out DJ Khaled's Undisclosed Alcohol Ads, Again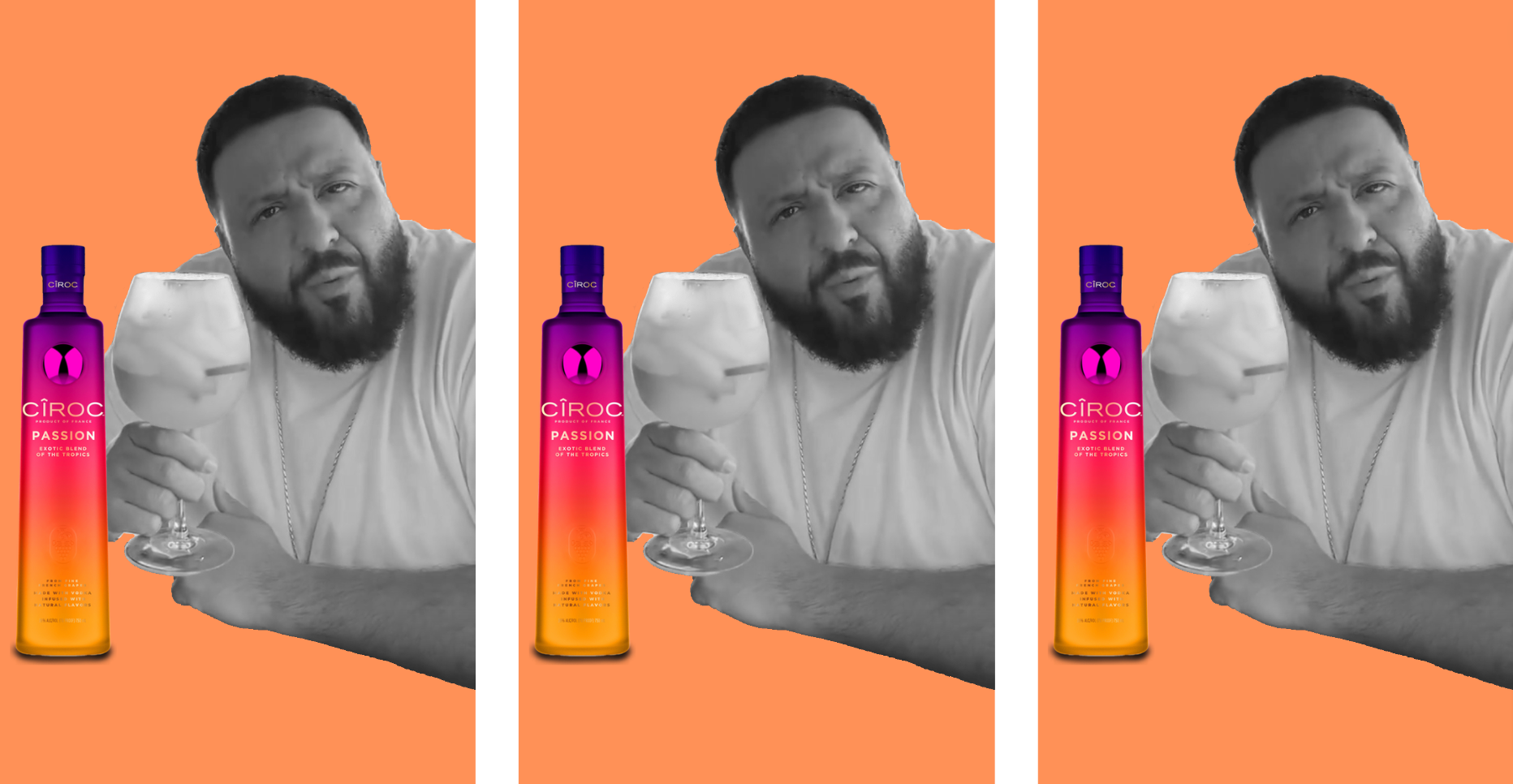 Another One: TINA.org Calls Out DJ Khaled's Undisclosed Alcohol Ads, Again
DJ Khaled is back to his old ways with his latest new drink alert.