Despite Boston-Made Claims, Many Gillette Products Wicked Imported
TINA.org files FTC complaint over Gillette's false and deceptive Made in the USA claims.
|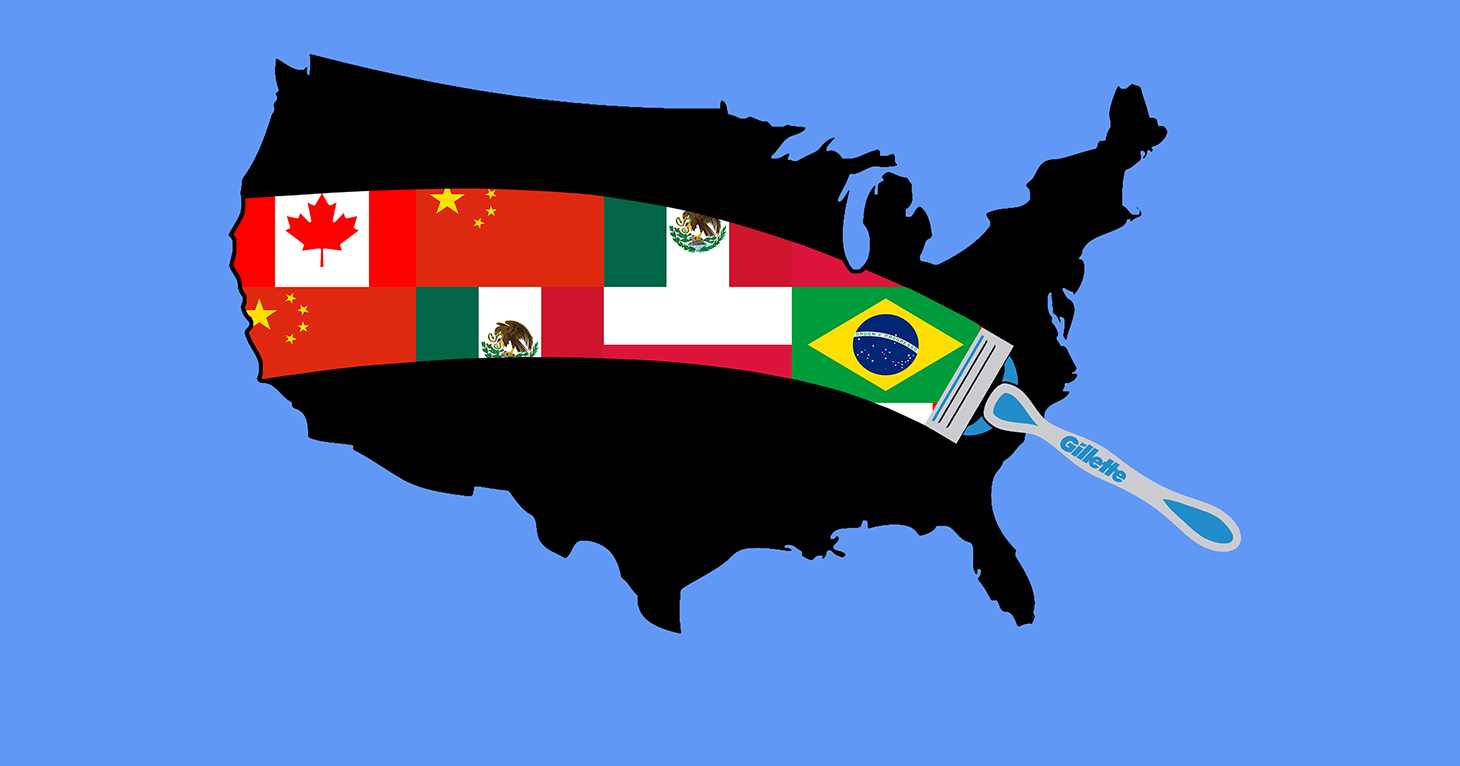 UPDATE 10/2/18: The FTC has closed an inquiry into Gillette's made in the USA claims, noting in an Oct. 1 letter to the razor maker changes that it has made such as the discontinuation of unqualified U.S.-origin claims in digital and broadcast advertising and on product packaging. The letter comes nine months after TINA.org filed a deceptive advertising complaint against Gillette with the FTC. Following TINA.org's investigation, in April, Gillette debuted a national television commercial that took the spotlight off of its Boston factory and noted that while the razor brand was "invented in Boston," its products are now "made and sold around the world." Our original story follows.
An All-American shave Gillette is not.
Despite a national ad campaign that highlights Gillette's sprawling World Shaving Headquarters in Boston — with the implication that all of its products are made in the USA — a TINA.org investigation has found that Gillette makes only a couple of its blades there.
The rest of Gillette's blades and razors, among dozens of other products, are either wholly or partially made in foreign countries, according to origin information on packaging. Even the blades that Gillette makes in Boston, per product packaging, require handles that are made in Poland and Mexico, which is to say "the best a man can get" simply isn't possible without the support of imported parts.
Considering the legal definition of made in the USA, that's a problem for Gillette.
The FTC's Made in USA standard calls for items marketed with an unqualified made in the USA claim to be "all or virtually all" made here. Anything less and the product or product line cannot legally bear the claim, be it expressed (e.g., "Made in Boston") or implied (i.e., through the use of U.S. symbols and geographical references to U.S. locations).
But that did not stop Gillette — the market leader in blades and razors whose parent company, Procter & Gamble, spent more than $7 billion on advertising in 2017 — from marketing not just its blades and razors but its entire product line as "made" or "built" in Boston in social media posts such as these (hover over image to see more):
It wasn't until TINA.org notified Gillette in a Dec. 21 warning letter that it was engaged in a false and deceptive made in the USA marketing campaign that the company began to take down these posts, in addition to dozens of others in a database of misleading U.S.-origin claims that TINA.org compiled and shared with Gillette in an effort to prevent further consumer deception.
Gillette had timed the publication of several social media posts in TINA.org's sampling with patriotic holidays such as Veterans Day and the Fourth of July and, in many instances, married U.S.-origin claims to assertions of quality and trust (see the fifth image in the gallery above).
But while Gillette has made significant progress scrubbing problematic posts from social media, the company has yet to make any changes to the most visible parts of its misleading made in the USA marketing campaign — two commercials (one 15 seconds, the other 30) that center on the Boston factory. Last month, the ads aired more than 1,000 times each on national TV.
In its letter TINA.org warned Gillette that if the company did not take prompt action to fully correct the deceptive advertising at issue it would alert federal regulators. On Monday, more than a month after officially putting Gillette on notice, TINA.org followed through by filing a complaint with the FTC over Gillette's made in the USA misrepresentations, urging the agency to take appropriate action.
"Patriotism is an incredibly effective marketing tool because many consumers are drawn to U.S.-made products," said TINA.org Executive Director Bonnie Patten. "Because patriotism sells, if Gillette is permitted to proceed with its false and deceptive made in the USA marketing campaign, not only will consumers who prefer American-made products continue to be misled, honest companies that follow the law will also lose out."
In addition to the commercials, a similar but not identical video on Gillette's YouTube channel that has racked up more than 500,000 views also continues to deceive consumers about where the company's products are actually from. Gillette is well aware of the commercials and YouTube video as they are part of TINA.org's database.
Checking the boxes for an implied made in the USA claim
Before TINA.org sent a warning letter to Gillette in December, it reached out to the company in November for comment on a different story about the 30-second commercial. As TINA.org would later note in the published article, the ad checks several of the boxes with respect to the things that the FTC says it considers when determining whether an ad is making an implied made in the USA claim.
U.S. symbols? The ad, below, has three shots of the American flag. Geographic references to U.S locations? The ad doesn't just talk about the Boston factory — it takes viewers inside, shows the workers, and ends with a collage of the faces of 21 Gillette employees.
Yet a Gillette spokesperson at the time dismissed the idea that the ad conveys any sort of made in the USA claim, saying in response to TINA.org's inquiry that the spot is simply "a tribute to our longstanding heritage of manufacturing in Boston."
Later, however, during the course of TINA.org's communications with Gillette following the warning letter, the company said that it would make changes to both the 30- and 15-second commercial. But Gillette gave no clear indication on when the changes would be implemented, as TINA.org wrote in its complaint to the FTC:
Since receiving TINA.org's warning letter, Gillette has — through its senior counsel — told TINA.org both verbally and in writing that "the original copy" for these two commercials would be discontinued. However, the time frame provided for this corrective measure has ranged between "March [2018]" and "[we] can advise you when we have an estimated date for airing" the updated commercials. To date, the commercials are still being aired nationally despite Gillette's knowledge of the deceptive marketing issues present.
TINA.org added:
This apparent stalling tactic simply allows consumers to continue to be deceived on a daily basis while the company inexplicably drags its feet.
Interestingly, Gillette airs a nearly identical commercial to the 30-second spot in Canada but with all of the U.S. references — except for an inconspicuous written disclaimer indicating that the factory in the ad is in Boston — removed.
If not America, where?
The foreign countries in which Gillette products are either wholly or partially made, according to origin information on product packaging, are China, Mexico, Poland, Canada and Brazil — though there are likely more as Gillette lists origin information on only about half of its products as represented on its website. Moreover, according to its latest annual report, P&G manufactures products in its grooming division, of which Gillette is a major part, at 21 domestic and international sites. Gillette's USA-made marketing does not mention any domestic site other than the Boston factory. One of the additional international sites may be Vietnam, where P&G broke ground on a $100 million factory for Gillette razors in 2015.
But of the Gillette products that do share origin information that are entirely made abroad, TINA.org counted nine disposable razors; six razor blades or cartridges (including the double edge blades pictured below); two body washes; and one shave gel. In addition, product packaging for seven Gillette razors indicated that their handles are foreign-made. Only two products in TINA.org's sampling of 68 — cartridges for the Fusion5 and Fusion5 ProGlide razor — had packaging stating that they are American-made.
Gillette informed TINA.org that it makes a third and fourth cartridge for its Mach3 and Mach3 Turbo razor at its Boston factory, though product packaging for those items did not list a country of origin.
On an FAQ page on its website, which most consumers probably never visit, Gillette acknowledges that it has manufacturing sites in "multiple countries around the world." Still, Gillette is quick to bring it back to Boston:
Gillette products have been made in Boston since 1905. As global demand for our product has increased, we have expanded our manufacturing capacity to multiple countries around the world. However, we continue to proudly manufacture Gillette's best blades in our hometown of Boston, Massachusetts.
An appeal to the patriotic consumer at a precarious time for Gillette

Gillette's made in the USA marketing push comes at a precarious time for the brand, which P&G purchased for $57 billion in 2005. Once the undisputed king of razors, Gillette has seen its market share drop precipitously in recent years, from more than 70 percent in 2010 to 54 percent in 2016. Gillette customers are jumping ship for lower-priced, online startups like Dollar Shave Club and Harry's. Nowhere is that more evident in the nearly $800 million decrease in net sales that P&G reported for its grooming division from 2015 to 2017.
Gillette's USA-made claims also come amid a wave of renewed interest and investment in U.S. manufacturing, which helped make 2017 the strongest year for American factories since 2004, according to a survey by the Institute for Supply Management, a trade group. Last year also saw the White House showcasing a product from every state as part of a patriotic event aimed at "honoring the incredible workers and companies who make 'Made in America' the world standard for quality and craftsmanship." (Though TINA.org found some inconsistencies with a number of the items the White House chose to highlight.)
And in survey after survey, consumers continue to show a preference for products marketed as American-made, with some saying they're even willing to pay more for those products.
Consumer calls out Gillette's misleading U.S.-origin claims

Gillette's false and deceptive made in the USA claims have not gone entirely unnoticed by consumers. On Dec. 2, in a Twitter post that included a photo of the Boston harbor, Gillette wrote: "A close shave starts with quality blades built close to home. So we make ours in Boston."
"Some, but not all," replied a consumer. "I think mine were made in Brazil."
Gillette had no response for the consumer before taking down the post.
While Gillette's senior counsel indicated to TINA.org that changes to the company's marketing would be coming (eventually), a Gillette spokesperson said in response to a request for comment on this story that "there is nothing wrong with our campaign." Read the full statement here.
This is TINA.org's fourth made in the USA complaint filed with the FTC (the others are Target, Walmart and Almay). In addition, TINA.org is currently tracking more than 30 class-action lawsuits alleging deceptive made in the USA claims. The FTC has also been on the beat. Out of the 26 staff closing letters that the FTC published on its website in 2017, 22 involved inquiries into companies' misleading U.S.-origin claims.
Read more about TINA.org's investigation into Gillette here.
---
You Might Be Interested In
FDA Sends Amazon a Warning Letter
FDA Sends Amazon a Warning Letter
At issue is company's distribution of products illegally marketed as drugs.
Liquid Death | Not A Waterboy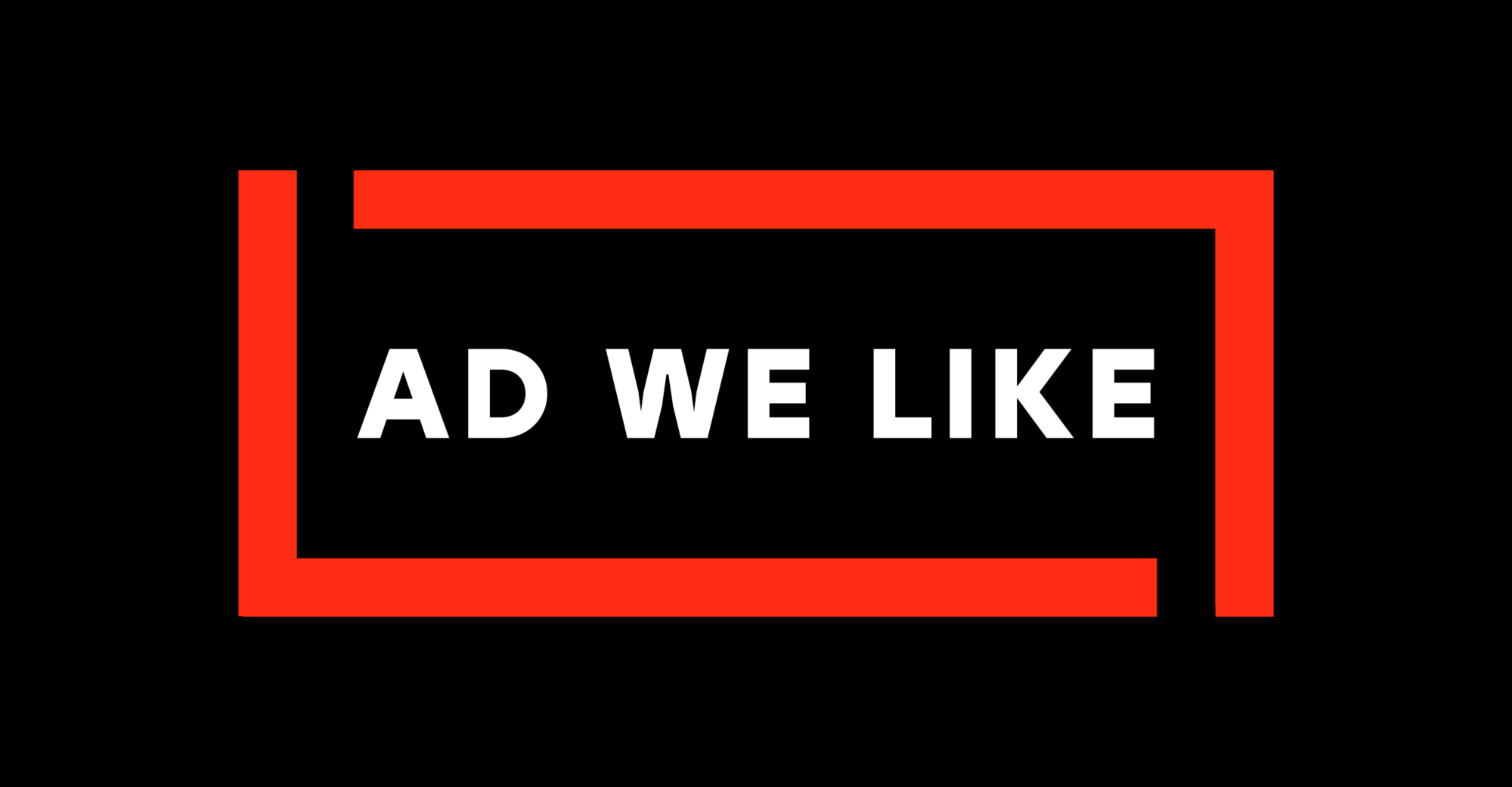 Liquid Death | Not A Waterboy
Canned water company signs a landmark endorsement deal with a "hydration assistant."
Is Anthony Anderson's Candyverse NFT Project a Scam?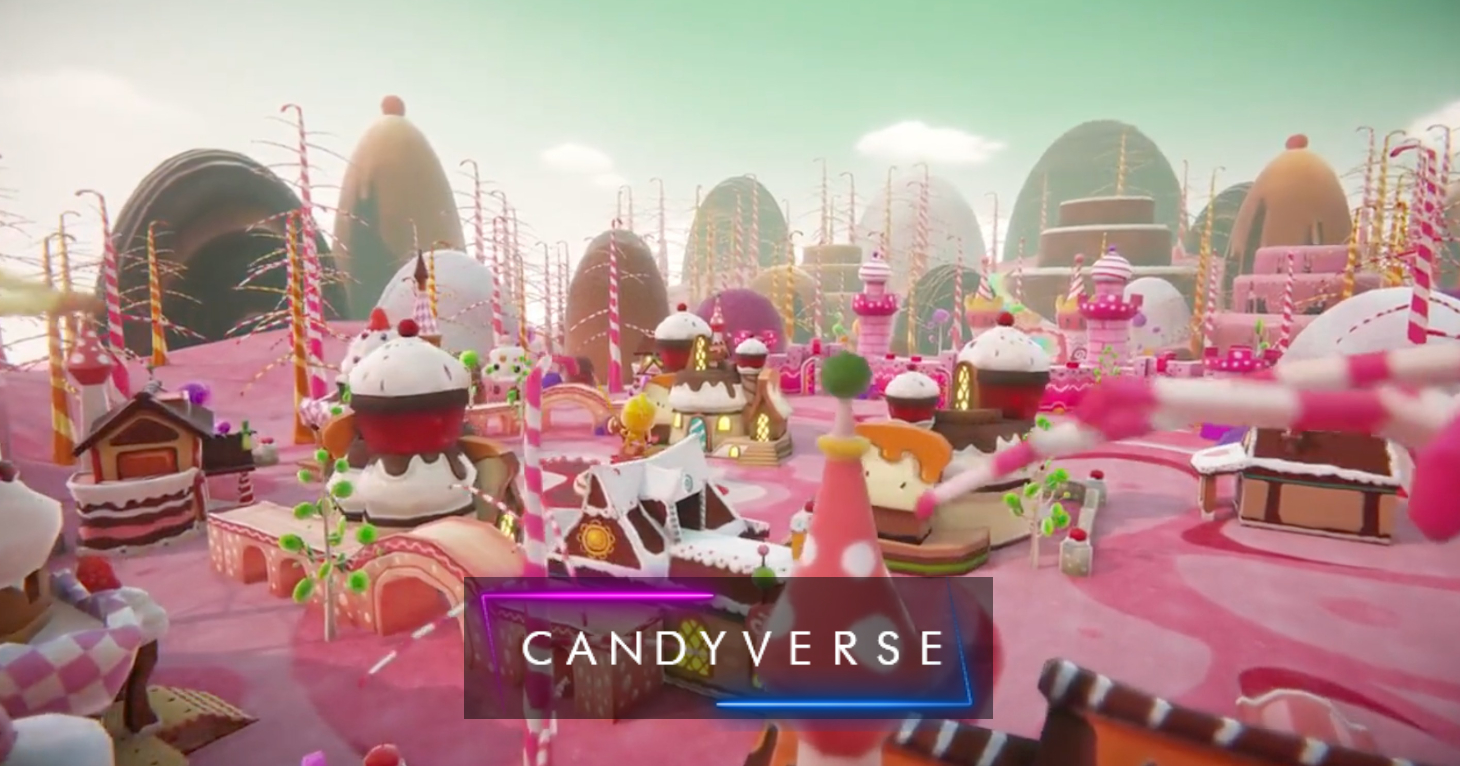 Is Anthony Anderson's Candyverse NFT Project a Scam?
The impact of a celebrity endorsement.