Vemma Affiliates' Health Claims Violate FTC Order
Top affiliates touting that products can treat everything from psoriasis to ADD.
|
Hundreds of thousands of Vemma Nutrition Company is a privately held multi-level marketing company that sells energy drinks, nutritional beverages and weight management products. Vemma, which calls itself an affiliate marketing company, is based in Tempe, Arizona. It was founded in 2004 by Benson K. Boreyko and his sisters. Vemma is an acronym for vitamins, essential minerals, mangosteen and aloe. affiliates have been trained to sell the beverage business and its products using unsubstantiated health claims in violation of an FTC order that Vemma CEO B.K. Boreyko entered into in 1999.
Pursuant to that order, Boreyko, Vemma and ALL of its distributors are precluded from promoting Vemma products as having the ability to:
"treat, cure, alleviate the symptoms of, . . . any disease or disorder; unless, . . . respondents [that's BK and Vemma] possess . . . competent and reliable scientific evidence that substantiates the representation."
But this hasn't stopped Vemma's top-earning affiliates from training their teams to use stories that claim Vemma can cure several diseases, treat dozens of medical ailments, and alleviate the symptoms of multiple maladies. TINA.org has requested that Vemma investigate the issue and has alerted the FTC to the problem.
Vemma's Top Earners – the Alkazins
No Vemma affiliates have earned more money than Tom and Bethany Alkazin, who have made well over $17 million with Vemma. The Alkazins have known Boreyko since he was 17 and they were distributors in Boreyko's New Vision International company before joining Vemma. As of 2011, the couple had more than 200,000 members enrolled in their A term most frequently used in association with multilevel marketing, it describes all the distributors who have been recruited to work under another distributor. Generally, distributors make money from the sales of all the other distributors below them in the business. with over $200 million in sales flowing through their organization, which was estimated as 40 percent of Vemma's total sales volume. Since that time their organization has only gotten larger with affiliates located throughout the U.S., Europe and Asia.
How did they do it? No need to guess because the Alkazins have been kind enough to write it all down in "Roadmap to Success" – a 40-page workbook complete with a CD that describes their  "8 step system for building a long lasting VEMMA Business!" The Alkazins first introduced this workbook in 2009, published a second edition in 2011, and in March 2014 published a third edition. Anyone can buy the latest workbook for the low, low price of $4.95 on www.vemmasuccesstools.com. (Well not really because you have to buy at least five copies for $24.95 and then there is the hefty shipping and handling costs.)
What these Vemma millionaires teach in their workbook is that one of the primary ways to market Vemma is by promoting the Vemma and Verve lines as products that can help with health problems and "prevent disease." But there is no reliable scientific evidence to substantiate the vast majority of the representations being made about the Vemma products.
Roadmap to Success
According to the Alkazin welcome letter found at the beginning of their 2014 workbook:
The Roadmap to Success is the EXACT roadmap that helped us [Tom and Bethany Alkazin] make our dreams and goals a reality. . . . Please do not try to reinvent the wheel. . . . Teach and train your team that as soon as they enroll a new Affiliate that wants to build a business, they must hand them the Roadmap to Success workbook so they too can learn what to do and how to do it.
So what have the Alkazins taught their 200,000-plus followers about making health and treatment claims? For that we fast forward to steps 3 and 4 of the 2014 workbook, which says in part:
Make a list of EVERYBODY you know.
Prioritize the list to the "Top 20 people that are having a health challenge." (This is so important that it's in boldface in the workbook.)
Stories are required to explain that "the results people are enjoying are remarkable!" These stories, the 2011 workbook instructs, can be found at  www.vmastories.com. The 2009 workbook advised affiliates to "get a few company magazines [sic] there are good distributor stories and testimonials in there."
Engage individuals in a conversation about the health benefits of Vemma products.
Remarkable stories
What a clever coincidence that VMA (as in www.vmastories.com) and Vemma are homonyms. The www.vmastories.com website, which the Alkazin 2011 workbook mentions twice as a must-have, lists 51 different health conditions ranging from psoriasis to Crohn's disease to diabetes to multiple sclerosis, and contains over 100 testimonials that claim "the Mangosteen and Mineral product" has either treated, cured, alleviated or prevented their disease or disorder.
In fact, the health benefits recorded by these testimonials are so incredible that "the Mangosteen and Mineral product" (aka Vemma) is referred to on multiple occasions as a "miracle." According to the testimonials, Vemma can, among other things:
Individuals also talk of using the product topically to eliminate psoriasis, and remove a plantar wart. In fact, there is even a testimonial in which a woman says she gave Vemma to her dying dog and it saved the dog's life.
There are multiple testimonials in which people claim that as a result of taking Vemma, they were able to stop taking their expensive prescription medications. Two testimonials, one by Daniel L., who is listed as suffering from elevated triglycerides, irritable bowel syndrome and kidney stones, and Dolores, who is listed as suffering  from fibromyalgia, assert that they stopped taking their prescription medications so they could test the true health benefits of Vemma. According to these testimonials, Vemma worked better than their prescription medications.
Mangosteen and Mineral = Vemma
The website tries hard not to publicize the fact that it's all about Vemma products (perhaps because there is no reliable scientific data to back up the vast majority of the claims and it, therefore, violates Boreyko's and Vemma's FTC consent order.) So, instead of referring to Vemma by name, the site continually refers to Vemma as "the Mangosteen and Mineral product."
However, there are at least two smoking guns on the site that reveal the product is Vemma. The first is from Mary who says she took "Vemma" and now all her pain from arthritis is gone. The second testimonial comes from Rachael E. who says she wants to thank "Dr. Yibing Wong [creator of the Vemma product line] for the miracle of Mangosteen and minerals . . . ."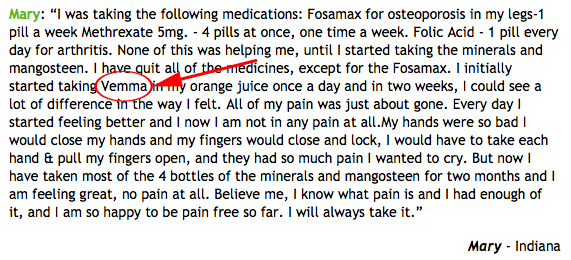 Alkazin team touts testimonials
The VMA stories site is popular among the Alkazin downline, including individuals very high up in their organization such as Alex Morton, who is the youngest "Royal Ambassador" of Vemma and a key figure in its YPR promotion (Young People Revolution), as well as Linda Proctor, and Dave Rasmussen, who refer to VMA stories on their web pages. Further, two other members of the Alkazin team promote the site in a video: Grady Polcyn and the Alkazins' son, Brad, who holds the number two spot in the Alkazin downline. (Tip: Fast forward to 6:04 for the vmastories.com reference.)
And let us not forget Twitter – there are more than 40 tweets promoting www.vmastories.com, such as:
Should know better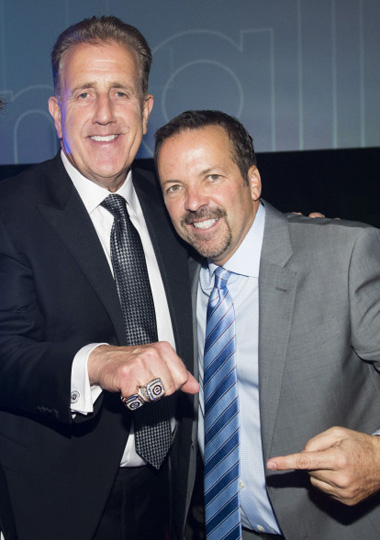 There can be little doubt that Tom and Bethany Alkazin are fully aware that their promotion of the VMA testimonial website violates the  FTC order that their good friend Boreyko is bound to. The Alkazins have known B.K. and the entire Boreyko family since their Amway days back in the 1980s. In fact, the Alkazins were distributors for New Vision International, which marketed a product called God's Recipe. According to the FTC, God's Recipe was advertised as a treatment for ADD and ADHD without competent and reliable scientific evidence to substantiate such treatment claims.
Countless claims
When it comes to making unsubstantiated health claims about Vemma products, www.vmastories.com is not the only game in town. In fact, there are countless YouTube videos, websites, audio recordings, tweets and Facebook posts that tout the miracle qualities of this "Mangosteen and Minerals" product by other affiliates. There are also presentations by physicians who talk of the curative effects of Vemma products.
No physician appears to be in higher demand with distributors than Vemma affiliate Barnet Meltzer, M.D., who has made several CDs endorsing the consumption of a liquid super-nutrient supplement made with mangosteen and minerals. What is not made clear in these CDs is that as a Vemma affiliate, Meltzer makes money when people purchase Vemma through his website – an issue that may run afoul of FTC rules. (Also Dr.  Meltzer, as an FYI, your marketing of Re-Vita on your website most likely means that you are violating paragraph 62 of the Vemma Affiliate Agreement.)
Then there is Vemma's Diamond Leader distributer Dr. John Edwards, who claims that Vemma can help with diabetes, blood pressure, cholesterol, arthritis and even certain cancers, among other health issues.
The second-highest overall earners in Vemma, Ruth and Jeff Elliott, who have made well over $8 million since they were personally invited by Boreyko to join Vemma, counsel their worldwide organization of more than 200,000 affiliates that sharing their health "story" has been the primary way the Elliotts have persuaded individuals to join their organization. In fact, Jeff Elliott's health story is also shared on the VMA stories website. 
Interesting dilemma
The FTC order that Boreyko agreed to in 1999 required his company, New Vision, to ensure for a five-year period that every new and old distributor receive a letter that stated in part:
No Team Member may make any claim regarding the therapeutic or curative properties of New Vision products, except those officially approved by New Vision. Therefore, unless officially approved in writing by New Vision, no Team Member may make any claims, in advertising, promotional materials, labeling, or presentations to prospective members, that New Vision products are useful in the prevention, diagnosis or cure of any disease or disorder.
Coincidentally, when the five years were up in 2004, Boreyko started Vemma and subsequently transferred the New Vision business operations to Vemma. As such, Vemma is the successor (or legally speaking more likely the assign) of New Vision and legally bound by the order, which doesn't end until March 3, 2019.
The order requires that Boreyko use best efforts to monitor how his distributors are promoting Vemma's products. Specifically, it states that Vemma must:
Institute a reasonable program of continuing surveillance adequate to reveal whether the representations of each of [Vemma's] independent distributors conform to the requirements of this order. . . . includ[ing] . . . [a] requirement that all independent distributors submit advertising to respondents for pre-approval . . . .
Vemma's Affiliate Agreement complies with this FTC requirement by stating multiple times that if a distributor wants to create his or her "own advertising or promotional materials, they must be approved by Vemma's Compliance department before using them." It further states that "you can't claim that Vemma products can be used in the treatment, prevention, diagnosis, or cure of any disease. For example, you cannot claim that drinking Vemma will help treat diabetes, heart disease, cancer or any other disease." (Or that it treats ADD/ADHD, the original issue that got New Vision in trouble). Uh-oh.
All of this leads to quite a dilemma for Vemma and Boreyko. Either they know about the existence of www.vmastories.com and are thereby violating the order, or they don't know about this testimonial website in which case they are violating the order by failing to "[i]nstitute a reasonable program of continuing surveillance adequate to reveal" such marketing platforms.
Because there is no reliable scientific evidence to substantiate the plethora of cure and treatment claims being made by Vemma distributors, TINA.org has contacted Vemma and requested it promptly investigate the marketing materials of its distributors and take action to make sure their marketing materials comply with the FTC order and its own Affiliate Agreement. TINA.org has also alerted the FTC to this issue. In an email response to TINA.org, Boreyko said Tuesday:
Please know that Vemma Nutrition Company does not make medical or drug claims, and prohibits its Affiliates from making such claims. We have a robust Compliance Department that does not hesitate to take action when we discover these types of violations. In fact, prior to this article, the Compliance Department had contacted the Affiliate involved with a link to the unapproved website discussed in your blog, and have instructed the Affiliate to take immediate remedial actions.  Please also know that all Vemma claims and all approved Affiliate claims are fully substantiated.
Some sites have vanished from the web as well since TINA.org contacted Vemma.
More information about TINA.org's continuing investigation of Vemma can be found here.
UPDATE 7/21/15: Vemma notified TINA.org that it had terminated Dr. John Edward's distributorship on July 15.
---
You Might Be Interested In
DSA Award Winners Are Ethics Code Violators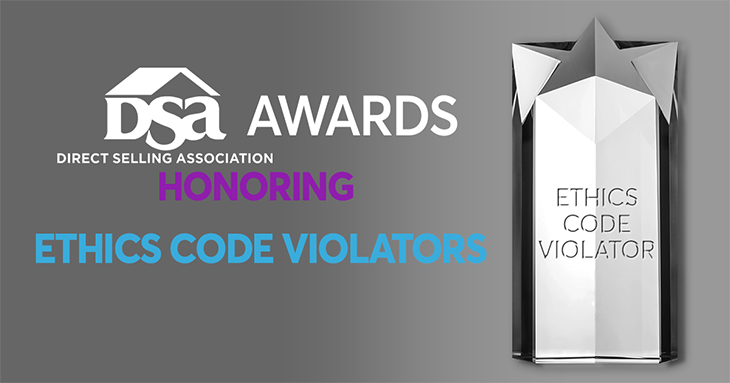 DSA Award Winners Are Ethics Code Violators
Why is this industry group honoring MLMs making illegal marketing claims?
Vemma Frenzy Ends: Judge Limits Vemma's Operations
Vemma Frenzy Ends: Judge Limits Vemma's Operations
Court concludes Vemma likely operating a pyramid scheme.
TAKEDOWN: Feds Move against Vemma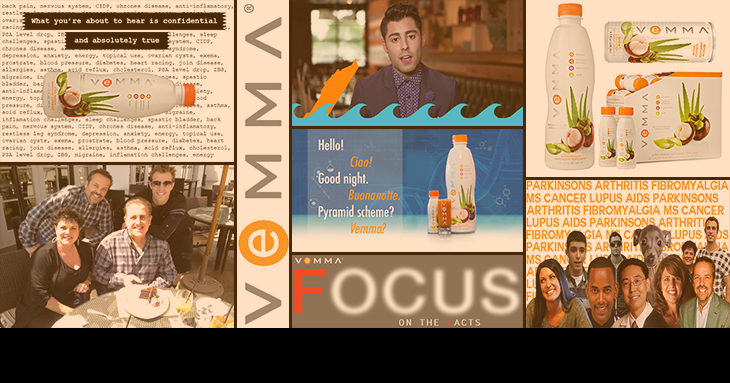 TAKEDOWN: Feds Move against Vemma
FTC alleges Vemma is a pyramid scheme and freezes assets.