FTC Sues Neora (formerly Nerium) Alleging It Was a Pyramid from the Start
FTC complaint also features deceptive health and income claims.
|
The FTC on Friday filed a lawsuit against Neora, a Texas-based Multilevel Marketing – a way of distributing products or services in which the distributors earn income from their own retail sales and from retail sales made by their direct and indirect recruits. selling anti-aging products that, until recently, was known as Nerium International, alleging that the company has operated as an illegal pyramid scheme since its founding in 2011. The FTC's action comes three years after TINA.org filed a complaint with the agency alerting it to the company's deceptive marketing practices.
The FTC's complaint, which also names Nerium CEO Jeffrey Olson as a defendant, seeks to permanently stop the company's deceptive practices. It alleges that the company's compensation plan rewards recruitment over product sales, one of the hallmarks of a pyramid scheme. Distributors (or brand partners as Neora calls them) are also rewarded for making a substantial upfront investment — up to $1,000 in product purchases in their first month — and continuing monthly product purchases regardless of distributors' need for the products, according to the complaint. The complaint alleges that less than one percent of all rewards paid by Neora consist of commissions paid on the sale of products to retail customers. The products themselves can be purchased for less on Amazon or through Neora directly, the complaint notes.
The FTC's lawsuit also highlights deceptive health and income claims. In regard to deceptive health claims, the suit alleges that Neora deceptively promotes its EHT supplement as an antidote for Alzheimer's, Parkinson's, concussions and chronic traumatic encephalopathy (CTE) caused by repetitive brain trauma. With respect to misleading income claims, the FTC claims Neora promises recruits "lifestyle-changing income" when, in reality, less than five percent of brand partners earn more from Neora than they pay in fees and product purchases.
On the same day the FTC filed its lawsuit, Nerium filed a lawsuit against the agency claiming that the FTC is attempting to improperly change direct selling laws. UPDATE 9/2/20: Nerium's lawsuit against the FTC has been dismissed.
This is the second time in two months that the FTC has brought pyramid scheme charges against a prominent MLM that is also a member of the Direct Selling Association (DSA). Last month, AdvoCare, which is also based in Texas, agreed to pay $150 million to settle similar FTC allegations that it ran a pyramid scheme. While the FTC's complaint against AdvoCare named four top distributors, the agency's lawsuit against Neora names none. Meanwhile, two former top Nerium distributors, Mark and Tammy Smith, who left the company for Jeunesse Global in 2018, are suing Nerium and Nerium is suing the Smiths.
TINA.org sounds the alarm
In the summer of 2016, TINA.org warned consumers about Nerium (aka Neora) after an initial investigation revealed that the company and its distributors were making illegal disease-treatment claims to sell products and deceptive earnings claims to market the business opportunity. When Nerium failed to heed TINA.org's request to take down the inappropriate marketing claims, we notified the FTC about the company's deceptive marketing practices. At the time, Nerium's General Counsel stated in a letter that Nerium shared TINA.org's "interest in protecting consumers from deceptive advertising, and that the company takes "proactive measures … in an effort to prevent these types of issues from occurring in the first place."
But a year after this statement was made, TINA.org readily gathered more than 100 new deceptive income claims and 100 new examples of inappropriate health claims. As a result, in May 2017, TINA.org once again alerted the FTC to the company's continuing transgressions.
During its two-year investigation of Nerium, TINA.org warned consumers about dozens of consumers complaints filed with the FTC, more than 20 lawsuits involving the company and a stale income disclosure, which seemed to indicate that at least 88 percent of Nerium distributors made little to no money.
"The consumer harm caused by Nerium's deceptive marketing tactics cannot be understated. Not only did consumers lose money with Nerium but individuals with serious health issues were lured into this scheme with promises that Nerium products could cure their ailments," said TINA.org's Executive Director Bonnie Patten. "Let this be a warning to all MLMs that such malfeasance and brazen disregard for the law will simply not be tolerated."
Where was the DSA?
The The Direct Selling Association (DSA) is the national trade association for direct selling companies. was first informed of its member company's deceptive marketing practices by TINA.org in June of 2016 when the trade association was bestowing a marketing/sales campaign award on Nerium. After the DSA failed to take any public action against the company at that time, TINA.org attempted once again to reach out to the DSA via its Ethics Code Administrator in May 2017 explaining that:
Nerium's actions (and inactions) over this past year clearly show that unless an outside force is willing to intervene, Nerium will continue on with its deceptive marketing tactics, and in so doing, will defraud those with financial worries, and exploit those suffering from serious diseases and health issues. We trust you will not ignore these transgressions.
About a week later, the DSA honored Nerium as a Top 20 company: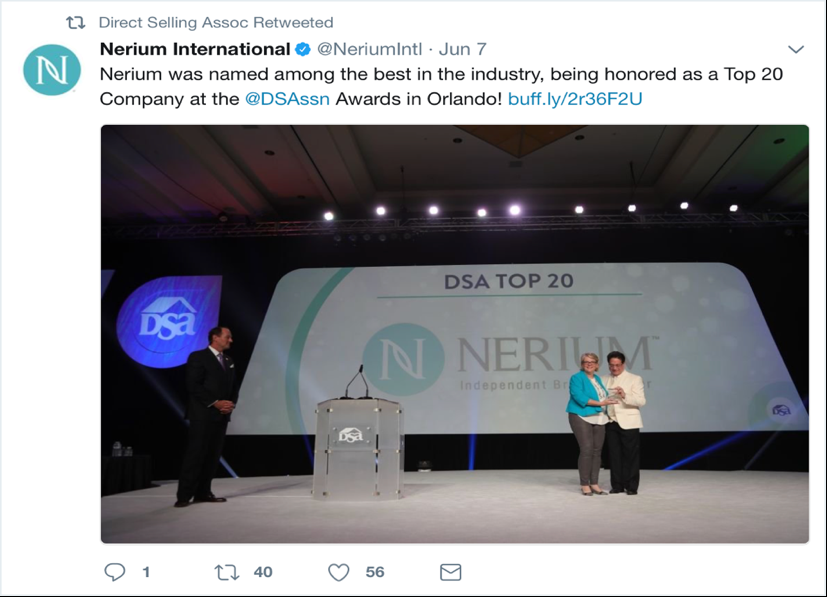 And in 2018, the DSA once again turned a blind eye to Nerium's misdeeds honoring it as one of the DSA's Top 20 member companies for 2018 with DSA President Joe Mariano stating:
We applaud Nerium International and all DSA Top 20 companies for the products and opportunities they offer millions of Americans, and for the significant contributions they make to the economy.
However, as the FTC's action makes clear, while Nerium/Neora lined its own pockets and those of its top distributors, it was at the expense of the vast majority of distributors who gained nothing but an opportunity to lose money. For its part, in a 2018 press release, Nerium stated:
This is the third consecutive year that Nerium International has ranked as one of the most dynamic direct selling organizations in the nation. We are proud to be recognized among many long-established companies in our industry, while Nerium celebrates its seventh year of business in 2018.
Nerium's push to recruit young adults
While one would think that Nerium's target market for its anti-aging products would skew toward older adults, in 2014 the company took the rather unusual step of focusing its recruitment efforts on young adults. The program, known as the Young Entrepreneur Program or YEP for short, promised young adults between the ages of 18 and 29 a chance to be their own bosses and earn an "adult income" with no experience required.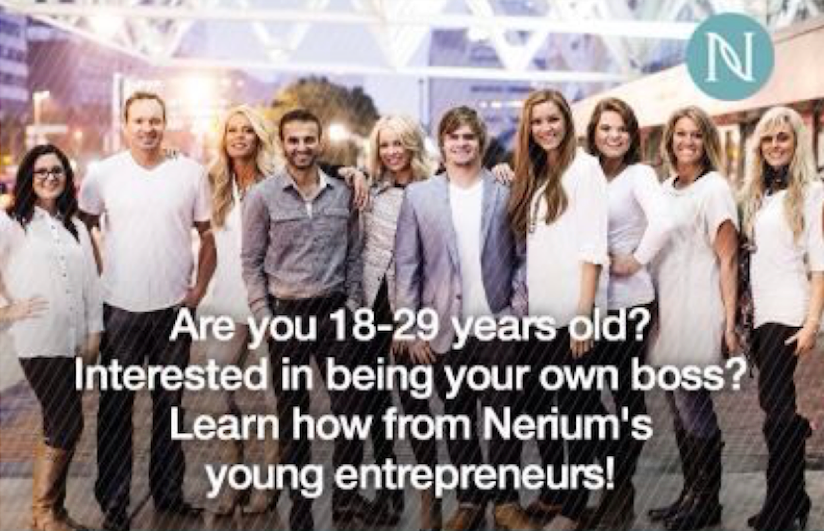 Lured by misleading promises of financial freedom, getting paid to party and paying off student loans, Yeppers, as the young distributors were called, soon began joining Nerium by the thousands. Olson, Nerium's CEO, said in 2015 that YEP was "out-growing the rest of the company." And in 2016, Nerium stated:
With an emphasis on providing the latest in social media tools, digital resources and networking opportunity, our YEP program has continued to captivate young people at an unprecedented rate.
There can be no doubt that deceptive marketing also played a role in the recruitment of young adults to Nerium. TINA.org's income database contains more than a dozen videos that were featured on Nerium's YouTube page to market its Young Entrepreneur Program. Several of the videos begin with a voiceover claiming:
With Nerium International you can have everything. Our Young Entrepreneur Program allows you the life changing opportunity to tailor your career for unlimited success – your way.
While this voiceover plays, images of luxury cars and exotic vacations are flashed on the screen. One such video even features Olson — who is frequently described as "The Millionaire Maker," according to the FTC complaint — stating:
We have people who've earned their iPads, they've earned their cars, earned dream vacations, great incomes, six figure incomes, people making adult incomes, people making incomes that put them in the top 5 percentile of the United States.
Unfortunately, the vast majority of Nerium distributors never came close to realizing the earning potential promoted by Olson. The FTC singled out YEP in its complaint, stating:
YEP promotional videos make particularly egregious income claims, highlighting numerous [distributors] who claim they are earning "six-figure incomes" or incomes in the "top five percentile" in the United States, paying off student loans in a very short period of time, "retiring" their parents, and able to replace their former income with a single bonus from Nerium.
"Participants in legitimate multi-level marketing companies earn money based on actual sales to real customers, rather than recruitment," said Andrew Smith, Director of the FTC's Bureau of Consumer Protection. "But pyramid schemes depend on recruitment of new participants to pay out to existing participants, meaning that the vast majority of participants will ultimately lose money."
A closer look at how TINA.org did it

TINA.org used a multitude of arrows in its quiver to stop Nerium's deceptive marketing practices. TINA.org:
Contacted the company in the summer of 2016 requesting that it remedy its deceptive marketing tactics;
Filed complaints with the FTC and Texas Attorney General's office in 2016 and then followed up with these agencies in 2017 supplying them with additional evidence of Nerium's deceptive marketing practices;
Reached out to the DSA not once but twice in an attempt to get the trade association to enforce its Code of Ethics against Nerium;
Publicized Nerium's inappropriate marketing claims at MLM conferences;
Launched a #NeriumTruth Twitter campaign in July 2017, exposing dozens of examples of inappropriate marketing claims;
Published multiple articles warning consumers of the deceptive marketing tactics being used by the company and its distributors; and
Used TINA.org's reach on social media to alert consumers to Nerium's deceptive marketing practices.
While it took some time before Nerium/Neora was forced to answer for its misdeeds, TINA.org is nonetheless pleased that the FTC has taken action.
This is the second time that the FTC has used TINA.org's evidence to pursue an MLM. In August 2015, the FTC filed a pyramid scheme complaint against Vemma Nutrition, an Arizona-based supplement MLM, based in part on evidence gathered by TINA.org. In that case, the FTC noted in a court document that:
Vemma's structure ensures that most participants will not earn substantial income — a fact that Defendants failed to adequately disclose.
With the FTC's current action against Neora, the agency once again has put the MLM industry on notice that they must stop using unsubstantiated income claims to market the business opportunity and inappropriate health claims to sell their products.
More of TINA.org's investigation of Nerium/Neora can be found here.
---
You Might Be Interested In
A Growing List of Coronavirus Scams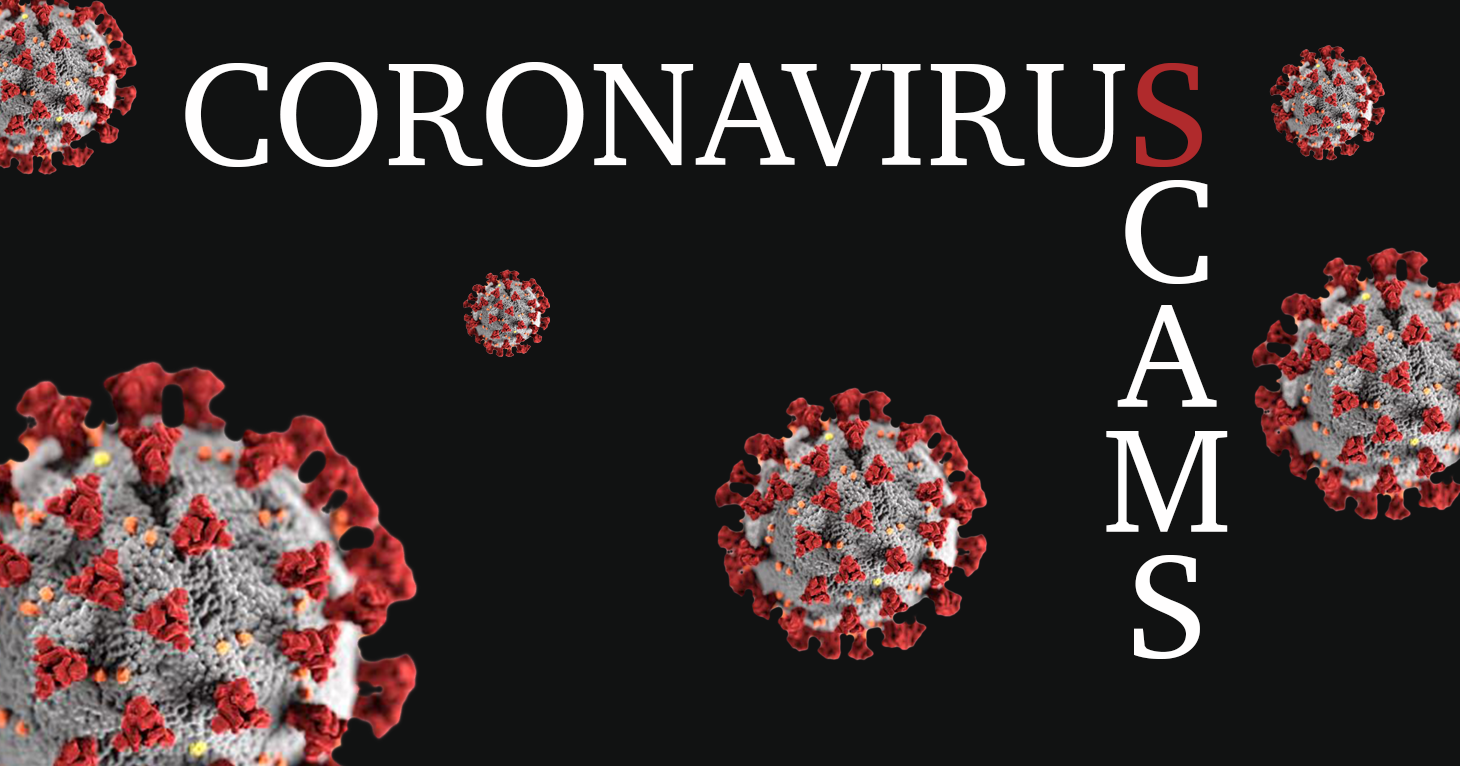 A Growing List of Coronavirus Scams
A master list of known and alleged scams.
5 Ad Trends to Be Wary of in 2020
5 Ad Trends to Be Wary of in 2020
CGI influencers are here.
Young Living Lawsuit Claims It's a 'Cult-Like' Pyramid Scheme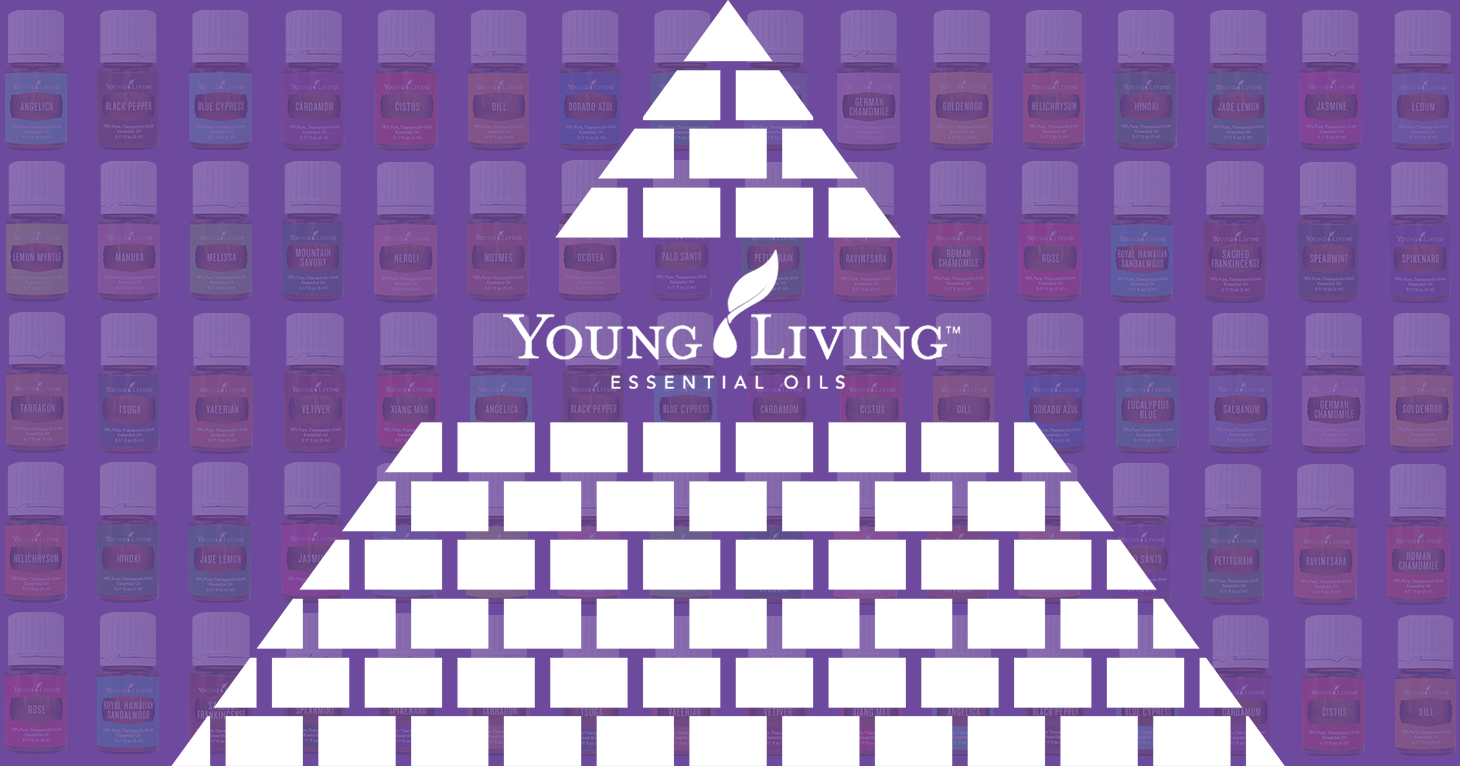 Young Living Lawsuit Claims It's a 'Cult-Like' Pyramid Scheme
Lawsuit alleges essential oil MLM is a pyramid scheme, among other things.