FTC Reminder: Influencers Must Divulge Ads
Action comes after consumer groups alert agency to more than 100 posts by celebs.
|
UPDATE: The FTC has sent follow-up letters to 21 influencers requesting that they advise the agency whether they have material connections to brands in social media posts by Sept. 30. Celebs receiving letters include Sofia Vergara, Naomi Campbell and Amber Rose. Among the brands are Flat Tummy Tea, Buscemi shoes and Graze snacks.
The FTC has sent reminders to more than 90 influencers and marketers regarding the lawful need to disclose influencers' relationships with brands when promoting products (read: detox teas) on social media sites such as Instagram.
The action comes months after TINA.org alerted the FTC to Instagram posts by the Kardashians that failed to disclose they were ads and an investigation by Public Citizen and other consumer groups. The Public Citizen investigation released in September faulted some of the biggest players in the When an individual (or cute pet) promotes a good or service, primarily on social media, because they were paid to do so, or because of a material connection between the person (or pet) and the company game for running afoul of the FTC's policy on paid endorsements in a sampling of more than 100 Instagram posts. The group sent a follow-up letter to the FTC in November with 50 more examples. This sample called into question posts by David Beckham for H&M, Demi Lovato for New York Color Canada, Jennifer Lopez for Vodkabeluga, and Kourtney Kardashian for Manuka (among others):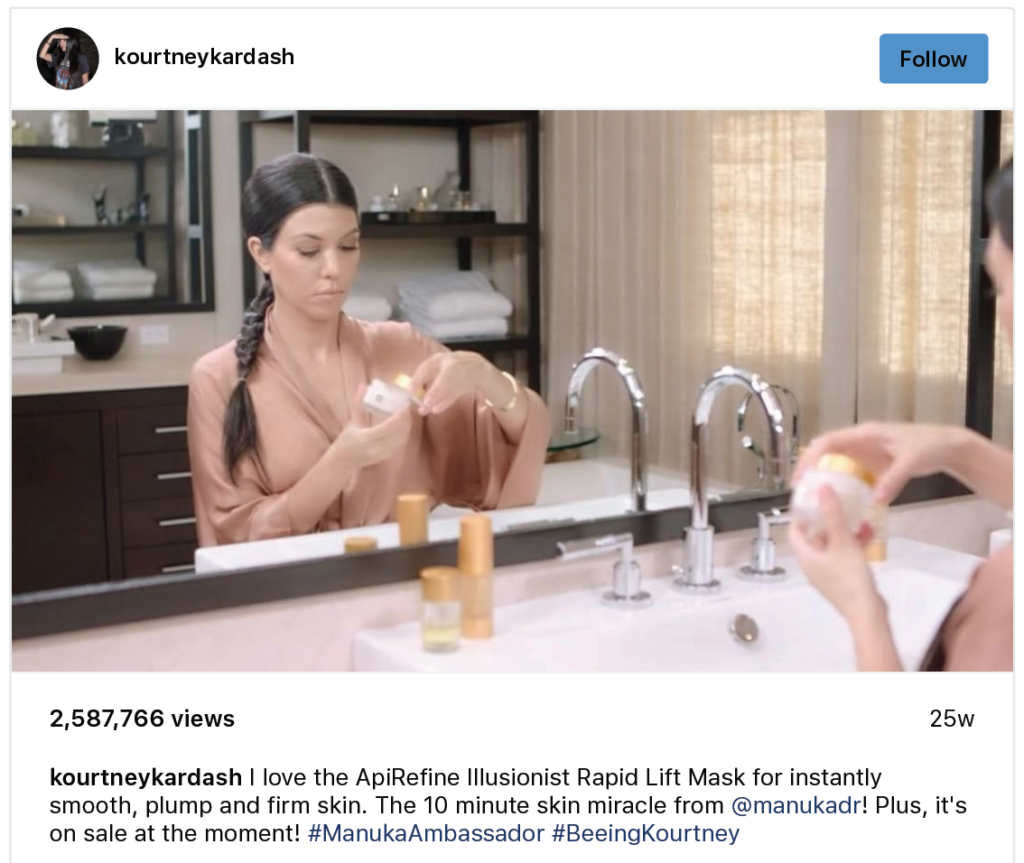 (UPDATE 8/28/17: The above is a screenshot of the post as the original has been taken down by Kourtney Kardashian.)
A spokesman for the FTC said it didn't originally publicize the names of the 45 marketers and 46 influencers, which included celebrities and athletes, because it wanted to focus on raising awareness among influencers about the disclosure issues.
"This is an educational campaign, not an attempt to shame," said Michael Ostheimer, a deputy in the FTC's Ad Practices Division.
Another reason? Ostheimer said the FTC wasn't positive that all of the Instagram posts were sponsored — a sign of how blurred the line between paid post and unsolicited endorsement can be. In fact, some brands have already gotten back to the agency saying they don't have any business with the influencer in question that would warrant disclosure, Ostheimer said.
The letters themselves pointed to the FTC's Endorsement Guides, which were updated in May 2015 to address social media advertising disclosures. The guides state that if someone is paid to promote a product or has a material connection with a company, they must disclose that relationship since it could affect a consumer's opinion about the product. For space-cramped platforms such as Twitter or Instagram, the guidelines state that starting a post with AD or #ad would likely be effective. Placing #ad within a string of other hashtags or links would likely not be effective.
But Public Citizen said the letters don't go far enough. The group's president, Robert Weissman said in a statement:
While many of the influencers may be unaware of FTC rules, the marketing companies are not so naive. They should receive more than a gentle reminder of FTC standards. At a minimum, they should be given a warning that failure to cure their abuses will result in the FTC undertaking enforcement action. Ideally, the FTC should announce that it is investigating repeat offenders and quickly bringing action against them.
The FTC has so far taken action against three influencer marketing campaigns for failing to disclose material connections with the company in sponsored posts on Twitter, YouTube, and Instagram, resulting in settlements with Machinima, Lord & Taylor and Warner Brothers. Repeat offenders that have been subject to FTC enforcement action can face fines as much as $40,000 per future violation.
Find more of our coverage on influencer marketing here.
This article has been updated multiple times, most recently 1/15/19.
---
You Might Be Interested In
TINA.org's Social Media Influencers Actions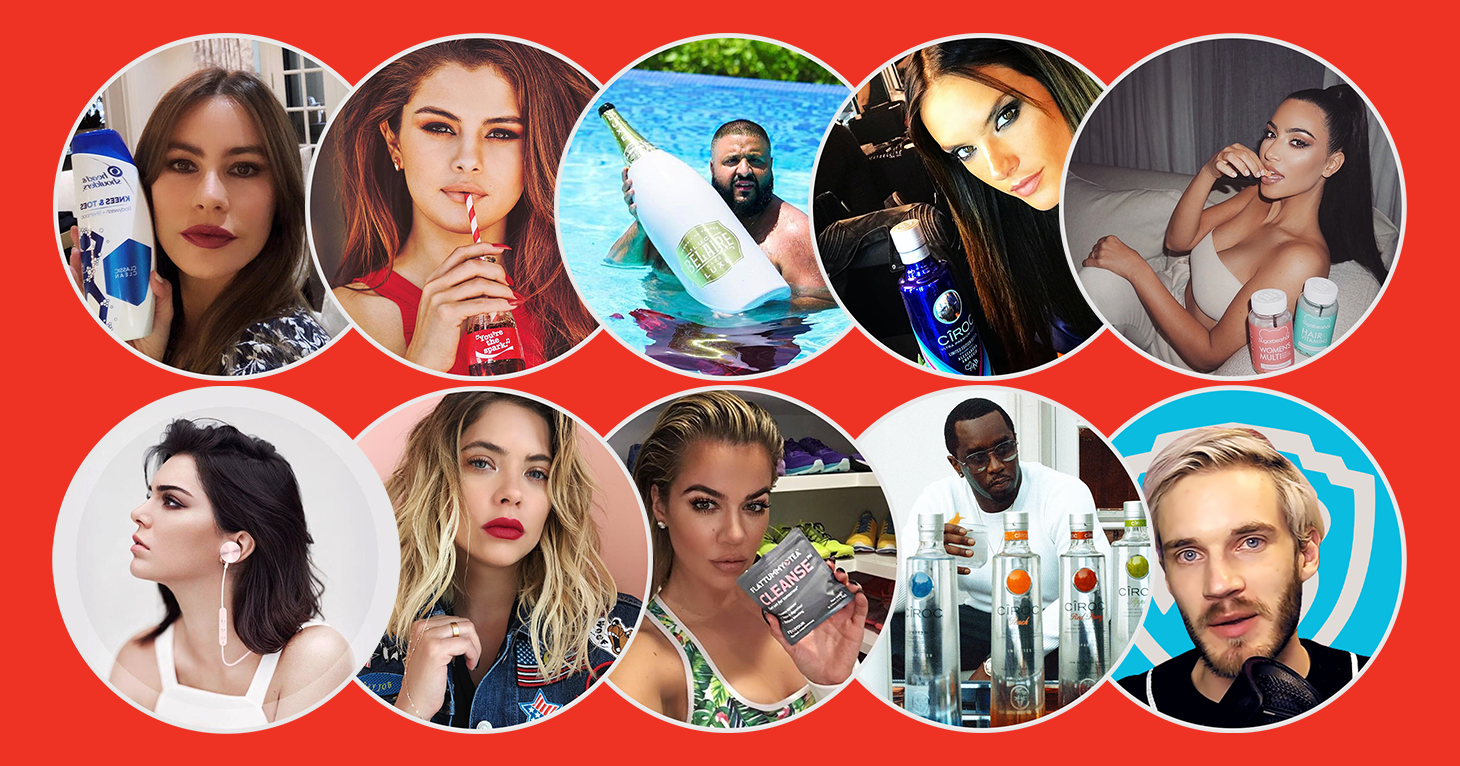 TINA.org's Social Media Influencers Actions
A review of TINA.org's work exposing deceptive marketing tactics by social media influencers.
Influencers Defy FTC Rules on Disclosure Despite Warnings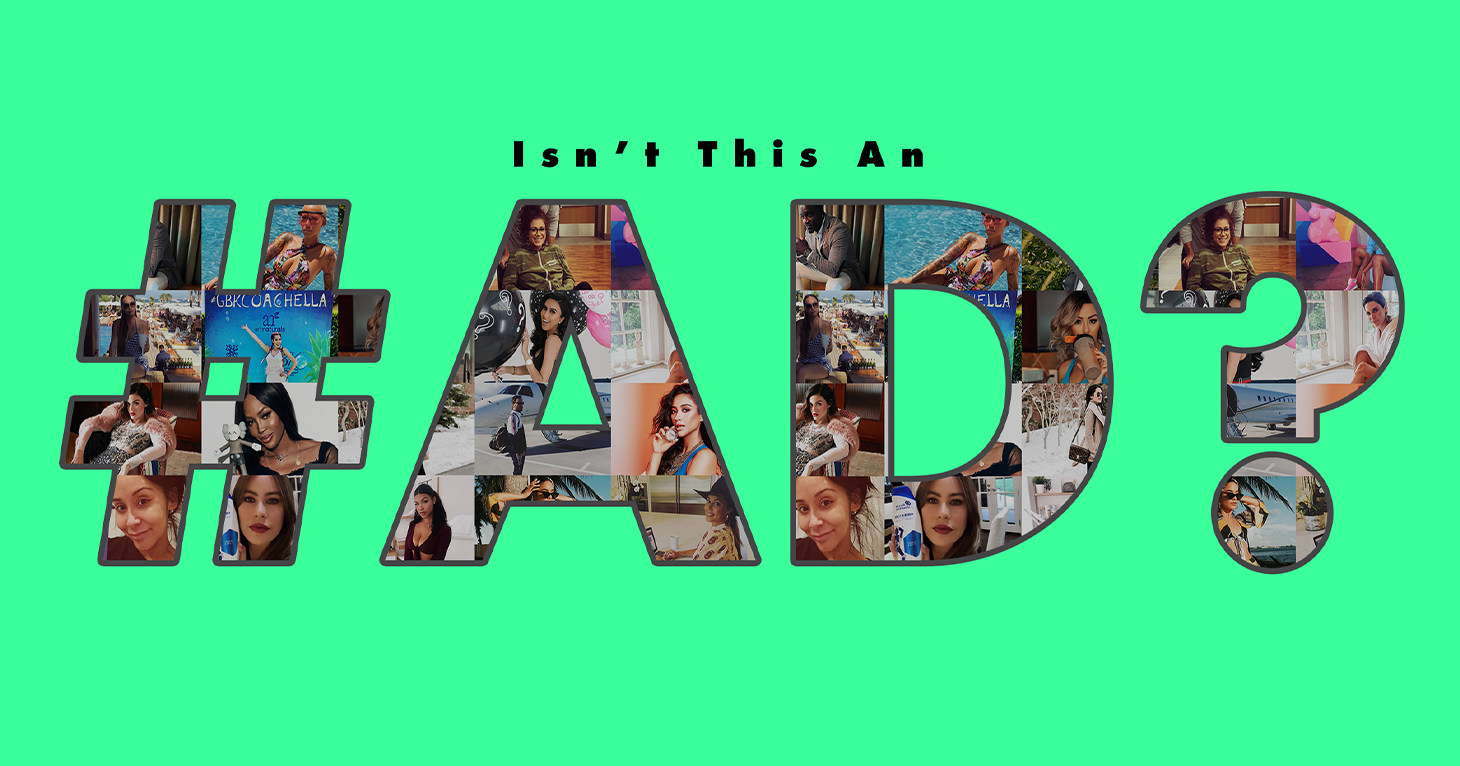 Influencers Defy FTC Rules on Disclosure Despite Warnings
TINA.org finds 95 percent of social media influencers previously put on notice by the FTC breaking the law.
Ad or Not? Kris, Kendall Jenner and Proactiv
Ad or Not? Kris, Kendall Jenner and Proactiv
Fans decry mom's crocodile tears in teaser post that turns out to be spon con.