NourishLife speak (Lifetrients)
TINA.org investigated NourishLife (which later changed its name to Lifetrients) and found that it was deceptively advertising a potentially harmful supplement called SpeechNutrients speak by, among other things, claiming it was a treatment for childhood speech delays without having proper substantiation, falsely claiming it was a patented formula, and using deceptive testimonials in marketing materials.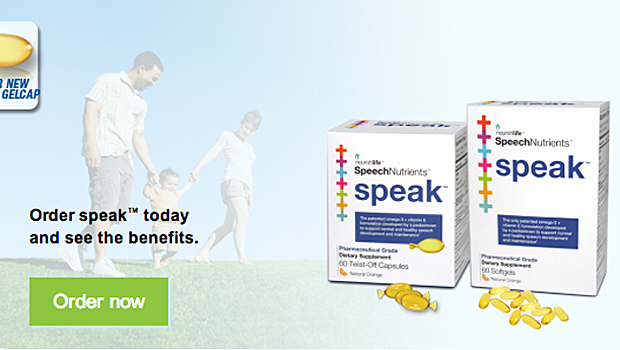 Sent warning letter to company
Filed complaints with FTC, FDA, and Illinois attorney general
Notified the BBB, which later changed rating from A+ to No Rating
Notified hospital and physician affiliated with company
Company made changes to marketing
Portuguese advertising investigated and issued decision
NAD took action against NourishLife
FTC sued company in federal court, resulting in $3.68 million judgment
2020
April 18
Lifetrients sends out an email with the title "Immune Boosting News" in which the company claims several of its products, including Speak, defend against COVID-19 by boosting the immune system, despite the fact that there is no known treatment or vaccine for preventing the coronavirus. (TINA.org notified the FTC.)
2016
October 5
NourishLife notifies its customers that it changed its name to Lifetrients and obtained a new website address, www.lifetrients.com.  The company continues to sell Speak and now claims it is a supplement for children with "special nutritional requirements."
2015
August 24
The FTC announces that 6,936 consumers who lost money buying Speak will each receive a $25.18 refund.
January 9
The FTC and NourishLife reach a settlement agreement that imposes a judgment of $3.68 million, which will be partially suspended, based on the defendants' inability to pay, after the company pays $200,000 to be disbursed to consumers. The settlement agreement also requires NourishLife to stop making deceptive marketing claims about Speak.
January 7
FTC sues NourishLife and company CEO Mark Nottoli in federal court alleging that the dietary supplement Speak was deceptively marketed as able to improve the speech of children with autism and other developmental disorders. The FTC also alleges that the company failed to disclose it had provided complimentary products to parents who endorsed the supplement in testimonials.
2013
November 11
NourishLife issues its own press release regarding TINA.org's action against the company. TINA.org stands by its action and is satisfied NourishLife has removed its deceptive claims from its marketing materials, and that the National Advertising Division, as well as the Portuguese advertising authority, ICAP, have agreed with TINA.org.
October 2
TINA.org withdraws its complaints to federal and state authorities regarding NourishLife's deceptive marketing of Speak, indicating that the only remaining concern is the level of vitamin E in the supplement.
September 18-24
TINA.org corresponds with NourishLife's lawyer to obtain verification that the false and deceptive statements on the Speak packaging have been removed. NourishLife's lawyer responds by providing documentation showing the changes being made to the product's packaging and promotional brochure.
September
ApraxiaResearch.com, the seemingly independent site devoted to apraxia that is actually owned by NourishLife, is no longer available.
August 27-29
NourishLife edits the Speak website again to remove/edit many of the testimonials that contain speech delay treatment claims.
August
The National Advertising Division takes action against NourishLife and has recommended that the company discontinue certain advertising claims for Speak. As a result, the company notified NAD that it has permanently discontinued the following claims:
"Promotion of a healthy inflammatory response"
"Pharmaceutical Grade"
See benefits "as soon as the first week."
"Others notice advances in speech coordination after several weeks."
"The combination of omega-3 within vitamin E together had a dramatic impact on these children's symptoms, not only helping with speech, but also improved eye contact and helping to improve pain sensation."
"A patented nutritional therapeutic formulation designed for the treatment of apraxia."
In addition, NAD found that the company's "evidence was insufficient to support the remaining claims at issue" and recommended that the company:
discontinue its claim that Speak products provide nutritional support of verbal and motor skills and normal and healthy speech development and reduce oxidative stress;
discontinue its claim that "mounting clinical evidence and hundreds of parental reports indicate this special blend of nutrients provides targeted benefits;"
discontinue product efficacy claims made in testimonials;
clearly and conspicuously disclose at www.apraxiaresearch.com that the website is owned and operated by NourishLife.
As of August 14, 2013 (the date of NAD's press release), the company had not yet complied with these recommendations.
July/August
NourishLife edits its SpeechNutrients website to remove the term "pharmaceutical grade" when referring to the ingredients in Speak.  The website now refers to "all-natural" ingredients and "the highest quality oil available."
June 24
TINA.org sends follow-up letters to the FTC, FDA, and Illinois Attorney General notifying each agency of Portugal's decision regarding the European marketing of Speak by Portuguese marketer, ANEID Pharmaceutical Products, and renewing its request that the agencies take action to end the deceptive marketing of the product in the U.S.
June
NourishLife removes its reference throughout the Speak website to the company's alleged A+ rating from the BBB.
June 11
TINA.org sends a second letter to the BBB of Chicago & Northern Illinois notifying it that NourishLife continues to claim on its SpeechNutrients website that it has an A+ rating from the BBB, and urging it to do whatever is necessary to dispel the notion that the BBB fully supports NourishLife's business practices.
May 15
After an investigation prompted by TINA.org's complaint, the Portuguese advertising authority, Instituto Civil da Autodisciplina da Publicidade (ICAP), issues a formal decision regarding the European marketing of Speak by Portugal-based marketer, ANEID Pharmaceutical Products.  ICAP's decision states:
Speak cannot be advertised as "patented" because there is no patent for the formula.
The claim that the nutrients in Speak have been shown to improve speech is "unproven, misleading, [and] abuses the consumers' lack of knowledge and experience," and thus should not be made.
Speak is a medication.
April 4
The BBB changes its rating of NourishLife from A+ to "No Rating."
April
NourishLife starts making changes to its SpeechNutrients website as a result of TINA.org's efforts (though it still has a long way to go).  For example:
NourishLife amends some (but not all) pages on its SpeechNutrients website to reflect the true nature of the status of the patent.  In certain places, the website now says the speak™ formula is "patent pending" rather than "patented."  (Similarly, language regarding the patent was removed from SpeechNutrients' Facebook page.)  However, the SpeechNutrients Accreditations page, for example,  still refers to a "formulation patent."  In addition, the images on the site of the product packaging still say "The only patented omega-3 and vitamin E formulation developed by a pediatrician to support normal and healthy speech development and maintenance."
NourishLife removes the reference to receiving the BBB Complaint Free Award from its SpeechNutrients website.
NourishLife adds the following disclaimer at the top of its testimonials page: "No representation has been made that the photos used are the actual photos of our families. In cases where a family requests to protect its privacy, a stock photo may be used."
March 27
TINA.org sends complaint letters to the FTC, FDA, and Illinois Attorney General. TINA.org also sends notification letters to the BBB, Children's Hospital & Research Center Oakland, and Dr. Claudia Morris.
March 13
TINA.org sends a letter to NourishLife's president, Mark Nottoli, requesting that the company stop its deceptive marketing and alert its customers to the misleading claims within one week.  NourishLife does not comply with TINA.org's requests.
Lifetrients (formerly known as NourishLife)
Lifetrients (formerly known as NourishLife)
Supplement company previously sued by the FTC deceptively claims in recent email products defend against the coronavirus.
Speak and Speak Smooth
Speak and Speak Smooth
March 2015: Plaintiffs voluntarily dismissed this lawsuit. The reasons for the dismissal have not yet been disclosed. January 2015: A class-action lawsuit was filed against NourishLife, LLC for allegedly falsely…