Vemma Facing Judicial Inquiries in Europe
Nutrition supplement affiliate marketing company facing scrutiny overseas.
|
Officials in two European countries that represent top markets for Vemma overseas are pursuing charges against the Arizona-based dietary supplement company, a TINA.org investigation has learned.
An official for Switzerland's State Secretariat for Economic Affairs (SECO) said the economic agency has filed a complaint with prosecution authorities against Vemma. In Austria, a consumer protection division is warning residents not to get involved with the company and is pursuing charges that the company is an illegal pyramid scheme.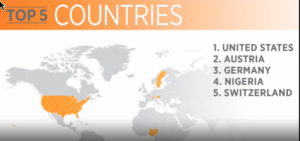 Last April, an Italian watchdog agency ruled that Vemma, an Multilevel Marketing – a way of distributing products or services in which the distributors earn income from their own retail sales and from retail sales made by their direct and indirect recruits. which bills itself as an affiliate marketing company, was operating a pyramid scheme and prohibited the supplement company from spreading or continuing its unfair business practices in the country. Vemma's appeal of that ruling is still pending.
Vemma, which reports worldwide sales topping $221 million, has faced increasing media scrutiny in the U.S. for its emphasis on recruitment of young affiliates on college campuses for its YPR (Young People Revolution) to distribute its energy drink, Verve. Prompted by complaints from students and parents, the company has been at the center of an ongoing TINA.org investigation, which found that numerous Vemma affiliates have been using unsubstantiated health and treatment claims in apparent violation of a prior FTC consent order. TINA.org has alerted the FTC to the issue and the ruling in Italy.
Barrage of complaints
Fabien Maienfisch, media spokesman for SECO in Switzerland, said that the federal economic agency has "reported an offense" against Vemma to an attorney to pursue criminal charges.
"SECO sued due to several complaints," Maienfisch said in an email to TINA.org. He said he could not release further information until there is a judgement in the case.
In Austria, a consumer protection agency in Vorarlberg, one of nine federal states in the country, issued a warning against the sale and distribution of Vemma after it received mounting complaints. Paul Rusching, a "Mag" (advisor) for the Vorarlberg Chamber of Labor's Consumer Protection Division who issued the warning, said the division was preparing "criminal proceedings" against the company after receiving hundreds of complaints from parents and students in the region. The charge he is pursuing, said Rusching, is that it is an "illegal pyramid scheme."
"Because of Austrian criminal law, things like this are forbidden," he said.
In a statement issued in August on its website, which TINA.org had officially translated, the Vorarlberg agency warned:
For the past few weeks, young people in the Austrian federal state of Vorarlberg have been promised big money at 'home events' if they distribute an American energy drink to their friends. The Vorarlberg Chamber of Labor's Consumer Division has warned that the underlying concept is actually an elaborate pyramid scheme. …(The division) strongly advises against joining the Vemma System.
The statement said Vemma is recruiting students, including minors, to home events where "they are being promised the moon" and are encouraged to purchase orders for more than €400 Euros with promises that their investment will be returned in just a short amount of time. But the dreams of making big money are shattered, it said.
"All it takes is a few simple calculations to determine that very few people can actually earn their way to the top of the pyramid," Rusching said in the warning. "The chances of somebody getting back the €471 Euros invested is very slim."
Rusching told TINA.org that affiliates of Vemma are also distributing products without proper licenses.
In another statement posted in June which TINA.org had translated, the Vorarlberg agency said it filed a request with the district attorney's office for commerce and corruption in Vienna for a criminal investigation of Vemma.
Vemma CEO Benson K. Boreyko said the company is not "aware of any judicial proceedings facing Vemma in Austria or Switzerland" nor has it "received any communication from Switzerland's State Secretariat for Economic Affairs regarding any legal matter nor Austria's Voralberg Chamber of Labor Consumer Protection Division regarding the same."
As for the Vorarlberg warning, he said the company "completely disagrees with its allegations."
Intense media scrutiny
In addition to the government action, several media outlets in Europe have broadcast investigations of the company. In April, two German television stations broadcast programs about Vemma that featured some former affiliates who lost money, and academic experts who questioned its business structure and the nutritional value of its drinks.
Prof. Fritz Soergel, director of the Institute of Biomedical and Pharmaceutical Research IBMP at Nuremberg, said on a Stern TV broadcast that aired April 15 on Germany's RTL Network that he was concerned about high dosages of vitamins A and D in the drinks:
If somebody drinks several of these energy drinks per day there could be side effects … I can only hope that in the near future products like this will be taken off the market.
In another report about Vemma aired on April 21 by Report Muenchen on Germany's ARD, Daniela Krehl, nutrition expert at the consumer advice center in Bavaria, said the amount of vitamins in the Vemma products are "dangerous" and that the products should not be allowed on the German market.
Christoph Rapp, identified in the broadcasts as a country director for Vemma, defended the company saying it utilizes a legal multi-level marketing system. In addition, on the Stern TV broadcast, he said the ingredients in the beverages "support long-lasting energy" and nutritional balance.
Boreyko noted in a recent video how fast the European markets are growing. But what affiliates and potential recruits need to know is that authorities are also taking notice.
This story was updated on 6/26/15. 
---
You Might Be Interested In
5 Ad Trends to Be Wary of in 2020
5 Ad Trends to Be Wary of in 2020
CGI influencers are here.
Pyramid Scheme Lawsuit Against Jeunesse Seeks $1 Billion
Pyramid Scheme Lawsuit Against Jeunesse Seeks $1 Billion
Jeunesse and Diamond distributors facing third pyramid scheme complaint in 10 months.
Vemma Reaches Settlement Agreement in FTC Pyramid Case
Vemma Reaches Settlement Agreement in FTC Pyramid Case
Company struggled under court-mandated customer-focused business structure.