Roblox Metaverse Playing Games with Consumers
TINA.org files complaint with the FTC concerning deceptive advertising on Roblox.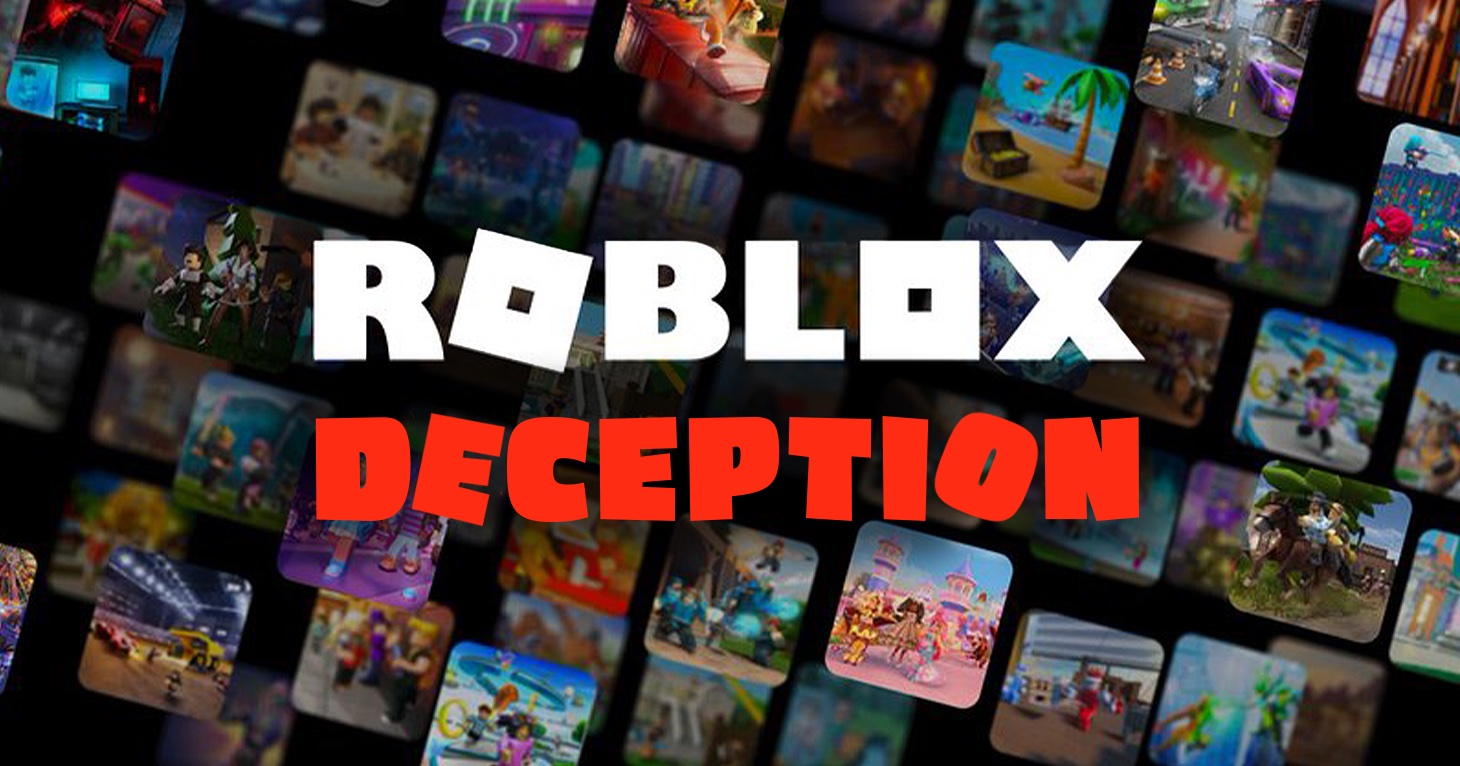 Roblox, a multibillion-dollar public company based in California, says its mission is to "bring the world together through play." The Roblox platform is an immersive virtual space consisting of 3D worlds in which users can play games, attend concerts and throw birthday parties, among a host of other activities. With more than 54 million daily users and over 40 million games and experiences, it's not surprising that in 2021 alone, users from 180 different countries spent more than 40 billion hours in this closed platform A virtual space in which users or avatars can play games, explore and purchase digital items, among other things. In a closed platform metaverse, users can only interact with other users in that metaverse..
But according to an investigation by TINA.org, advertising is being surreptitiously pushed in front of millions of users on Roblox by a multitude of companies and avatar influencers. Such digital deception is possible because Roblox has failed to establish any meaningful guardrails to ensure compliance with truth in advertising laws. As a result, the brands Roblox has invited into its metaverse, including but not limited to DC Entertainment, Hasbro, Hyundai, Mattel, Netflix, NFL Enterprise, Nike and Paramount Game Studios, along with undisclosed avatar brand influencers and Digital characters that look like other avatars but are powered by artificial intelligence and programmed by brands to engage with users in promotional interactions in advergames. are running roughshod on the platform, manipulating and exploiting consumers, including its most vulnerable players – more than 25 million children.
RELATED ARTICLE: Parents, players cite myriad issues in FTC complaints against Roblox
Roblox community standards dictate that "[a]ds may not contain content intended for users under the age of 13," presumably because this vulnerable age group, which makes up nearly half of Roblox's daily users, can't identify advertisements disguised as games (also known as advergames). In fact, even adults can have trouble accurately identifying advergames, which are found on Roblox in ever-increasing numbers. And as brands exploit unsuspecting consumers, tricking them into taking part in immersive advertising experiences, the companies, including Roblox, are taking users' time, attention and money while extracting their personal data. And to make matters worse, Roblox lures consumers, including minors, to its platform with atypical earnings representations including claims that users can make millions of dollars as game developers, despite the fact that the vast majority of Roblox game developers will never make any money.
On April 19, TINA.org filed a complaint with the FTC concerning Roblox and a multitude of other companies and sponsored avatar influencers on the platform urging the agency to open an investigation into the deceptive advertising on and by Roblox and take appropriate enforcement action. At a minimum, Roblox needs to stop breaching its own community standards and uphold its promise to parents that it will keep children as safe as possible online by enforcing its own rule prohibiting ads from containing content intended for users under the age of 13.
In a world…
Advergames or branded worlds are everywhere on Roblox. Or maybe not. It is difficult to say exactly how many there are given the lack of clear and conspicuous disclosures on the platform. Take, for example, the following search results on Roblox for experiences based on the Netflix series "Stranger Things." It is not at all clear, which, if any, of these experiences are sponsored.
Clicking on an individual thumbnail image provides little clarity.
The only indication that the second experience in the above search results – Stranger Things: Starcourt Mall – is an advergame is the small print under the name of the game that says "By Netflix," which is not likely to be seen by most Roblox users (and even if they do notice this fine-print disclosure, they may not understand what it means).
And while the other experiences in the search results have the brand – Stranger Things – in their name, and brand imagery, none of those games are sponsored. So just because a brand is in the name of a game or experience doesn't necessarily mean it is an advergame. Indeed, a search for "sports worlds" brings up more than a dozen Vans Worlds, only one of which is sponsored.
Additional examples of undisclosed advergames in the Roblox metaverse include Nikeland, which has been visited more than 13 million times since Nike launched the branded world last fall. In Nike's advertisement, users can "[e]xplore the world of sport, swim in Lake Nike, race your friends on the track [and] discover hidden secrets." Then there's Vans World (the sponsored one), which has been visited more than 63 million times since its launch last April, where users "[e]xplore different skate sites" and "[k]it out [their] Avatar in Vans Apparel." Like with many worlds on Roblox, the apparel will cost you, as it must be purchased using Robux, Roblox's virtual currency that powers its digital economy and has been crucial to the company's success. (More on that later.)
Venturing outside their own branded worlds
In addition to creating their own undisclosed advergames, brands have also deceptively infiltrated organic games. For example, in May 2020, to coincide with the release of the studio's "Scoob!" movie that month, Warner Brothers' Scooby-Doo brand made a limited promotional appearance in the organic pet-raising game, Adopt Me! which is the most popular game on Roblox of all time with more than 28 billion visits. During the promotional event in the family-friendly game, players could adopt Scooby as a pet and take a spin in the Mystery Machine. However, there was never any discernible disclosure to its audience that this was a sponsored event, nor did it comply with Roblox criteria that ads not be directed at children under the age of 13.
Perhaps even more insidious than the use of advergames and sponsored content within organic games is the use of undisclosed When an avatar influencer promotes a brand in a virtual world because they were paid to do so, or because of a material connection to the brand.. These avatars look and act like any other avatar you might run into on Roblox but these avatars, controlled by paid brand influencers, have a hidden agenda: to promote brands throughout the Roblox metaverse. And this means that there are potentially millions of players seeing, communicating with, and interacting with brand endorsers in the Roblox metaverse without ever knowing it.
For example, one (of at least a dozen) undisclosed Nike avatar influencers was complimented on his Nike gear by another player while in Nikeland, saying in the chat bar "how doyou get the gear," "that nike hat is drippy," while another player spotted the popular avatar in Nikeland and wrote, "TW dessi??? omgomg."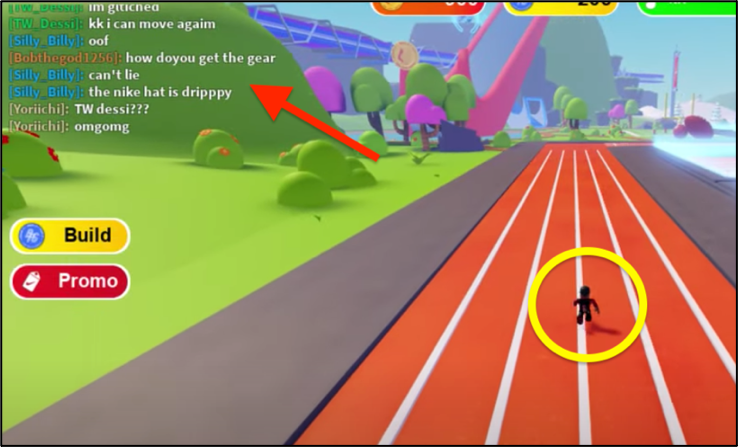 In addition to these avatar influencers (which, besides Nike, are used by numerous other brands including Vans, Hyundai and Forever 21) are Roblox's army of more than 670 influencers, known as Roblox Video Stars. Roblox Video Stars are Roblox users who have large followings on social media and who Roblox has invited to participate in its influencer program in which the company rewards the Stars with a number of benefits, including free Roblox Premium memberships, early access to certain Roblox events and features, and the ability to earn commissions on Robux sales to users. And while Roblox requires the Stars to disclose their material connection to the platform in their social media posts, it does not require Stars to disclose their material connection to Roblox while on the platform itself even though the law requires such disclosure when brand influencers are interacting with users within the platform's ecosystem.
Brands are also using undisclosed AI-controlled avatars in advergames to promote consumer engagement and spending, among other things. In the Hot Wheels Open World (an undisclosed Mattel advergame), for example, AI bots urge players to upgrade their cars using virtual currency. While in the NASCAR showroom in Jailbreak, a popular organic game with a cops and robbers theme, which hosted an undisclosed sponsored event by NASCAR in February, AI bots let players know that NASCAR was giving away a car for free. In Nikeland, there were even AI bots modeled after real life NBA stars Giannis Antetokounmpo and LeBron James, each of which were giving away Nike gear to players. While Antetokounmpo tweeted to more than 2 million followers and posted to more than 12 million Instagram fans late last year that they should "[c]ome find me" in Nikeland because he was giving away "free gifts," it appears that neither Antetokounmpo nor James ever controlled their avatars in Nikeland – rather, the look-a-like avatars interacting with other users were simply AI-controlled agents of Nike. In none of these examples did the brands inform users that they were seeing and interacting with AI-controlled brand avatars.
In its complaint letter to the FTC, TINA.org reiterated its position that consumers have a right to know when they are interacting with bots that are used by brands in their advertisements. In fact, wherever endorsements take place, advertisers must fulfill their duty to ensure that the form, content and disclosure used by any influencer, at a minimum, complies with the law. Even in the metaverse, companies are legally responsible for ensuring that consumers, whatever their age may be, know that what they are viewing or interacting with is an endorsement. And despite the transitory nature of avatar influencers participating as walking and talking endorsements within the Roblox metaverse, no brand (including Roblox) should ignore its legal obligation to disclose these endorsements. Indeed, earlier this year, Roblox and many other companies, including Nike, Hyundai, VF Corp. (which owns Vans) and Mattel (which owns Hot Wheels), were formally reminded by the FTC that material connections between endorsers and brands must be clearly and conspicuously disclosed in a manner that will be easily understood by the intended audience. Now, after receiving this notice, violations can carry with them penalties of up to $46,517 per violation.
Vulnerable consumers
Of the platform's more than 50 million daily users, more than 25 million are children aged 13 and under, an age group that generally cannot identify advertisements disguised as games, of which there is an ever-increasing number on Roblox as brands have been eager to enter the Roblox ecosystem. Roblox community standards dictate that "[a]ds may not contain content intended for users under the age of 13." But the reality is many of these advergames are aimed at precisely this age group.
In fact, even adults can have trouble accurately identifying undisclosed advergames. But rather than requiring brands to follow the law and clearly and conspicuously disclose advergames, avatar influencers and other promotional content as marketing – so that consumers aren't tricked into taking part in immersive advertising experiences without their knowledge – Roblox has failed to establish any meaningful guardrails to ensure compliance with truth in advertising laws. Instead, it has generally abdicated this responsibility to its developers and brands.
Strike it rich on Roblox? Think again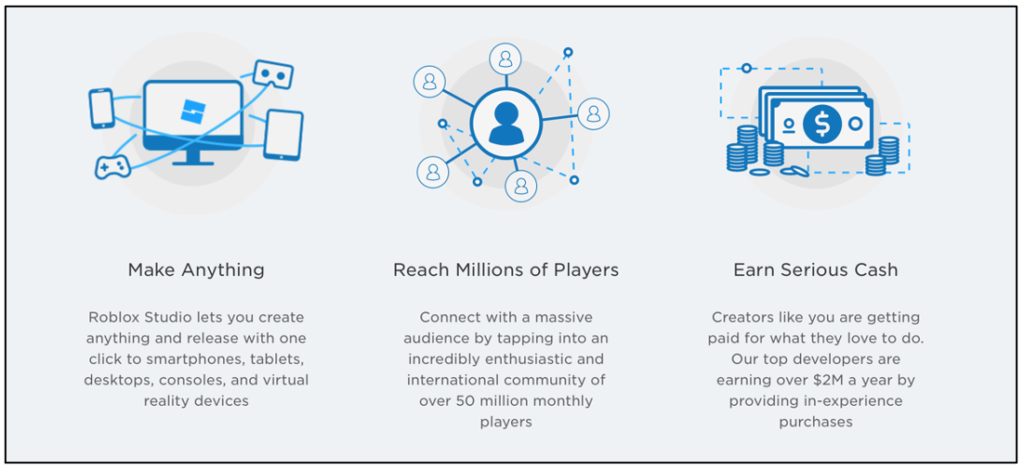 As of December 2020, there were more than 8 million active developers on Roblox. One of the ways that Roblox persuades these developers (which include minors) to create games for free is by deceptively representing that games can earn them real world cash despite the fact that the typical Roblox developer earns no money.
"More and more, our developers and creators are starting to make a living on Roblox," Roblox Founder and CEO Dave Baszucki said on a Roblox Investor Day call in February 2021, adding:
What used to be a hobby has become a job for an individual person … Developers have enjoyed meaningful earnings expansion over time. … People [are] starting to fund their college education. … [This is] an amazing economic opportunity … We can imagine developers making $100 million a year and more.
But the reality is that it is incredibly difficult for a developer to get their game noticed on Roblox and begin earning cash (which is why some Roblox developers – and brands – have resorted to buying likes to enhance their game's visibility on the platform, a deceptive tactic that Roblox says it does not permit but apparently does not adequately monitor or prevent). The numbers don't lie: Only 0.1 percent of Roblox developers and creators gross $10,000 or more and only 0.02 percent gross $100,000 or more annually, according to a Roblox SEC filing.
Robux: Roblox's virtual currency
Whether users come to Roblox as developers or players, there is one thing they both need in order to maximize their experience: Robux. Robux, which can be purchased with U.S. dollars, are used by players to buy accessories and clothing for their A digital character created by and controlled by a user to represent them in a virtual world., special abilities within games, access to pay-to-play games and Roblox Premium subscriptions, among other things. Robux can be purchased in various increments, from 400 for $4.99 to 10,000 for $99.99.
And, as Roblox likes to advertise, Robux can also be earned by creators and developers in a variety of ways, including creating and selling accessories and clothes for avatars; selling special abilities within games; driving engagement, meaning that developers are rewarded by Roblox for the amount of time Premium subscribers spend in their games; and selling content and tools, such as plugins, to other developers. Not only are Robux hard to earn, but for every dollar a user spends on something developers have created, developers get, on average, 28 cents. And to make matters worse, the exchange rate for earned Robux is 0.0035 USD per Robux, meaning that earned Robux are worth nearly 300 percent less than purchased Robux.
In addition, unlike other metaverse platforms, Roblox virtual items and its currency are not created or secured using blockchain technology, which means Roblox objects are not NFTs (non-fungible tokens) and Robux is not a cryptocurrency. As a result, when a Roblox user loses their account for whatever reason, they also lose every asset that was in the account, an occurrence that appears to happen with some frequency according to consumer complaints filed against Roblox with the FTC. (While the FTC said it has received nearly 1,300 consumer complaints against Roblox, the agency only provided TINA.org with a sampling of 200 complaints in response to its FOIA request, citing FTC policy. TINA.org has appealed the decision in order to gain access to all 1,291 of the complaints.)
Action cannot wait
Roblox, one of the largest gaming companies in the world, and the brands it has invited into its metaverse are actively exploiting and manipulating its users, including millions of children who cannot tell the difference between advertising and organic content, for their own financial gain. The result is that kids and other consumers are spending an enormous amount of money, attention and time on the platform. The FTC must act now, before an entire generation of minors is harmed by the numerous forms of deceptive advertising occurring on the Roblox platform.
---
You Might Be Interested In
Ulta Beauty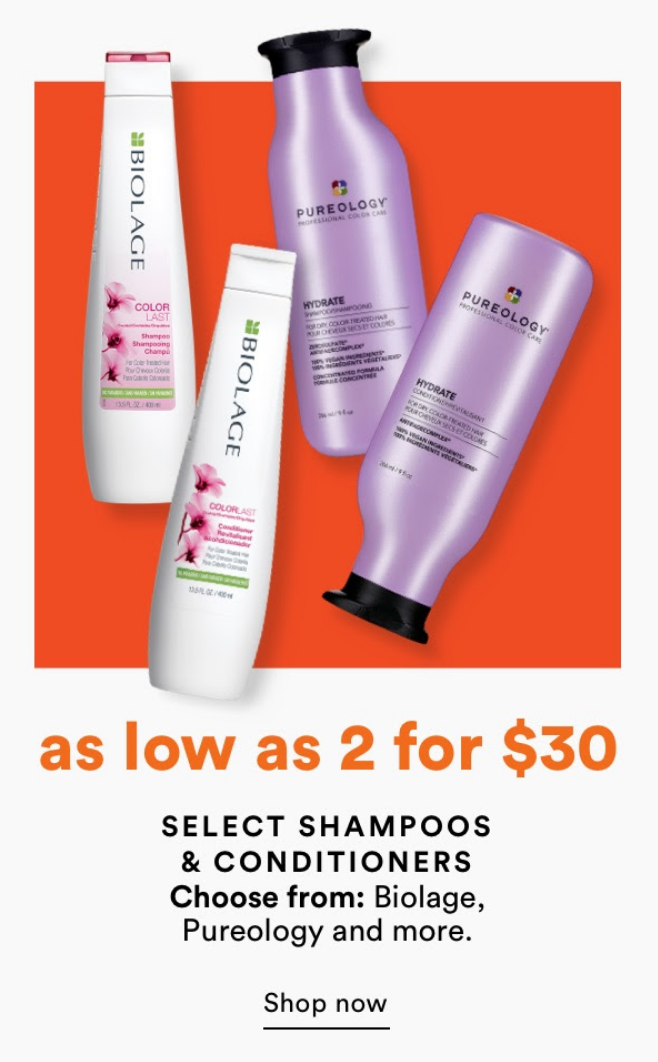 Ulta Beauty
Sometimes not even the "pretty fine print" has the answers consumers are looking for.
Jem & Fix: Mega Washer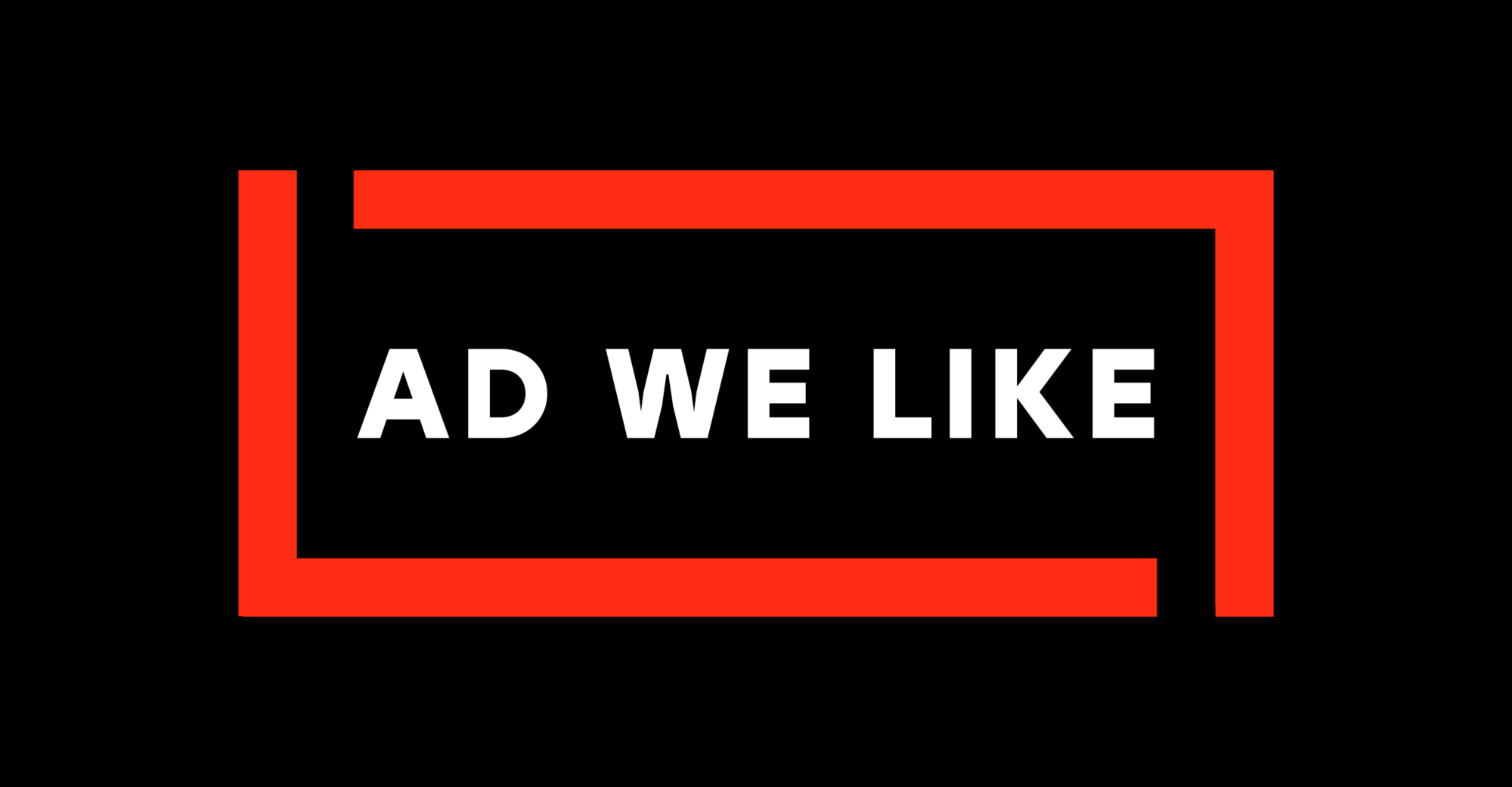 Jem & Fix: Mega Washer
A silly look at the dangers of DIY.