Will New U Life Finally Admit SomaDerm Doesn't Contain HGH?
The MLM's recent marketing changes suggest that it is ready to come clean regarding the product's actual ingredients.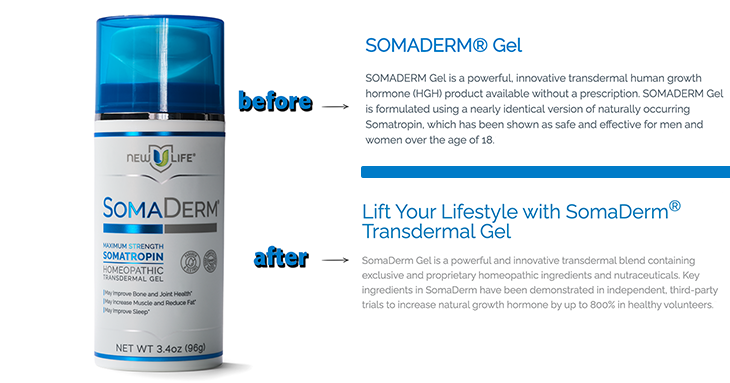 Later this month Utah-based Multilevel Marketing – a way of distributing products or services in which the distributors earn income from their own retail sales and from retail sales made by their direct and indirect recruits. New U Life will host a virtual convention, which will include a workshop entitled, "SomaDerm Deep Dive." At this workshop the company is claiming it will answer tough questions about its flagship product like, "Is there HGH in the product?" (Spoiler alert: the answer is no.) But for now the only thing that seems to have changed about the product is a new deceptive marketing pitch.

Historically, New U Life liked to boast that its SomaDerm gel was the only FDA registered transdermal human growth hormone available without a prescription. There were several problems with that marketing pitch, including the fact that it's a criminal offense to sell HGH without a prescription and that there actually is no HGH in SomaDerm.
TINA.org exposed New U Life's deceptive marketing of SomaDerm, among other things, in August 2019. Since that time, the company appears to have backtracked on some of those marketing claims. Gone is the pitch that SomaDerm contains HGH or that its formula is available without a prescription. In its place are claims that SomaDerm contains homeopathic ingredients and nutraceuticals, including the "molecular breakdown of HGH," that have been shown to increase natural growth hormone by up to 800 percent in healthy volunteers in independent, third-party trials.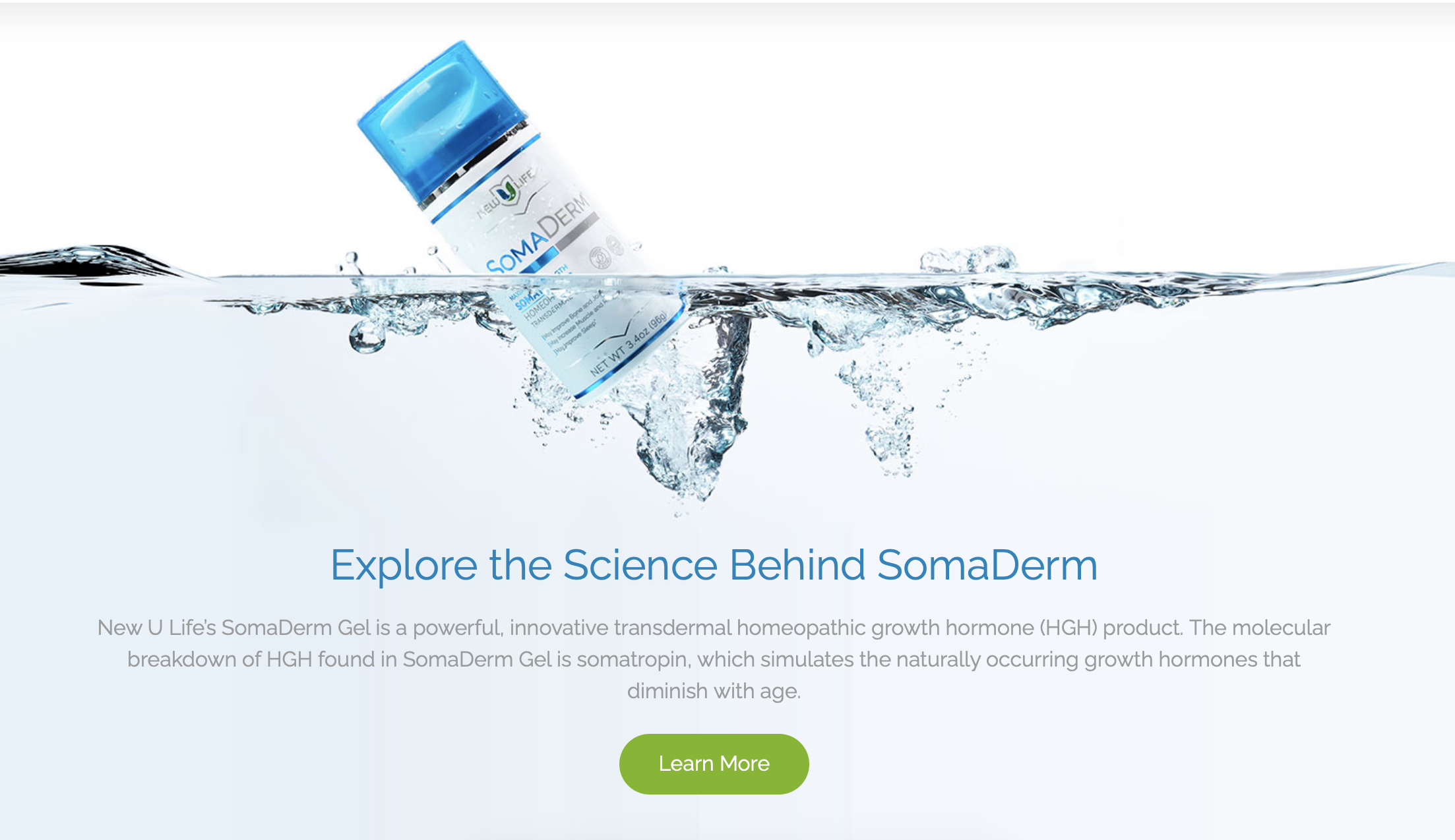 If you'd like to examine those independent trials, good luck because they are not on New U Life's website. On the SomaDerm product page under the "Explore the Science Behind SomaDerm" learn more tab all that appears are the bios of the MLM's scientific advisory board. Further, New U Life did not respond to a TINA.org request for the information.
But something that is featured on SomaDerm's product page are images and descriptions of seven of the more than 20 "inactive ingredients" in its gel product. The page touts the supposed benefits of things like wild yam root, ginkgo biloba and green tea, which it claims "[m]ay help reduce fatigue and may support health weight management." Really, by rubbing it on your skin instead of drinking it? But it fails to highlight less appealing inactive ingredients that are also in SomaDerm like phenoxyethanol and caprylyl glycol, peg-33 and peg-8 dimethicone, peg-14, and edetate disodium.
In the end, consumers buy products for their active ingredients not the inactive ones. With SomaDerm the important thing to remember is that it does not contain the active HGH ingredient it claims to have – somatropin – and $170 is a lot to pay for a bottle primarily containing oil and water.
For more of TINA.org's coverage of New U Life, click here.
---
You Might Be Interested In
A Growing List of Coronavirus Scams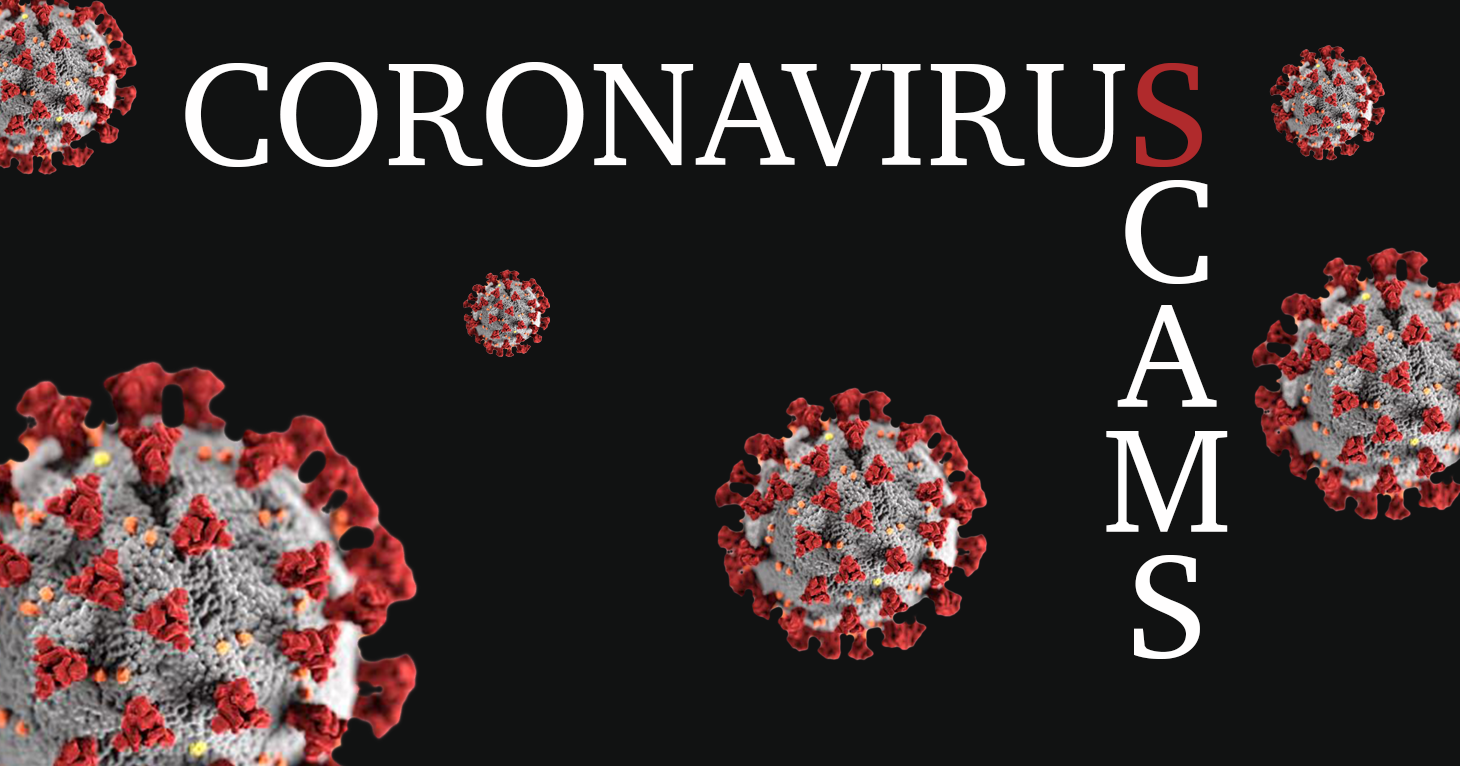 A Growing List of Coronavirus Scams
A master list of known and alleged scams.
Face Mask Sellers on eBay Falsely Claim Products are 'FDA Approved'
Face Mask Sellers on eBay Falsely Claim Products are 'FDA Approved'
TINA.org investigation also finds sellers using the FDA's logo in violation of the agency's logo policy.
Mixed Messaging in the MLM Industry Regarding Coronavirus Claims
Mixed Messaging in the MLM Industry Regarding Coronavirus Claims
We have to make sure we're not seen as "taking advantage of a crisis situation," said DSA President Joe Mariano.