TINA.org Takes Gwyneth Paltrow's Goop-y Health Claims to Regulators
TINA.org probe into Goop's marketing reveals a plethora of illegal health claims.
|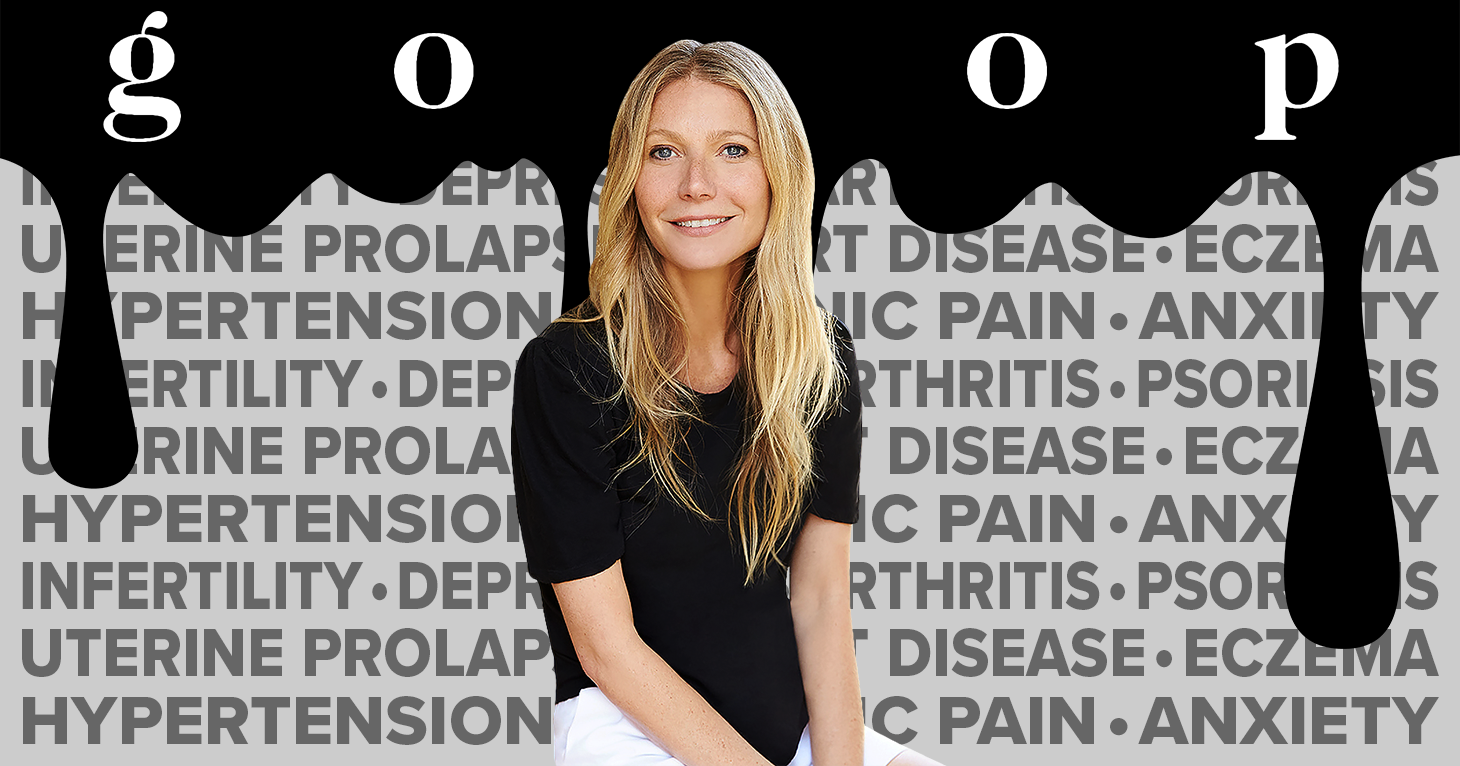 Editor's Note: In September 2018, Goop agreed to pay $145,000 to settle California regulators' allegations that the company deceptively marketed two of its vaginal eggs as having the ability to balance hormones, regulate menstrual cycles, prevent uterine collapse and increase bladder control. Our original article follows.
Gwyneth Paltrow's wellness empire, Goop, approaches health … differently.
From the brand's famous yoni eggs to its Shaman-inspired medicine bags and crystal therapy readings, to quirky supplement names like "Why Am I So Effing Tired?" and a mineral-infused oxygen bar that the company apparently breaks out at corporate events — it's easy to get caught up in the world according to Goop. So easy, in fact, consumers may overlook the serious conditions for which Goop products — and the third-party products it promotes — are prescribed.
But a TINA.org investigation into Goop's marketing has revealed more than 50 instances in which the company claims, either expressly or implicitly, that its products (or those it promotes) can treat, cure, prevent, alleviate the symptoms of, or reduce the risk of developing a number of ailments. These include crystal harmonics for infertility, rose flower essence tincture for depression, black rose bar for psoriasis, wearable stickers for anxiety, and vitamin D3 for cancer. The problem is that the company does not possess the competent and reliable scientific evidence required by law to make such claims.
Additional problematic health claims can be found in this passage in an article on Goop's website titled, "Earthing: How Walking Barefoot Could Cure Your Insomnia & More":
(Of note, while the speaker here, Clinton Ober, does not lay claim to any specialized medical training in the post, he does have an undisclosed material connection to Earthing — the company whose "grounded" bed sheets and patches are listed for sale in the article — as an inventor whose name appears on three of its patents.)
TINA.org warned Goop about its unsubstantiated, and therefore deceptive, health and disease-treatment claims in an Aug. 11 letter to the company and its celebrity founder and CEO. In the letter, TINA.org signaled its intent to alert government regulators if Goop did not take corrective action by Aug. 18. On Aug. 17, after communicating with Goop's outside counsel, TINA.org provided the company with a list of Goop and Goop-promoted webpages containing illegal health claims. Despite being handed this information, Goop to date has only made limited changes to its marketing.
As a result, TINA.org on Tuesday filed a complaint with two California district attorneys, urging the regulators to investigate Goop's marketing and take appropriate enforcement action. (The district attorneys are part of the California Food, Drug and Medical Device Task Force, which last October reached a $1 million agreement with MyPillow after TINA.org supplied the task force with the findings of a deceptive marketing investigation into the pillow company.)
TINA.org is not the first group or person to question the science behind Goop's health claims. Everyone from "Late Show" host Stephen Colbert to a former chief scientist at NASA has accused Goop of promoting pseudoscience, while Paltrow has challenged anyone who seeks to criticize the brand she founded nine years ago to bring their A game.
TINA.org Executive Director Bonnie Patten said:
Marketing products as having the ability to treat diseases and disorders not only violates established law but is a terribly deceptive marketing ploy that is being used by Goop to exploit women for its own financial gain. Goop needs to stop its misleading profits-over-people marketing immediately.
TINA.org's complaint comes one year after The National Advertising Division (NAD) is the advertising industry's self-regulatory body administered by the Council of Better Business Bureaus. opened an inquiry in which it requested that Goop provide substantiation for brain claims made in the marketing of Moon Juice dietary supplements sold on Goop.com. At the time, Goop said it would permanently discontinue the claims in question. But the inquiry made clear that Goop has an obligation as a marketer to verify the efficacy claims of all products it promotes.
From musings to millions to one helluva wellness summit

What began as a "homespun weekly newsletter" of Paltrow's whimsical thoughts on everything from travel and cooking to health, fitness, and the psyche in the fall of 2008, Goop is now a wellness empire that markets a plethora of specialty items aimed at a variety of physical and mental health issues.
After reportedly raising $15-$20 million in venture capital in 2016, Goop entered the $37 billion supplement industry in March when it launched Goop Wellness, a line of supplements that sold more than $100,000 worth of product the day it debuted, according to Fast Company.
Then in June, Goop hosted its first-ever wellness summit, "In Goop Health," in a lavishly decorated industrial warehouse outside Los Angeles. Attendees, which included a TINA.org staffer who went undercover, paid $500-$1,500 for the chance to sit in on panel discussions about leech facials, snack on "Kale cookies and cream" vegan ice cream, and get hooked up to a mineral-infused oxygen bar whose administer, clad in a T-shirt emblazoned with the name of the Goop summit, touted the purported cognitive benefits that the essential oils in the oxygen are said to deliver.
At the conference TINA.org also crossed paths with a barista rocking the same Goop-y tee who was serving cups of Bulletproof Coffee, a Goop partner. The barista claimed that the grass-fed butter in the coffee increases brain function. It also helps with cancer and weight loss but the brain, we were told, that's "the moneymaker." But when we asked how, exactly, brain function is improved, we got this garbled answer:
After two weeks you notice, like, your … increase of, like, perceptions of the world around you, you notice how you feel is a little bit different.
The response was reminiscent of one Paltrow herself gave in an interview with talk show host Jimmy Kimmel just a few days earlier, when she struggled mightily to come up with a coherent definition for "earthing." The Academy Award-winning actress eventually conceded (at 1:17 in the video below) that at times "I don't know what the [expletive] we talk about."
Nevertheless, Goop proclaimed the inaugural summit a rousing success, pointing to media coverage like a Refinery29 article whose author allegedly gushed about the master of ceremonies, "Paltrow created the Disneyland of wellness summit." But the blurb on Goop's site is taken out of context and therefore quite misleading. The full quote shows the observation was not intended to be a compliment but a complaint:
And this comes after the author remarks higher in the article that "[i]t's not hard to see why [Paltrow] has been criticized for promoting pseudo-science — some would even say misinformation…"
(TINA.org has notified Refinery29 about the deceptive use of the "Disneyland" quote on Goop's site.)
Whose doctors?

Last month Goop issued a response to one of its harshest critics with a strongly worded post titled, "Uncensored: A Word from Our Doctors." Among other things, the post suggested that maybe it's not smart to trust evidence-based science all of the time:
Studies and beliefs that we held sacred even in the last decade have since been proven to be unequivocally false, and sometimes even harmful. Meanwhile, other advances in science and medicine continue to change and save lives. It is not a perfect system; it is a human system.
But not long after the post went up, one of the two doctors who Goop recruited to write open letters to feature in the piece, Dr. Aviva Romm, told STAT that she doesn't actually see herself as one of Goop's doctors at all.
"In fact," STAT reported, "she said she's advised Goop that if it wants to be more than a 'caricature of everything alternative health for women,' the editors need to do an audit of all their content, in consultation with physicians."
TINA.org would agree that a site-wide audit is in order.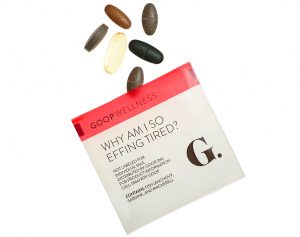 In addition to the ailments that TINA.org's investigation found Goop deceptively markets products to treat, there are other conditions, which are not medically recognized, such as adrenal fatigue and postnatal depletion that the company claims its Goop Wellness supplements combat ("Why Am I So Effing Tired?" for adrenal fatigue and "The Mother Load" for postnatal depletion). Moreover, while product packaging indicates that supplements in general are needed because "the modern American diet often calls for extra vitamin and mineral support," that message conflicts with scientific studies that say there's "no overall benefit" from taking them.
Goop has two more wellness summits scheduled for next year, the first of which will take place in New York City in January. But before the company takes any more requests for tickets, Goop needs to shape up its marketing when it comes to being truthful about what its products and those it promotes are really capable of achieving.
UPDATE 10/2/17: A month after TINA.org provided Goop with a list of URLs harboring illegal health claims, the company has removed a number of inappropriate health statements from its site. These include claims to prevent uterine prolapse (Better Sex Jade Eggs), as well as claims to treat acne, eczema and psoriasis (Black Rose Bar). However, the vast majority of problematic health statements catalogued by TINA.org on Goop.com remain at this time, with one claim to treat infertility now attributed to what "fans of the product" have to say.
Read more about TINA.org's investigation into Goop here.
---
You Might Be Interested In
Jeep x Jurassic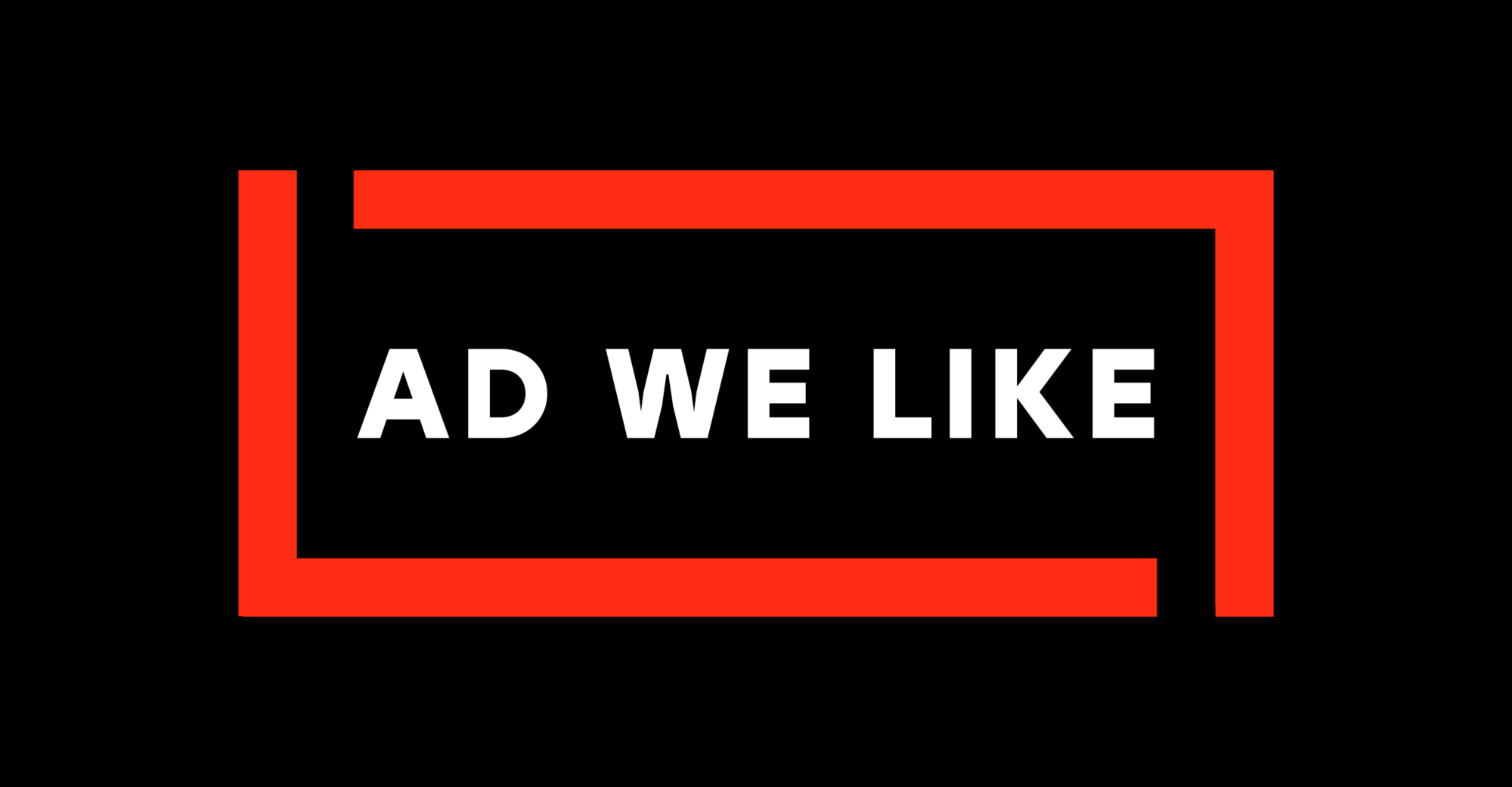 Jeep x Jurassic
A Jeep driver hatches a terrible plan(osaurus).
SKKN by Kim's Sustainability Claims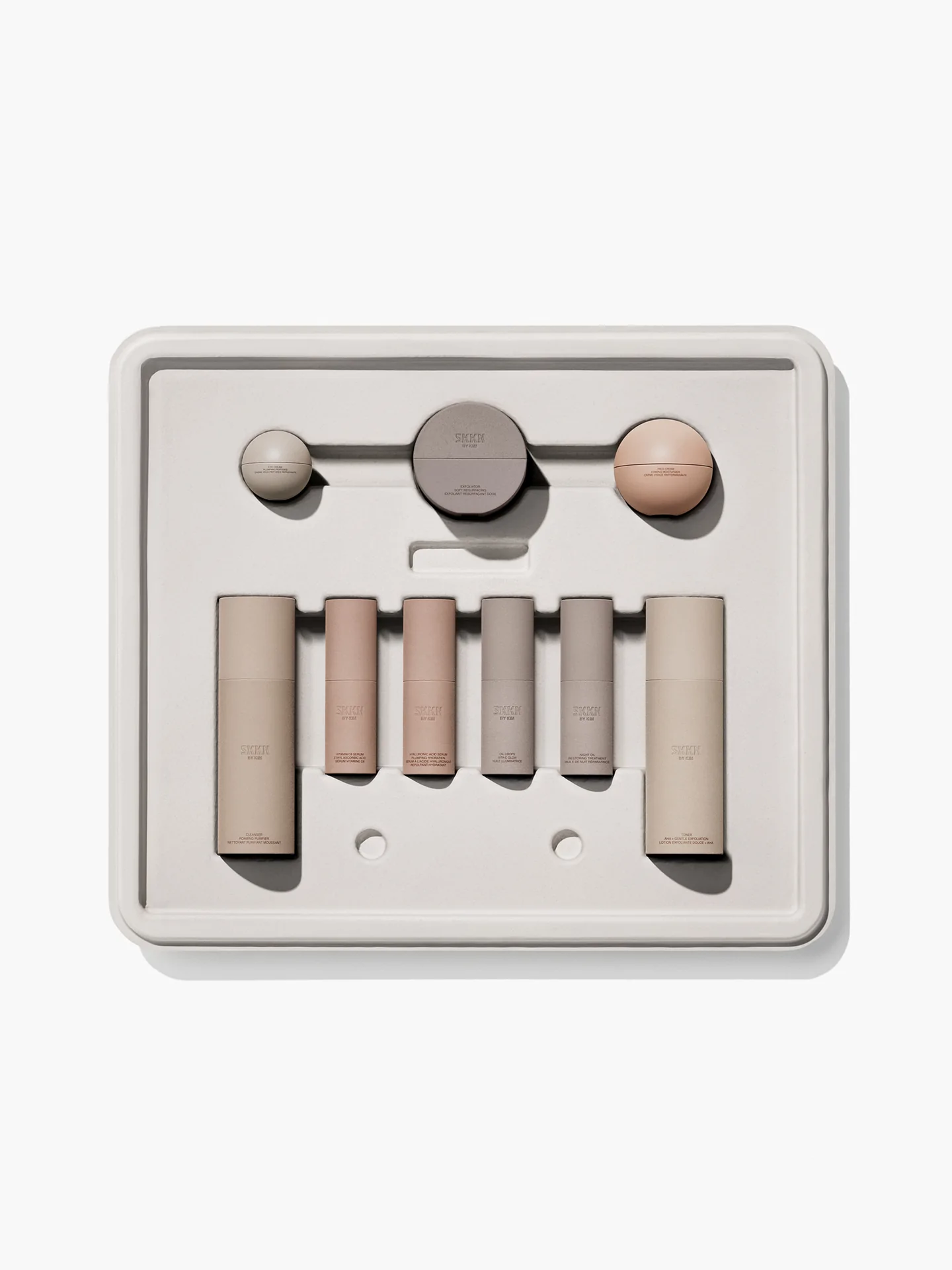 SKKN by Kim's Sustainability Claims
Consumers accuse Kim Kardashian of greenwashing.
Fungus Eliminator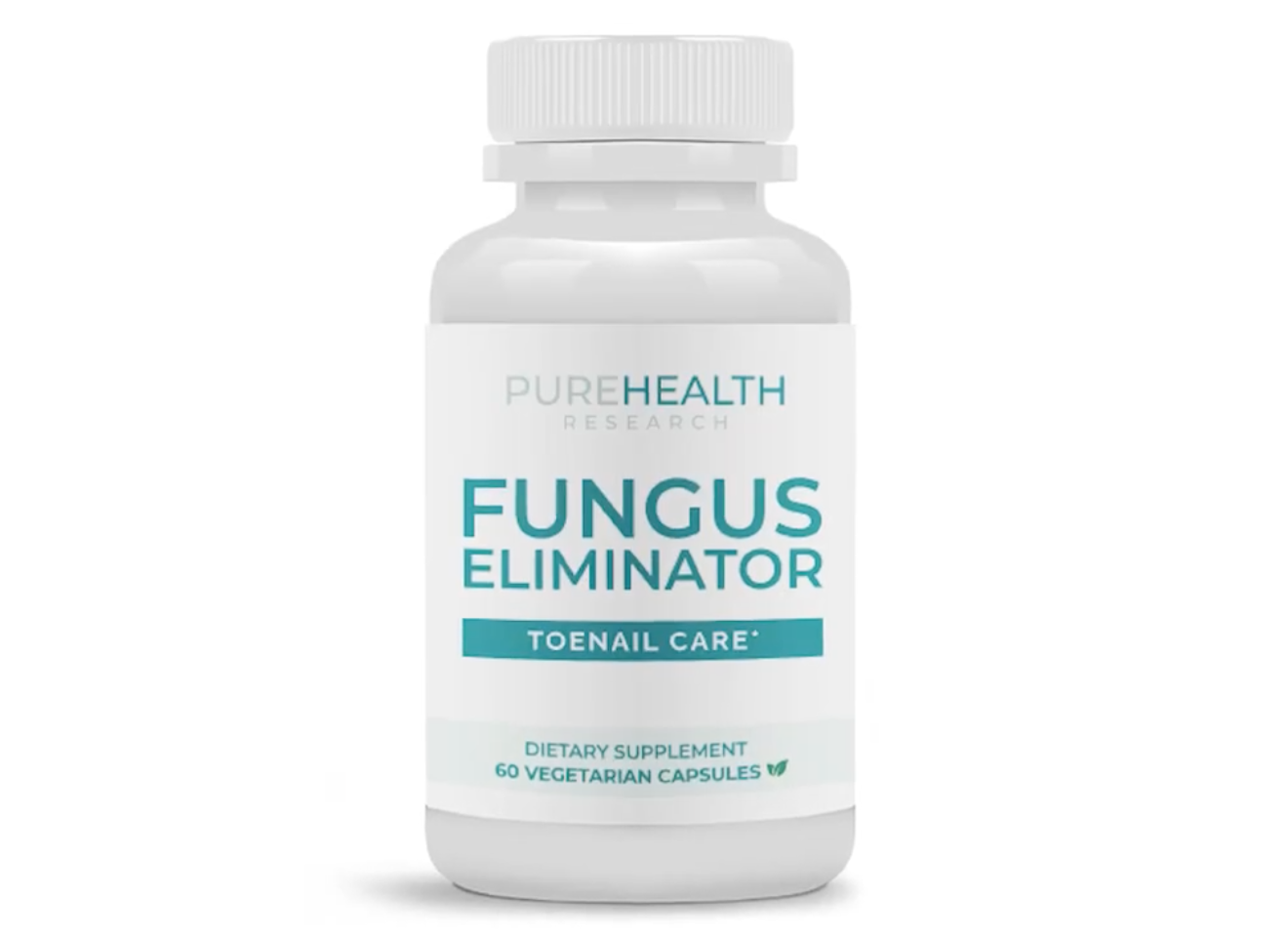 Fungus Eliminator
Forty-five million Americans are 'fighting a losing battle' against toenail fungus. Could this supplement be the solution?