Lipozene Fat Burning Claims Violate FTC Order
Get the skinny on TINA.org's investigation of Lipozene.
|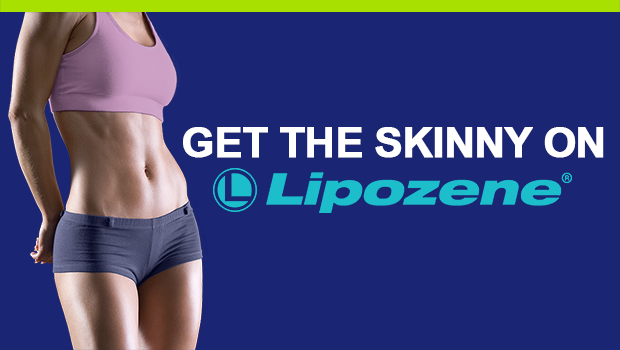 More than 10 years ago, Obesity Research Institute was reaping more than $40 million in sales by hawking products that it said would cause rapid weight loss without the need to reduce calories or increase physical activity.
That marketing landed the company and its owners, Henny den Uijl and Bryan Corlett, in federal court in California when the FTC said there was no competent or reliable scientific evidence to back up those advertising claims. To settle the case, the company agreed to pay $1.5 million — less than one percent of its sales revenues  — for consumer redress and to never again make misleading and deceptive weight-loss claims.
But the company is at it again. This time, it is hawking Lipozene. Television ads claim that the weight-loss product is clinically proven to reduce body fat without consumers having to change anything they are doing. Ante up $29.95 for a risk-free trial and you'll see that the price is worth it, an attractive blonde-haired spokeswoman tells viewers.
"It's so easy," says another ad airing just in time for bikini and vacation season.
The claims are a clear violation of the company's 2005 FTC consent order, according to an investigation by TINA.org, which alerted the FTC in a letter April 7.  The claims are also exactly the type the federal agency has spotlighted in its own reference guide "Red Flag: Bogus Weight Loss Claims" as scientifically unsupported.
TINA.org's investigation into Lipozene advertising found that the company is violating several main provisions of the 2005 consent order by claiming the product:
Causes rapid and substantial weight loss for all users. 
Causes weight loss without the need to reduce caloric intake or increase physical activity.
Is safe and does not have side effects when in fact the company is aware of at least one report that the active ingredient in Lipozene, glucomannan, can cause diarrhea and abdominal discomfort and other reports that call for additional studies regarding glucomannan's safety and efficacy.
But wait, there's more
Not only is the company violating the consent order, TINA.org has found it is making false Made in the USA claims in some of its Lipozene marketing. These Made in the USA claims actually contradict other company claims that appeared on its website that glucomannan is extracted from the konjac root grown in Southeast Asia. It also contradicts advertising that Lipozene is "assembled" in the USA with imported and domestic materials.
And that risk-free trial? Consumers have complained both to the BBB and in online consumer forums that once they have placed an order for Lipozene they are charged for orders they say they didn't request. The FTC has received more than 300 complaints from consumers regarding Lipozene, a majority concerning repeated credit card charges and difficulties in getting the company to cancel the unwanted orders.
TINA.org found that the company may bind consumers to a negative option offer without adequately notifying them and without receiving their informed and express consent prior to obtaining their billing information.
"For all these reasons, TINA.org urges the FTC to reopen its investigation of Obesity Research Institute and take appropriate enforcement action," TINA.org said in its letter.
Allison Borts, general counsel for Obesity Research Institute, in an email to TINA.org denied that the company is in violation of any law or court order including the FTC consent order.
"We stand by the claims made in our advertisements as truthful and not misleading," she said. "As required by law we have substantiation for the claims made."
Lawsuits and warnings
Lipozene has faced challenges on several legal and regulatory fronts in recent years. In 2014, the
FDA sent a warning letter to California-based West Coast Laboratories regarding the manufacturing of Lipozene stating that the agency found several serious violations of the Federal Food, Drug, and Cosmetic Act. The lab, the FDA found, did not perform any testing to verify the identity of the raw materials used in the manufacturing of Lipozene and it failed to comply with the "Current Good Manufacturing Practice" in making the product. (The FDA has received more than 10 adverse events reports regarding Lipozene users that TINA.org obtained copies of through a Freedom of Information request but many of the users were taking several medications and supplements in addition to Lipozene as well.)
Also in 2014, NAD, the Council of Better Business Bureaus' ad industry self-regulatory body, referred the company to the FTC when it refused to respond after the Council for Responsible Nutrition objected to disease treatment claims by Lipozene regarding diabetes, high cholesterol and obesity and other claims that the product is clinically proven to reduce weight and is safe and effective. (Despite this referral, and more than 80 complaints that have been logged with the BBB, it maintains a B rating for the company. A spokeswoman for the Council of Better Business Bureaus said that Lipozene's rating wasn't affected by the referral to the FTC because the FTC to date has not taken any action.)
In March, a class-action lawsuit was filed in federal court in California (the same court as the 2005 FTC case) alleging that just one year after entering into the consent order with the agency, Obesity Research Institute, Uijl and Corlett launched Lipozene, and are once again reaping profits with illegal marketing claims while the FTC has done nothing about it. In addition, the suit alleges that Lipozene is adulterated with potential allergens like sulfites. The suit, among other things, is asking the court to hold the defendants in civil contempt.
The March lawsuit is only the latest in several cases filed against the company and its leaders, who have marketed several diet and health products making similar claims, according to court documents.
Borts dismissed the lawsuits as baseless.
"We strongly deny any class action claims or complaints brought by competitors. Unfortunately, the supplement business seems to attract baseless litigation and attorneys looking for fees. This is no different," she said.
Fine print
Despite all these legal and regulatory challenges, Lipozene ads still play regularly on television promising all sorts of miracle weight-loss results while the company buries a lot of other important details consumers should be wary of in its fine print.
Take, for example, the pictures of those now-skinny customers on the company's webpage who say they have lost oh, so much weight by using Lipozene. Scroll down and you'll see in tiny print that while the company on one hand says you don't need to change any of your ways to lose weight, the endorsers pictured have actually been on a diet, have exercised, and even more importantly, received some kind of compensation for their Lipozene endorsements.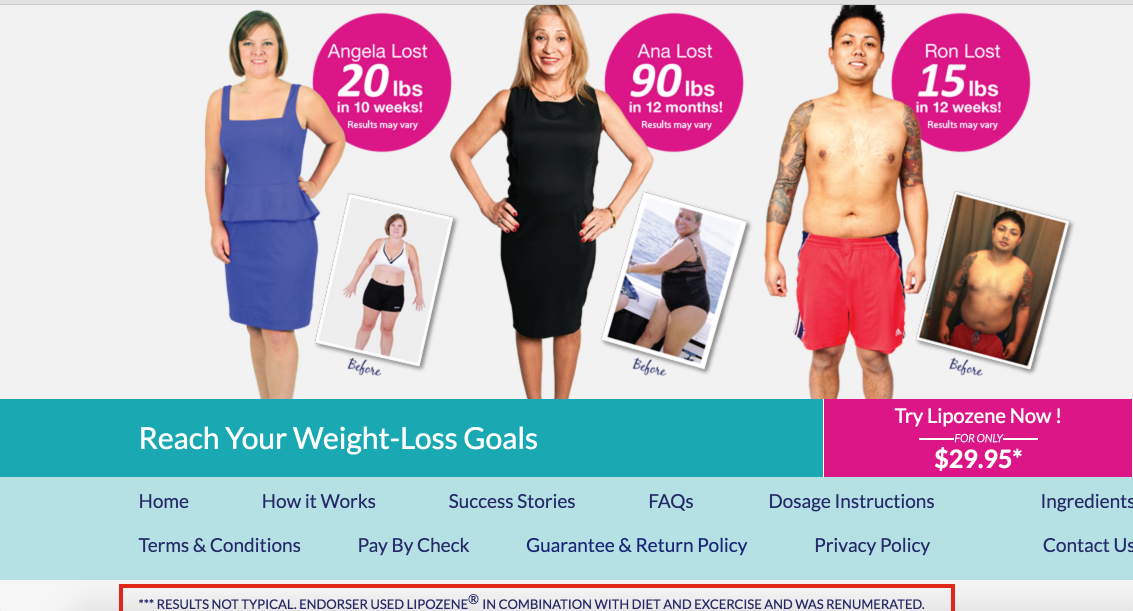 To get the risk-free trial consumers have to navigate through additional pages that seem to offer further deals that if they agree to end up costing more than a $100. Also, the money-back guarantee, the company notes deep in its terms and conditions, only pertains to products bought via the Internet or from television orders. The terms also state that the company can change the sales price for the product and recurring shipments any time it wants without notification other than on its webpage and that consumers are bound by binding arbitration if they want to pursue any action against the company.
For more on TINA.org's coverage of weight loss products, click here.
This story was updated on 7/6/16. 
---
You Might Be Interested In
FDA Sends Amazon a Warning Letter
FDA Sends Amazon a Warning Letter
FDA warns Amazon about its distribution of products illegally marketed as drugs.
Liquid Death | Not A Waterboy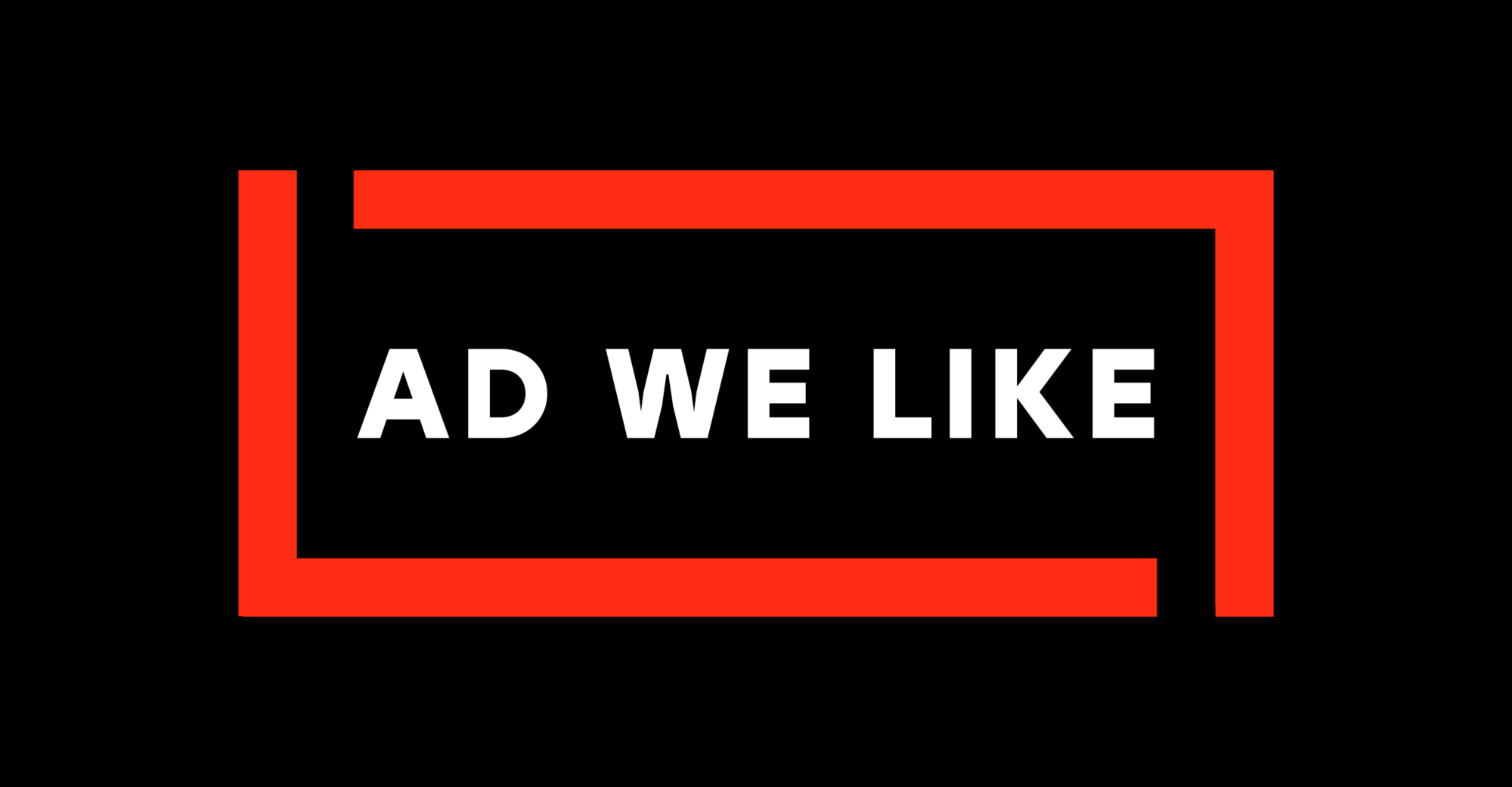 Liquid Death | Not A Waterboy
Canned water company signs a landmark endorsement deal with a "hydration assistant."
Is Anthony Anderson's Candyverse NFT Project a Scam?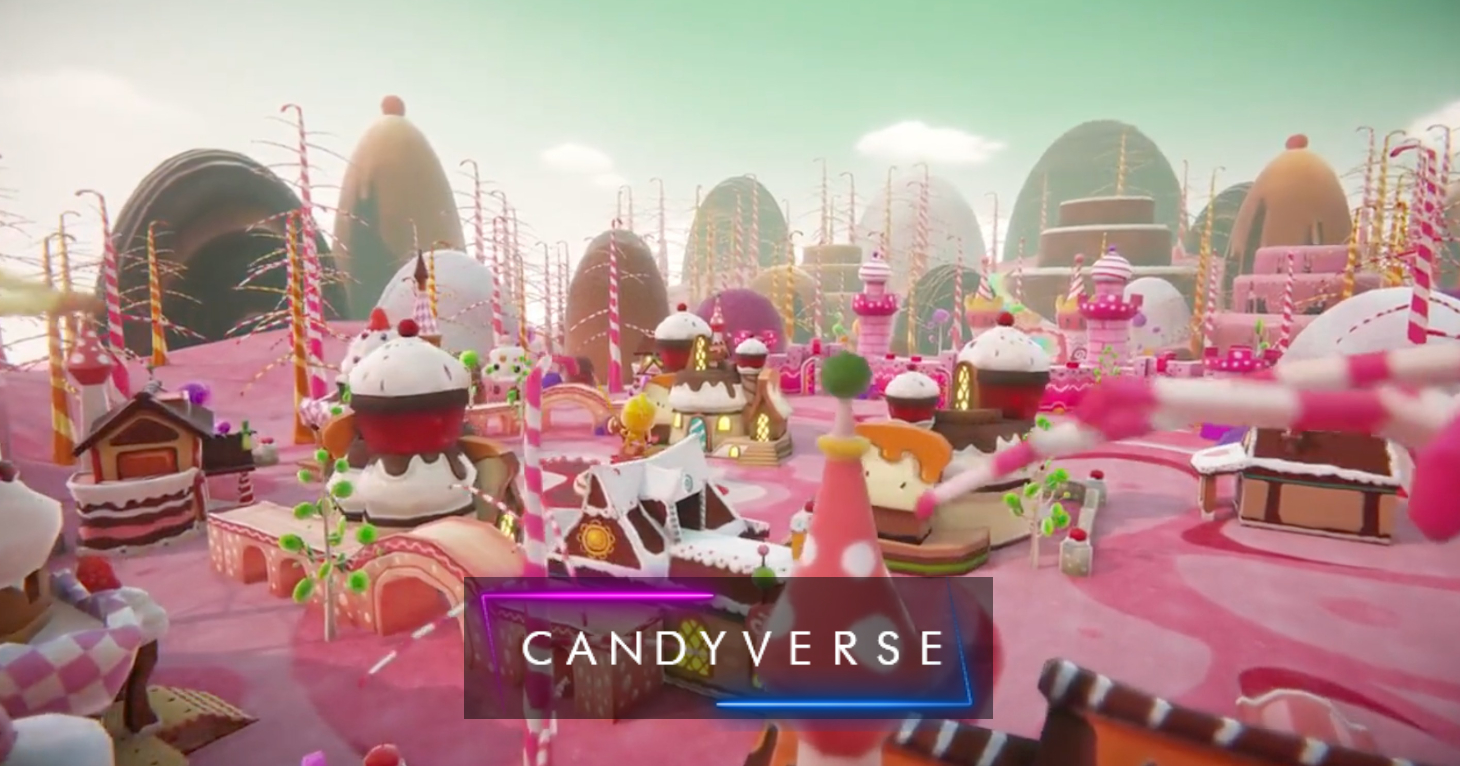 Is Anthony Anderson's Candyverse NFT Project a Scam?
The impact of a celebrity endorsement.