Expert Economist Declares Jeunesse a Pyramid Scheme
Federal class-action lawsuit turns up heat on Jeunesse.
|
UPDATE 1/31/23: Jeunesse Global has been acquired by LaCore Enterprises, LLC, which has appointed a new CEO, Jason Borné, and a new COO, Demont Rainge. Our original post follows.
The FTC's expert economist in the government's case against Vemma Nutrition Company – a case that led to a $238 million settlement over allegations that Vemma was a pyramid scheme – has just issued a report declaring Jeunesse, a Florida-based skin care and supplement Multilevel Marketing – a way of distributing products or services in which the distributors earn income from their own retail sales and from retail sales made by their direct and indirect recruits. company, a pyramid scheme.
Stacie Bosley, who has a Ph.D. in applied economics from the University of Minnesota and is an assistant professor of economics at Hamline University, has issued a 21-page report, which was filed this week in Florida federal court in support of a class-action lawsuit against Jeunesse. In the report, Bosley states:


Bosley goes on to opine: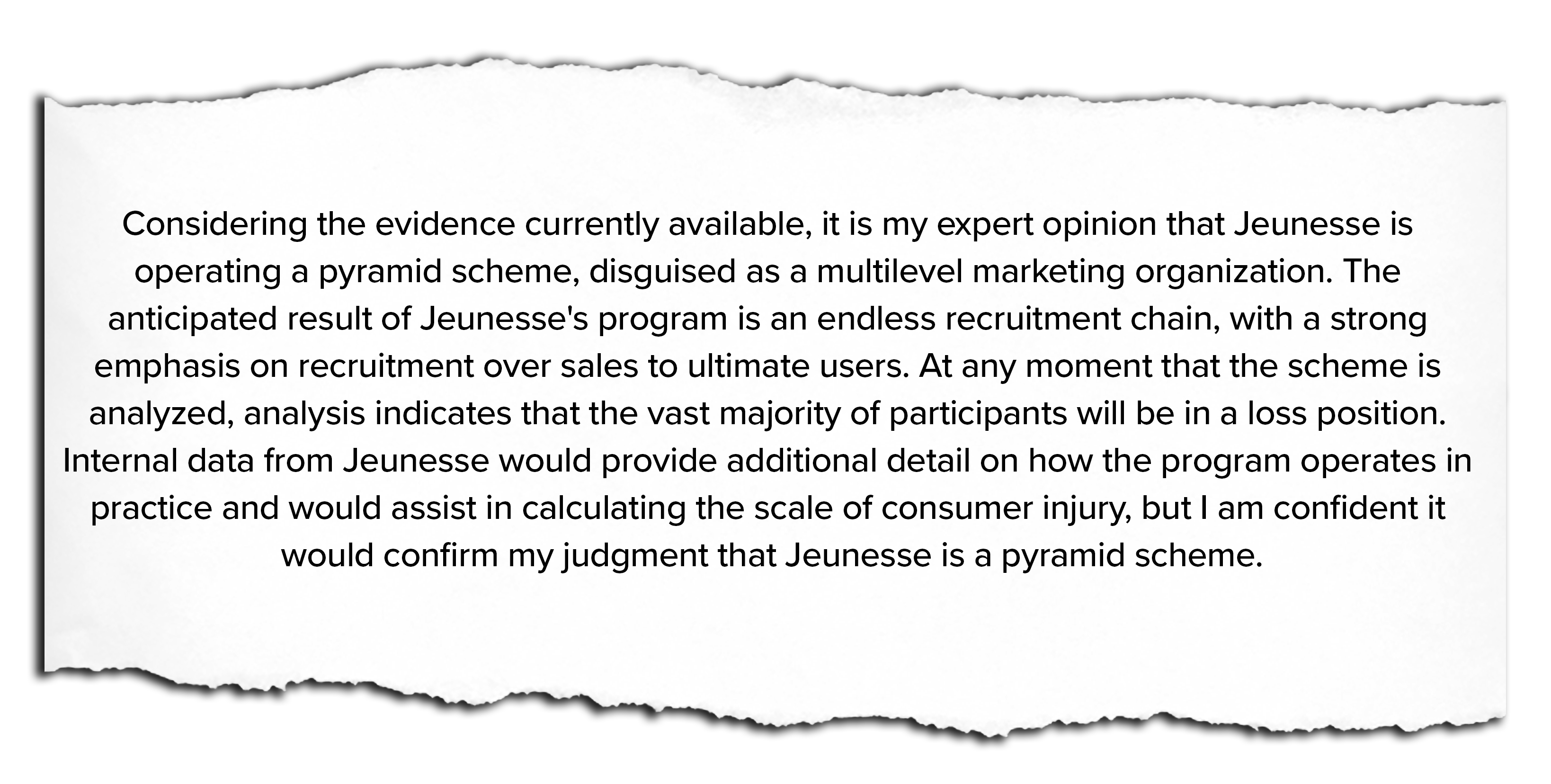 In reaching these conclusions, the report explains:


In September 2015, Bosley's report and testimony were instrumental in the Arizona federal court's holding that Vemma would likely be found to be a pyramid scheme at trial. In that case, which subsequently settled, the court wrote:
as the FTC's expert, Dr. Bosley, correctly stated in her report, an ultimate user under the second Koscot prong is limited to one who would have purchased a product even if not for the income opportunity. . . . The evidence before the Court leaves little doubt that the FTC will ultimately succeed on the merits in demonstrating that Vemma is operating a pyramid scheme. With regard to the first Koscot prong, Vemma's bonus structure and training materials are designed to make new Affiliates buy a $600 Affiliate Pack, which makes payment for the right to sell a Vemma product if not a written requirement, a practical one. With regard to the second Koscot prong, the evidence shows that the bonuses Affiliates earn are primarily for recruitment of other Affiliates, not the sale of products.
This lawsuit against Jeunesse was originally filed in December 2016. Since then two other cases have been brought against the company alleging that it is a pyramid scheme. One of those cases was subsequently voluntarily dismissed When a complaint is dismissed with prejudice, it cannot be refiled., and the other case, seeking $1 billion in damages, was filed last month.
For more on TINA.org's coverage of Jeunesse, click here.
---
You Might Be Interested In
5 Ad Trends to Be Wary of in 2020
5 Ad Trends to Be Wary of in 2020
CGI influencers are here.
TINA.org Objects to Jeunesse Settlement that Snubs Consumers
TINA.org Objects to Jeunesse Settlement that Snubs Consumers
TINA.org breaks down unfair and inadequate MLM settlement by the numbers.
Fourth Jeunesse Pyramid Scheme Lawsuit Filed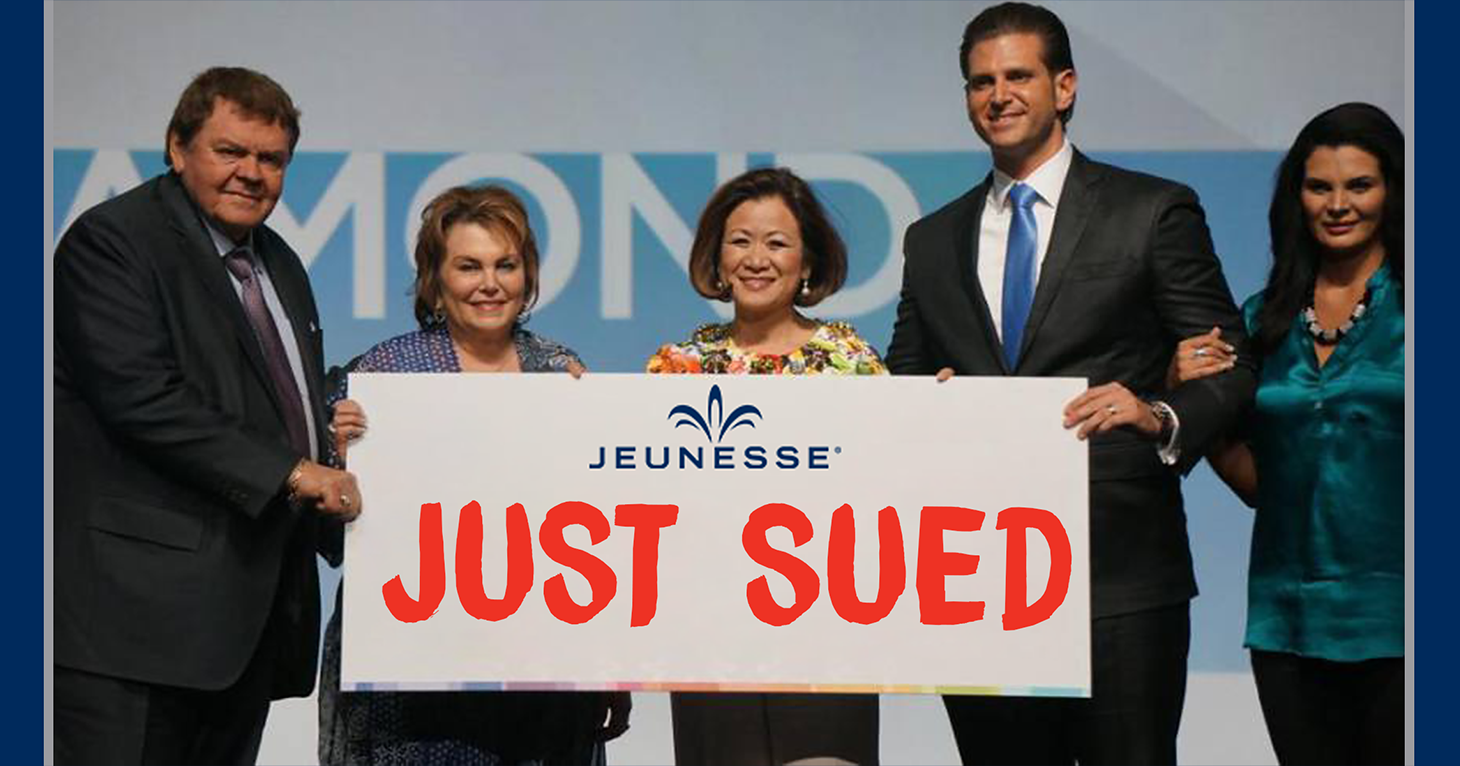 Fourth Jeunesse Pyramid Scheme Lawsuit Filed
New lawsuit calls Jeunesse a pyramid scheme while taking aim at product line.