Pyramid Scheme Lawsuit Against Jeunesse Seeks $1 Billion
Jeunesse and Diamond distributors facing third pyramid scheme complaint in 10 months.
|
UPDATE 1/31/23: Jeunesse Global has been acquired by LaCore Enterprises, LLC, which has appointed a new CEO, Jason Borné, and a new COO, Demont Rainge.
UPDATE 8/13/18: This case was voluntarily dismissed, the reasons for which have not been disclosed. Our original post follows.
Distributors of the Florida-based skin care and supplement Multilevel Marketing – a way of distributing products or services in which the distributors earn income from their own retail sales and from retail sales made by their direct and indirect recruits. Jeunesse are seeking damages in excess of $1 billion in a class-action complaint that slams the company, its founders, a top exec and various high-level distributors, for running an illegal pyramid scheme.
With claims of backroom deals, money laundering, tax evasion, forced uncompensated work, cancer cures and violations of foreign laws, the 12-count, 45-page complaint reads like a novel. But its main allegation is that defendants, which include founders Randy Ray and Wendy Lewis and top executive Scott Lewis, "intentionally and systemically concealed the necessary information regarding Defendants' false advertisement[s], false financial disclosures, [and] false income claims" to recruit and keep plaintiffs in a pyramid scheme.
The lawsuit, which was filed Oct. 12 in California federal district court by three current distributors and one former distributor, names 15 defendants and 100 unknown defendants that plaintiffs allege are responsible for the injuries and harm they incurred. Named defendants include Kim Hui, who held the second-highest distributor rank in Jeunesse as a Presidential Diamond director, and her company US Global System (USGS), as well as four Diamond directors in Hui's downline, May Chang, Yvonne Yen, Samson Li and Lisa Wang.
As for Hui, she has been on TINA.org's radar for some time because of her recruitment focus, which is a warning sign of a pyramid scheme. It appears that Hui left Jeunesse late last year to pursue other endeavors. The complaint alleges, among other things, that:
… HUI mandates JEUNESSE distributors under her chain to pay all kinds of fees to USGS based on the amount each distributor received from JEUNESSE and the involvement of the activities. Named plaintiffs and others similarly situated were also forced to work for USGS without compensations. The JEUNESSE business operated by USGS is a big time cash business without proper accounting.
The complaint goes on to state:
In order to explore [the] Chinese market, Defendants asked their Chinese American distributors to recruit Chinese nationals to become JEUNESSE distributors and recruiters without any legal authorization from [the] Chinese government. . . . Defendants MAY CHANG, YVONNE YEN, LISA WANG, and SMASON LI consistently promote JEUNESSE's recruiting events in Hong Kong and China. They made hefty profits in cash from the events and utilized multiple individuals and other means to carry their cash back to the United States for them. The conduct violates foreign laws and constitutes money laundering and tax evasion.
The complaint most likely implicates violations of foreign law because in 2005, the Chinese government enacted a law called Regulation of Direct Sales and Regulation on Prohibition of Chuanxiao (Chuanxiao roughly translates to MLM). According to this regulation, direct sales are permitted in mainland China but MLMs are not. The suit seeks to hold defendants liable for fraudulent business practices, false advertising, and violations of the Federal Racketeer Influenced and Corrupt Organization Act (RICO) and the Foreign Corrupt Practices Act, among other things.
This is one of many lawsuits filed this year that TINA.org is tracking alleging that an MLM is a pyramid scheme, and the third class action filed against Jeunesse alleging that it is a pyramid scheme. The first case against Jeunesse was filed in July 2016 and amended in October 2017, and is currently pending in Florida federal district court. The second case, filed in December 2016, was voluntarily dismissed When a complaint is dismissed with prejudice, it cannot be refiled. in May 2017.
TINA.org reached out to Jeunesse for comment but has yet to hear back.
For more on Jeunesse, click here.
---
You Might Be Interested In
5 Ad Trends to Be Wary of in 2020
5 Ad Trends to Be Wary of in 2020
CGI influencers are here.
TINA.org Objects to Jeunesse Settlement that Snubs Consumers
TINA.org Objects to Jeunesse Settlement that Snubs Consumers
TINA.org breaks down unfair and inadequate MLM settlement by the numbers.
Fourth Jeunesse Pyramid Scheme Lawsuit Filed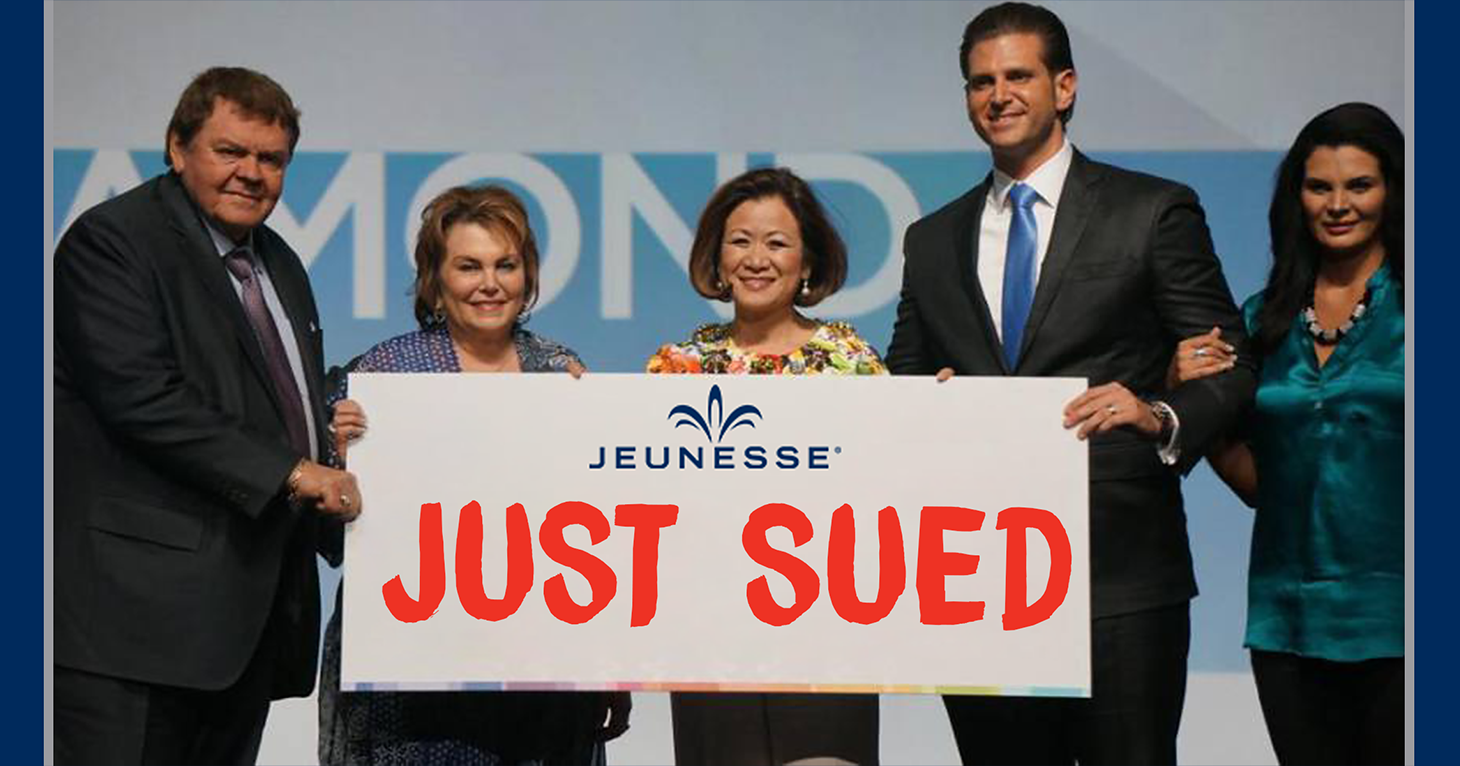 Fourth Jeunesse Pyramid Scheme Lawsuit Filed
New lawsuit calls Jeunesse a pyramid scheme while taking aim at product line.