Truist Mailing
Be wary of mailings from banks where you do not have an account.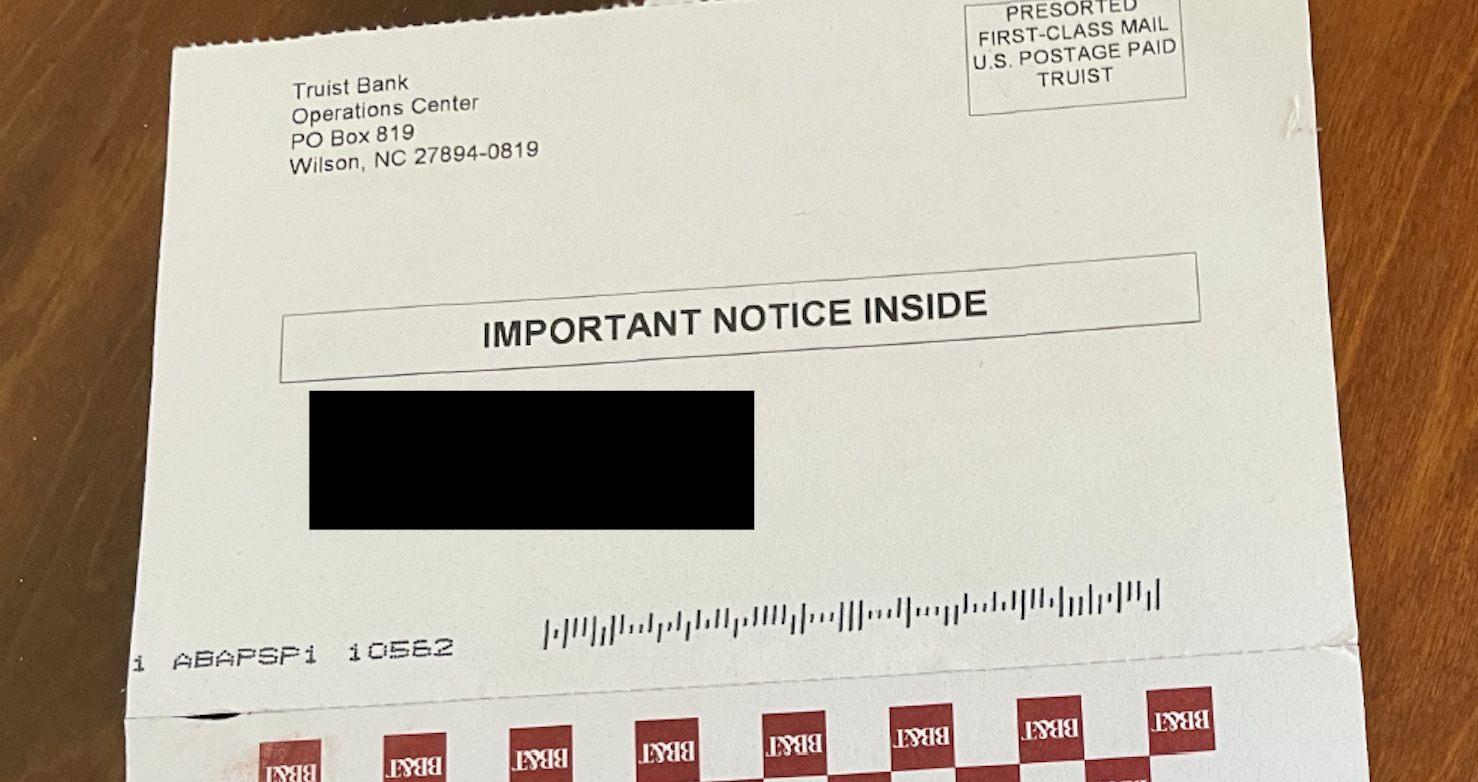 The notice a consumer received in the mail from Truist Bank looked official because it was official – the bank had indeed sent it. The only problem was the consumer didn't open an account with Truist, a scammer likely did.
That's according to correspondence between the consumer and a Truist communications officer that the consumer shared with TINA.org.
"Unfortunately, it's very likely that fraudsters obtained your personal identifiable information and used it to open a fraudulent account," the communications officer said, adding that the mailing itself was legitimate and automatically generated when the account was opened.
In response to a request for comment by TINA.org, Truist said "it's becoming more common for fraudsters to illegally obtain consumers' PII (personal identifiable information) and use it to open fraudulent accounts online."
The contents of the notice concerned online banking and overdraft coverage and had an address traceable to a BB&T (Branch Banking and Trust Company) ATM location in Whiteville, North Carolina. In 2019, BB&T and SunTrust merged to form Truist. The consumer wasn't a customer of any of the three financial institutions, they said.
If you receive a similar mailing from Truist or any other bank where you do not have an account, your identity may be at risk. For information on what you can do if you've been the victim of identity theft, click here.
Find more of our coverage on identity theft here.
---
You Might Be Interested In
HSBC's Environmental Claims
HSBC's Environmental Claims
Future environmental ads must acknowledge bank's role in climate crisis.
Coronavirus Check Scams
Coronavirus Check Scams
With reports of big checks heading consumers' way, scammers will look to cash in, the FTC warns.
Visa Gift Card
Visa Gift Card
No fees after purchase but not before. TINA.org staffer shares story of surprise "purchase charge."