Things to Know about Vemma One Year Later
Company tweaks policies as pressure mounts.
|
Vemma Nutrition Company, the Arizona-based supplement and energy drink marketer, has been tweaking its policies quite a bit in recent months. The company, which was deemed a pyramid scheme by an Italian watchdog authority in 2014, has been the subject of a number of recent media reports and an investigation by TINA.org, which published its first story about Vemma about a year ago. Here's a rundown:
The number of FTC complaints against Vemma more than tripled in a year, jumping from 40 to more than 140. About ten percent of the complaints in the last year were from parents and other family members worried about their loved ones' involvement in the company, including some who feared they would drop out of college to pursue riches with Vemma.
Sensitive to criticism that the company is targeting  young adults,  it rebranded its Young People Revolution (hashtag YPR) movement in August 2014, now calling it Young Professional Revolution (still hashtag YPR). This followed a change last fall in its bonus program when it started offering a new college cash bonus that students could choose in lieu of the company's offer of monthly lease payments for a BMW if they qualify. However, a smaller percentage of distributors reached high enough in the ranks to earn that bonus in 2013 than in 2012, when less than ten percent were able to qualify for it.
Starting September 2013 Vemma said it would no longer allow minors to join the company, though teens 14-17 who were already brand partners were allowed to continue as affiliates.  But FTC complaints show that some underage teens are still signing up to be affiliates despite this ban, indicating that perhaps Vemma needs to step up its compliance department's efforts in this area.
Vemma tweaked its compensation plan 20 days after Italy's Competition and Markets Authority (AGCM) deemed Vemma's Italian operations a pyramid scheme. The changes allowed Vemma affiliates to enroll customers in lieu of buying product themselves to be fully qualified for all bonuses. However, the company still emphasizes the need for affiliates to buy builder packs and sign up for auto-delivery. Said Boreyko in a recent Vemma Live Call-In video auto delivery "covers your bases to make sure that you are qualified for any new customer bonuses. "

The company's new affiliate action plan

 also points to auto-deliver and buying the builder pack as the best options for success. The New York Post said Boreyko told the paper it made changes to get ahead of any possible fallout from the FTC's investigation into Herbalife, a supplement company under scrutiny as a pyramid scheme. Vemma is appealing the Italian decision.

 
Following a story published by TINA.org about high-level Vemma affiliates making health claims about the supplement and a Today show piece that showed a New York-based affiliate, Dr. JD Park, telling an undercover NBC producer she could potentially earn $4,000 a month, Vemma said it had stepped up its compliance department regarding affiliates and had suspended Park. Boreyko told TINA.org it had also fined and suspended various other affiliates making health claims. Boreyko said Vemma collected $200,0000 in fines that it donated to charity. The company wouldn't reveal who specifically was fined or suspended but did say if affiliates cooperate quickly and remove an offending site, they are taken off suspension. Indeed, at least one key affiliate family tied to the illegal health claims, Tom, Bethany and Brad Alkazin, were featured prominently on Vemma's website shortly after.
You are our brand ambassadors and so what you do and what you say matters and that is why I want you under-promising and I want you over-delivering…Let's not bring people in with the notion that hey, in six months you are going to be rich. In a year you're going to be flying around in helicopters and you know, it's just not realistic…And then when that doesn't happen, what do they, they look at you like, well dude you lied to me. But what I am here to tell you is think long term. Think of the fact that two to four years invested in this business you have a great chance of setting yourself up financially for potentially the rest of your life. School doesn't really tell you that.
Considering that the vast majority of affiliates grossed less than $1,600 on average per year (which is $200 less than the $1,800 in product "active" distributors who are fully qualified for all bonuses are required to purchase each year) "under promising" may be the best truth in advertising Vemma can do.
This story was updated on 9/9/2014.
---
You Might Be Interested In
Vemma Reaches Settlement Agreement in FTC Pyramid Case
Vemma Reaches Settlement Agreement in FTC Pyramid Case
Company struggled under court-mandated customer-focused business structure.
DSA Award Winners Are Ethics Code Violators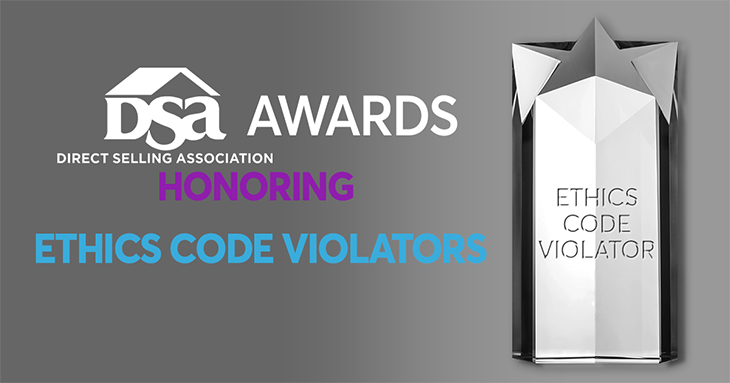 DSA Award Winners Are Ethics Code Violators
Why is this industry group honoring MLMs making illegal marketing claims?
Vemma Frenzy Ends: Judge Limits Vemma's Operations
Vemma Frenzy Ends: Judge Limits Vemma's Operations
Court concludes Vemma likely operating a pyramid scheme.