The Ugly Truth about Beautycounter
There's no concealing this makeup MLM's inappropriate income claims.
|
Editor's Note: Updates and a correction have been posted at the end of this article.
Beautycounter, a California-based makeup and skin care Multilevel Marketing – a way of distributing products or services in which the distributors earn income from their own retail sales and from retail sales made by their direct and indirect recruits. company founded in 2013, says that it's "leading a movement to a future where all beauty is clean beauty." And though there is currently no legal definition for "clean beauty," the company defines clean beauty products — which is the only kind it says it sells — as those that are formulated without 1,800 ingredients found on its Never List.
Beautycounter also boasts that it advocates for "stricter guidelines and regulations to shift the personal-care industry away from using harmful and questionable ingredients." And who can argue with that? Certainly not the MLM's 44,000-plus distributors who convey similar messages of social responsibility in their own marketing materials.
It's when Beautycounter and its distributors tie such statements to the MLM's business opportunity that problems arise. This is due to the fact that the vast majority of Beautycounter distributors are making little to no money in the venture, according to the company's 2019 income disclosure statement.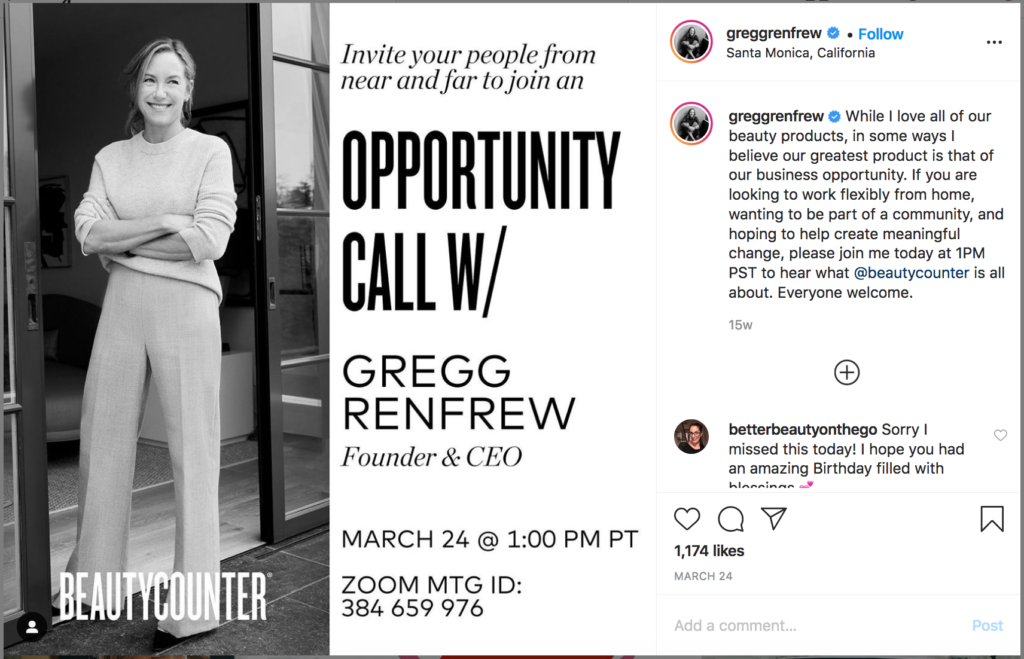 Unfortunately, that hasn't stopped the company and many of its distributors from making inappropriate income claims to lure new recruits into the business. A TINA.org investigation has compiled a sampling of more than 100 examples of Beautycounter and/or its distributors making atypical income claims. TINA.org's sampling includes statements made by Beautycounter founder and CEO Susan Gregg Renfrew (who goes by Gregg Renfrew), who has described her company's business opportunity as its "greatest product" and capable of replacing income lost as a result of the coronavirus pandemic. The company website states:
Replacement income? Corporate executive-level earnings? Not exactly. And here's why.
Starting (and staying) in the red
According to Beautycounter's 2019 income disclosure statement, known formally as its "2019 U.S. Commissions Overview," new consultants spent $440 on average to enroll in the company last year. Startup expenses include a mandatory $98 enrollment kit (or $50 for a digital kit); a starter set of Beautycounter skin care products ranging in price from $132 to $735 that the income disclosure statement says is optional (but the Beautycounter website suggests is mandatory as the second step in joining the MLM); and a $50 "Business-Builder" renewal fee that is billed annually.
From there, Beautycounter muddies the data by offering only the average monthly earnings of distributors. The issue with averages: if 99 consultants make no money and one consultant earns $1 million, the average earnings for those 100 consultants is $10,000, even though the typical earnings for the consultants would be zero (though your odds of earning $1 million in any MLM are far worse than 1 in 100).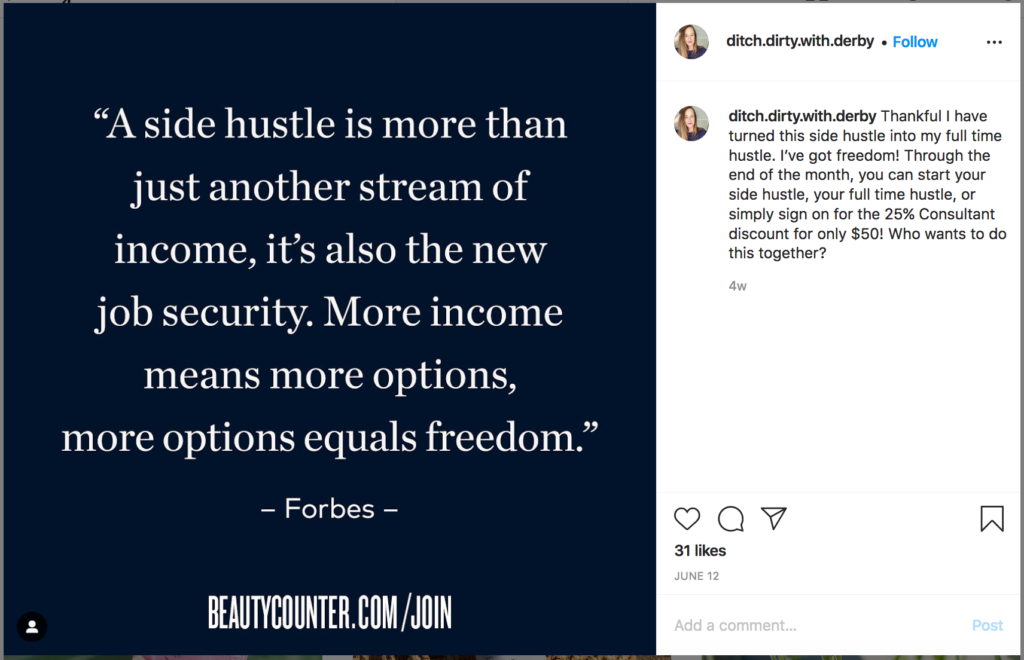 Another issue with the disclosure is that of the 44,000 consultants, Beautycounter includes only 43,956 of them in its calculations — which is to say, 0.1 percent of its distributors are missing. And while that might not seem like such a big deal (and perhaps it's just a matter of rounding off the numbers), it is significant when one considers that only 0.2 percent of distributors have attained the top earnings rank in the company.
Nonetheless, this much is clear from the disclosure: the typical Beautycounter distributor is earning little to no money. More than 82 percent of distributors earn $552 a year on average before deducting expenses, such as the $440 new consultants spent on average when they initially joined, which would immediately drop average annual earnings for most new consultants to $112 (or $9.33 a month). Further, after some number crunching, 21 percent of consultants earned nothing in 2019 and the true figure is likely much closer to 50 percent of consultants. This is consistent with the conclusions of a recent study, which found that 74 percent of distributors report making no money or losing money in the MLM industry.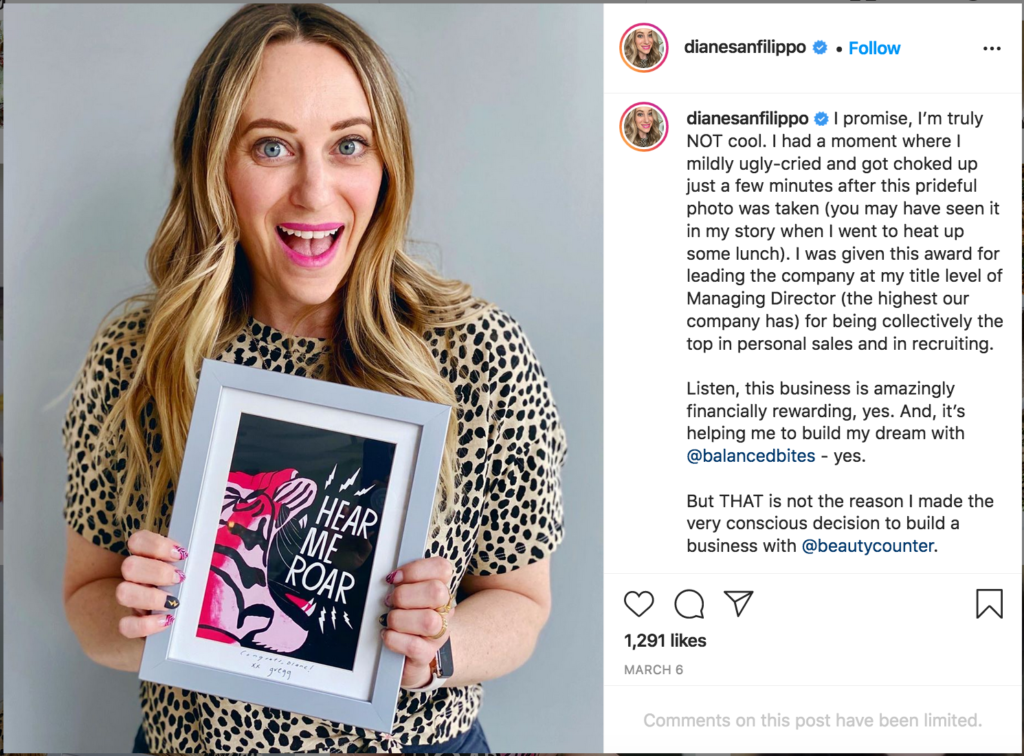 It's not like Beautycounter hasn't had the opportunity to come clean on the actual earnings of its distributors. It just has chosen not to. In response to an FAQ on its website that asks, "How much can I expect to earn as a consultant?" Beautycounter gives a non-answer, then links to its confusing income disclosure statement:
In general, Consultants who dedicate the most time and effort to Beautycounter earn the most in financial rewards. To see more information showing the earnings of all Beautycounter Consultants, please refer to the Income Disclosure Statement.
Ignoring the facts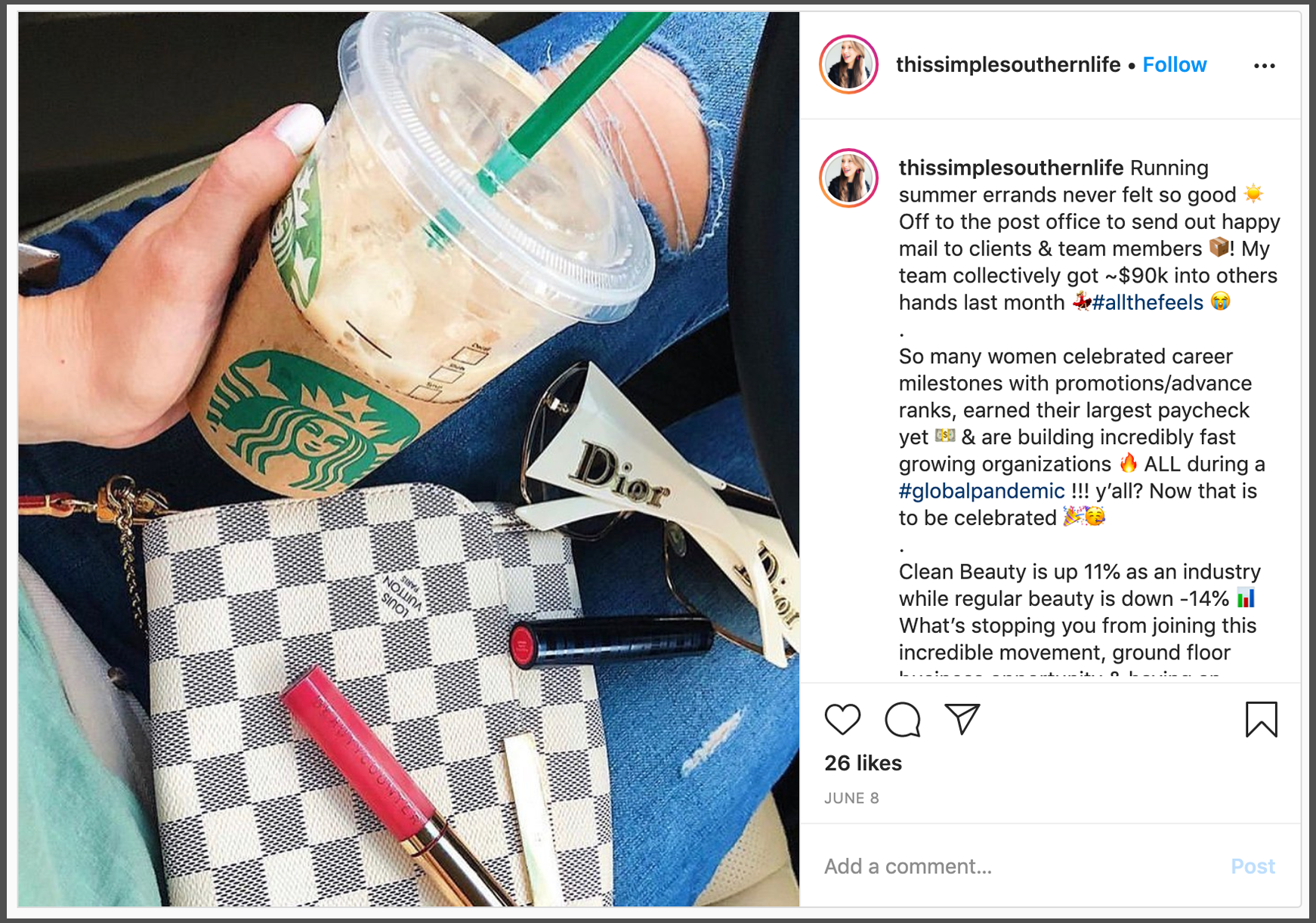 Despite these economic realities, the company and its distributors are all about putting a radiant glow on Beautycounter's business opportunity. In fact, Renfrew, the founder and CEO, claims that the company's business opportunity is "generous." Here's how she spins it to a group of Spanish-speaking individuals:
[W]e help people make profit, and earn much needed income or just additional income that makes their life a little bit easier. … [T]here's nothing to apologize about having to earn an income. We all need to make money and now, right now more than ever, people are hurting across the board, and you all have an opportunity to serve your community by offering them … even in Covid-19 … a business opportunity that affords people to replace much needed income in a time where so many people are losing their jobs and being furloughed.
On another video conference call recorded on May 14, Renfrew tells a group of bilingual women that "this is the best moment to join" Beautycounter and encourages them to target college students who have lost their jobs before saying:
You all are perfectly capable of living in the United States of America where everything's in English and somehow you get through your days — every single day driving your cars, going to the grocery store, feeding your families, putting them through school — so it's the same with our business, don't use that as an impediment to be successful with us. We are working hard to support you in Spanish. We do have a lot of things that are in Spanish today but don't let that be an excuse. Let that be your opportunity to serve your community.
The Beautycounter CEO then tells these women that they have a "responsibility" to pitch the business opportunity to their communities to help families that need money to pay the mortgage or school fees, or need a significant income.
Renfrew's business opportunity pitches never disclose the fact that the typical Beautycounter consultant makes little to no money. And she's not alone in making inappropriate earnings claims. Included in TINA.org's database are claims that distributors can:
Beautycounter likes to tout the fact that it's all about truth and transparency. But when it comes to the company's business opportunity, the company and its distributors are neither truthful nor transparent. If Beautycounter really wanted to be honest, it would disclose how much the typical Beautycounter consultant actually earns.
In an email to TINA.org, Jacob McLain, Beautycounter's vice president of sales strategy and operations, said:
Our brand is built on advocacy, transparency, community support, and a commitment for greater regulation and oversight of personal care and cosmetics by regulators in the US and Canada. We have deliberately chosen to avoid aggressive sales tactics, a strong focus on Consultant recruitment, and exaggerated income claims. Instead, we rely on education, commitment to clean products, social stewardship, and community to drive our business. It is our vision and goal to be the most transparent and compliant company operating in social commerce.
For more of TINA.org's coverage of MLM companies, click here.
UPDATES
10/29/20: More than 80 percent of the examples in TINA.org's database of Beautycounter income claims have been taken down.
10/28/20: The Direct Selling Self-Regulatory Council (DSSRC) issued a report that, among other things, indicates that Beautycounter had removed all of the company-generated marketing claims identified by TINA.org. The DSSRC report also indicates that Beautycounter will be updating its 2019 income disclosure statement to provide more transparency about what a potential consultant can generally expect to achieve.
8/3/20: Approximately half of the more than 100 examples in TINA.org's database of Beautycounter income claims have been taken down.
7/22/20: TINA.org filed a complaint with the Direct Selling Self-Regulatory Council (DSSRC) regarding Beautycounter's deceptive marketing.
CORRECTION: An earlier version of this article stated that Beautycounter's 2019 income disclosure statement only included statistics on active distributors and omitted those that failed to make the mandatory six-month sales quotas. Since publication, Beautycounter has revised its 2019 income disclosure statement to make clear that the document includes all distributors.
---
You Might Be Interested In
Jeep x Jurassic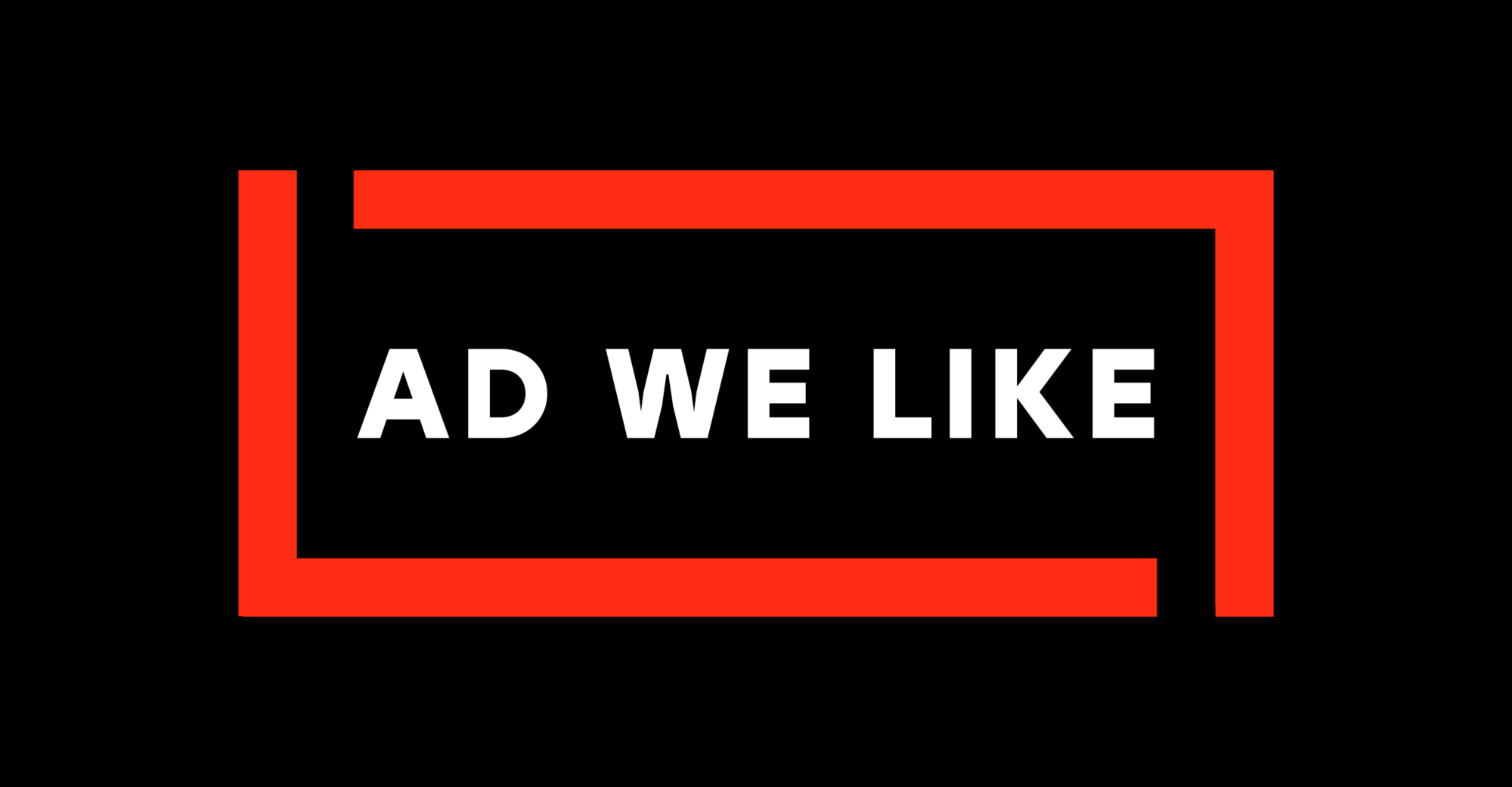 Jeep x Jurassic
A Jeep driver hatches a terrible plan(osaurus).
SKKN by Kim's Sustainability Claims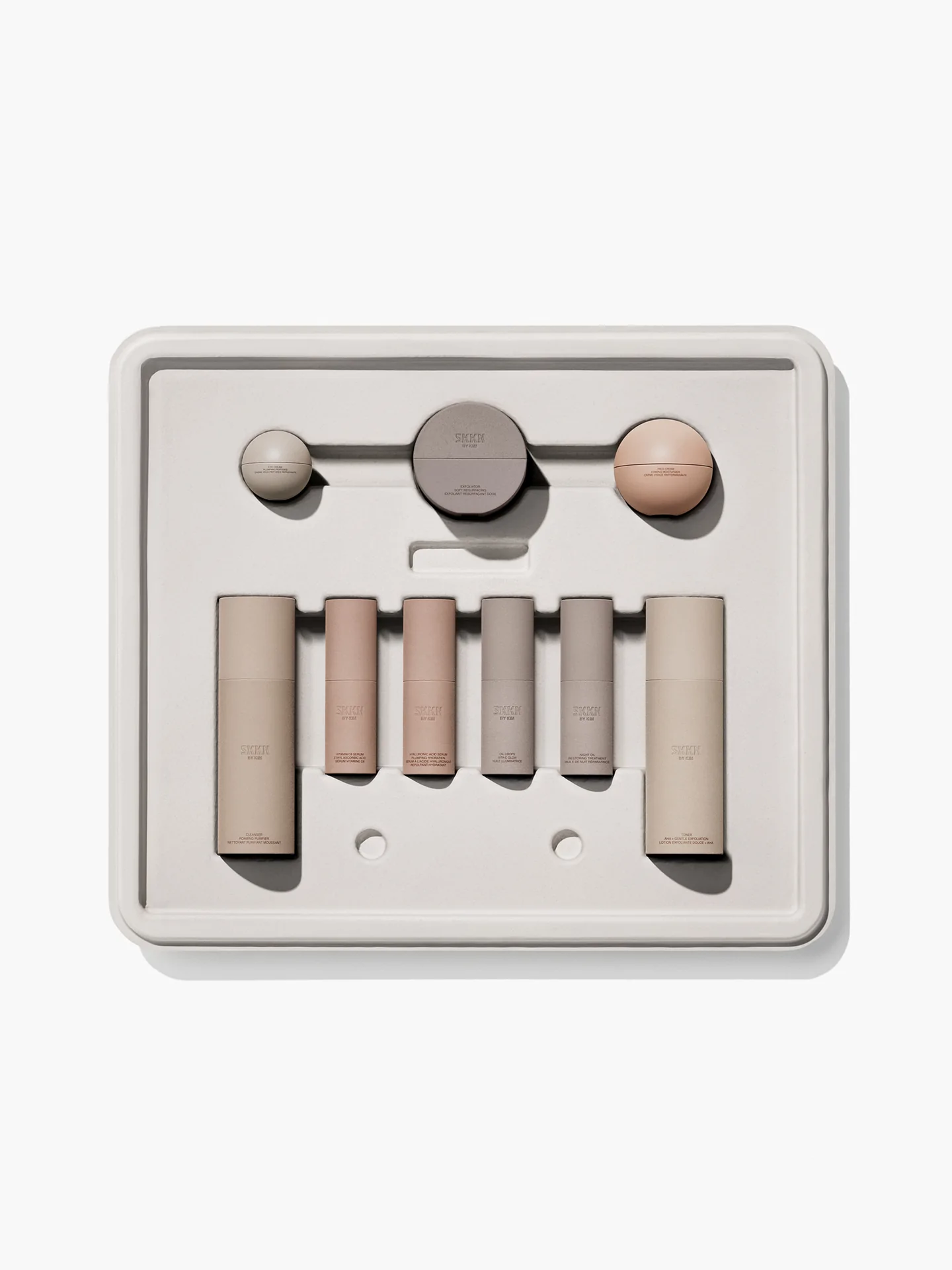 SKKN by Kim's Sustainability Claims
Consumers accuse Kim Kardashian of greenwashing.
Fungus Eliminator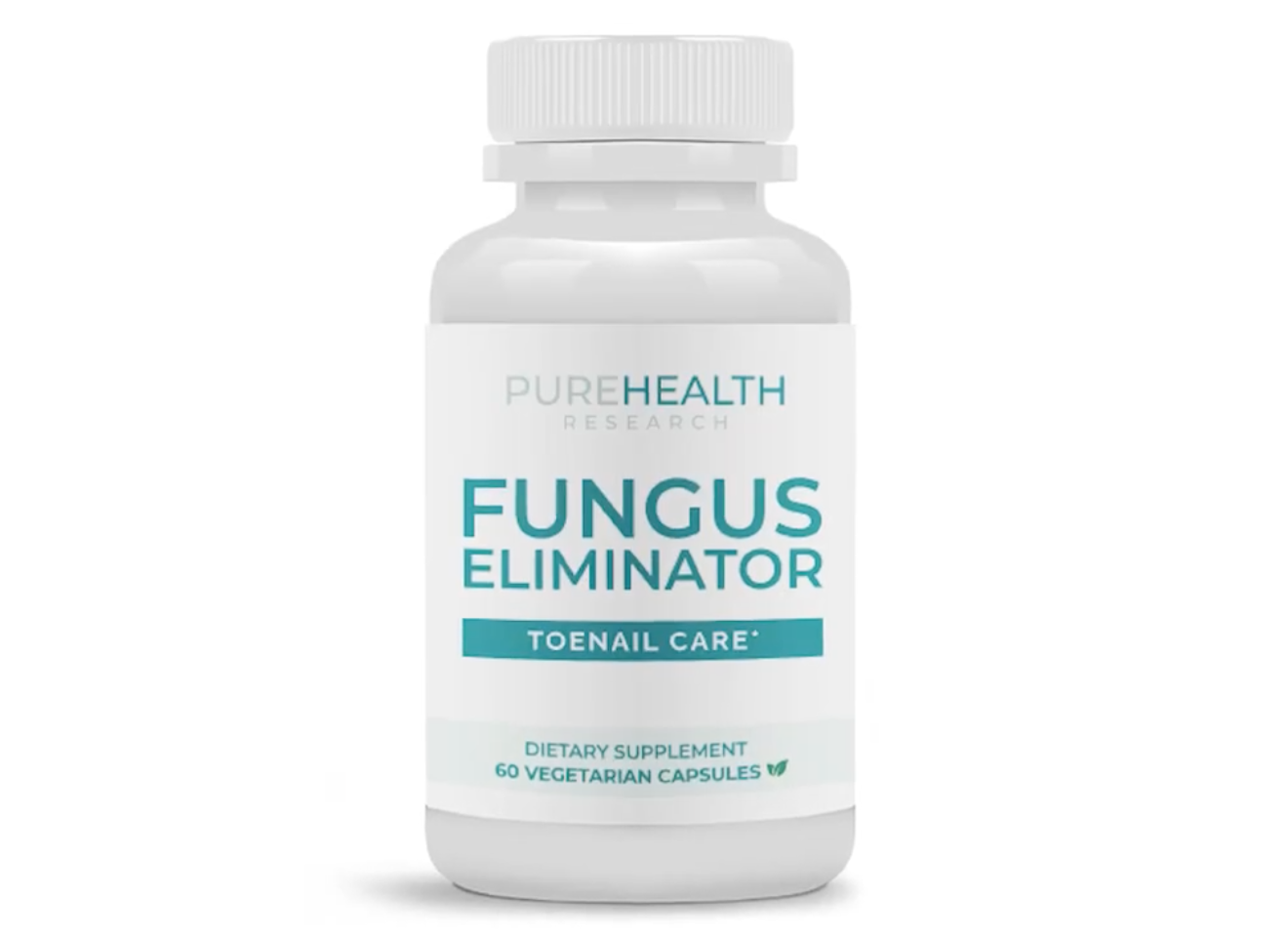 Fungus Eliminator
Forty-five million Americans are 'fighting a losing battle' against toenail fungus. Could this supplement be the solution?