Jim Bakker's Coronavirus 'Solution'
There's a reason why certain things aren't being said about the coronavirus.
|
UPDATE 3/25/20: Amid growing complaints from the FDA, FTC and New York Attorney General, among others, Jim Bakker says he has suspended sales of his Silver Solution supplement. He made the announcement in a video posted on his show's website, speaking from the same set where, six weeks earlier, a guest claimed his product kills the coronavirus. For this and previous misdeeds, Bakker now holds a spot on TINA.org's Wall of Shame. Our original post follows.
On a recent segment of the Jim Bakker Show titled "A Close Look At What's Not Being Said About The Coronavirus," the host held up a bottle of his Silver Solution supplement, turned to the woman seated next to him – Dr. Sherrill Sellman, a "naturopathic doctor" whose face appears on the cover of a Silver Solution DVD — and asked: "Would you recommend, as a doctor, people to have silver in their house for a pandemic?"
Before Bakker could even finish his question, Sellman jumped in: "You never want to be without silver for so many reasons. … It has been proven by the government that it has the ability to kill every pathogen it has ever been tested on, including SARS and HIV, which we may or may not want to get into as part of this concern with this virus."
Too late for that.
Watching this clip of the Jim Bakker Show we're reminded of the advice the FTC recently gave consumers who see ads claiming a product prevents, treats or cures the coronavirus. Ask yourself, the FTC said, "if there's been a medical breakthrough, would you be hearing about it for the first time through an ad or sales pitch?"
Probably not.
Worse, Bakker and Sellman's sales pitch conveniently leaves out the potential dangers of taking Silver Solution, which starts at $40 a bottle. While Sellman says a few minutes later that "there are no side effects" linked to the supplement, California state law requires product pages in the Jim Bakker Show Store to link to a page with this warning:
WARNING: This product contains chemicals known to the State of California to cause cancer and birth defects or other reproductive harm.
Then of course there's the fact that the government, specifically the FDA, does not review supplements for safety and effectiveness before they are sold, much less approve them to treat diseases like the coronavirus, SARS and HIV. The aptly named Sellman also claims Silver Solution is 99 percent effective at killing viruses associated with allergies, bronchitis and pneumonia.
Bakker, who says in the clip that he believes "God gave us this product," is not the first televangelist to mislead consumers (though he may be one of only a select few to go to prison for conspiring to defraud the public). See our ad alert on Peter Popoff's "miracle spring water" here.
And for more of our coverage on coronavirus scams, click here.
---
You Might Be Interested In
SeraRelief CBD products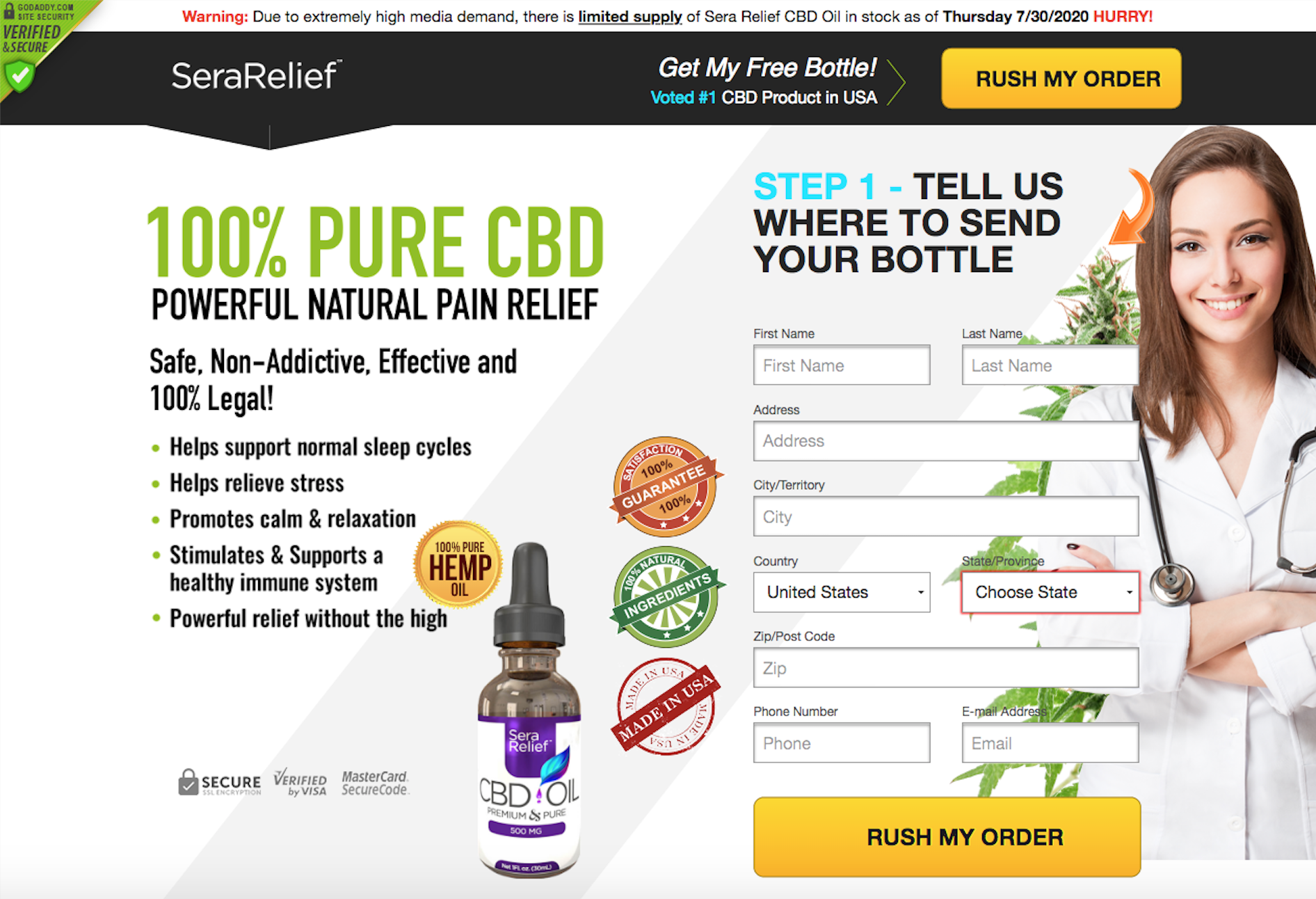 SeraRelief CBD products
Be wary of "free trials" for CBD gummies and oils advertised on the internet.
Dr. Sherrill Sellman
Dr. Sherrill Sellman
How a naturopathic doctor doubled down on her deceptive COVID-19 claims and attracted the attention of federal regulators.