T-Mobile to Refund Customers $90M
Proposed agreement with the FTC would settle cramming allegations.

The self-proclaimed "most pro-consumer company in the industry" will soon have to disclose to consumers exactly how anti-consumer it's been.
After facing FTC allegations that it bilked hundreds of millions of dollars from customers by hiding unauthorized third-party charges in their phone bills — in a practice called The practice of charging customers for cell phone services that they did not request or approve. — T-Mobile has agreed to a proposed settlement in which the so-called "un-carrier" will pay out at least $90 million in full customer refunds.
According to the FTC:
Under the terms of the settlement, T-Mobile will be required to offer full refunds to all affected consumers. The settlement requires T-Mobile to contact all of its crammed customers – current and former – to inform them of the refund program and claims process, and to do so in a clear and conspicuous way.
That should make for some awkward phone calls. The proposed agreement also calls for T-Mobile to obtain "consumers' expressed informed consent before placing third-party charges on their bills," the FTC said.
If approved by the court, the settlement would require that T-Mobile cough up $18 million in fines and penalties to the U.S. attorneys general and $4.5 million to the FCC.
The announcement of the proposed settlement comes two months after AT&T agreed to settle similar cramming allegations to the tune of $105 million and just two days after the Consumer Financial Protection Bureau sued Sprint for allegedly placing the same type of unauthorized charges on customers' phone bills.
T-Mobile did not respond to a request for comment Friday afternoon.
For more of our coverage on phone bill cramming, click here.
---
You Might Be Interested In
Mixed Signals from Cellphone Ads
Mixed Signals from Cellphone Ads
Carriers facing challenges to advertisements.
T-Mobile's 'No Contract' Claims False, Groups Allege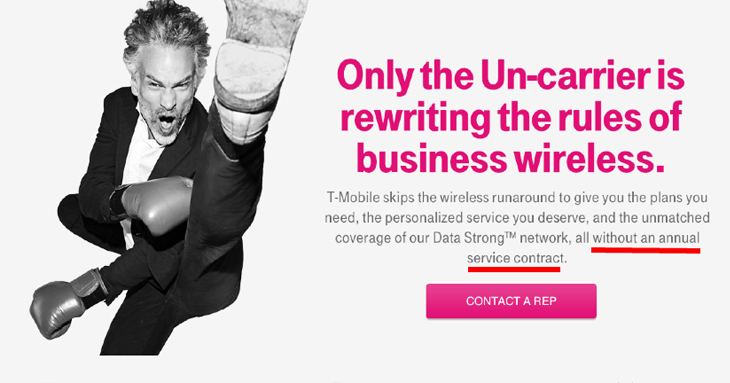 T-Mobile's 'No Contract' Claims False, Groups Allege
Consumer groups call on federal agency to investigate marketing.
Verizon, Sprint to Give $120M Back to 'Crammed' Consumers
Verizon, Sprint to Give $120M Back to 'Crammed' Consumers
All told, that's $290M going back to wireless consumers who federal regulators said were unfairly charged.