Seven Signs that Vemma Distributors Fared Worse in 2013
|
At the end of 2012, Vemma Nutrition Company is a privately held multi-level marketing company that sells energy drinks, nutritional beverages and weight management products. Vemma, which calls itself an affiliate marketing company, is based in Tempe, Arizona. It was founded in 2004 by Benson K. Boreyko and his sisters. Vemma is an acronym for vitamins, essential minerals, mangosteen and aloe. CEO Benson K. Boreyko said that he wanted 2013 to be the best year ever for distributors. But according to the company's newest income disclosure statement, 2013 didn't meet those expectations. In fact, the numbers—based on average yearly earnings—indicated that it's tough to earn a livable wage with the company.
TINA.org compared Vemma's 2013 statement with its 2012 statement. Its newest statement – unlike the 2012 one – broke out its "customers" from its "affiliates" (aka distributors or brand partners), allowing TINA.org to do some interesting math. Below are seven financial facts that may surprise new recruits.
In 2013, 70% made no money at all. That's nearly a quarter of a million people who are financially out-of-pocket as a result of their Vemma venture. Vemma referred to this group in 2013 as "customers," but a better description is probably failed distributors. In September 2013, Boreyko said that 28,000 to 30,000 people were joining Vemma a month and that half of those were young people with "such a tremendous work ethic." By his account, that would equal about 350,000 new distributors, but Vemma only claimed a little more than 100,000 distributors in 2013. The rest must equate to more than 250,000 failed distributors.
Of the 105,251 people who qualified as Vemma distributors in 2013 only 23,000 of them actually made money with Vemma, if we assume they had to pay for the product and were fully qualified for bonuses. The vast majority of distributors (82,000 of them) grossed less than $1,600 on average per year. That's $200 less than the $1,800 in product "active" distributors who are fully qualified for all bonuses are required to purchase each year (unless they sign up the required number of "customers.")
The number of Vemma affiliates at the very lowest level increased by 11%, (or four percentage points) from 36.09% in 2012 to 40.18% in 2013. This means 40% (or roughly 42,000 people) grossed a measly $938 on average for the entire year.
While the percentage of the very lowest level of recruits increased, a smaller percentage of distributors reached leadership ranks in 2013 than in the previous year in all but two categories.
A smaller percentage of distributors in 2013 reached high enough in the ranks to earn a car (or college bonus) than did in 2012.
Six ranks saw a decrease in earnings from 2012 to 2013: Platinum, Executive, Star Executive, Presidential, Star Presidential, and Ambassador.
If you go by the figures listed in the 2013 disclosure statement, .01 percent earned more than $2 million, which would mean just ten distributors — a small enough number to make you wonder if the riches are as easy to obtain in life as an imaginary port of gold at the end of a fleeting rainbow. But the company's own announcements about rank advancements conflict with the data in its disclosure statement. (Something we initially lost sight of when first posting these figures). Only one couple actually earned more than $2 million in 2013. Vemma must have done some interesting math to calculate the earnings listed in this 2013 disclosure statement (maybe rounding up, up, up?), leaving us to wonder if any are correct and making it difficult to verify our figures. Perhaps the fancy math was attractive because the actual figures, that only .00095 percent of affiliates earned $2 million and likely less than 50 distributors earned six figures, are just way too bleak.
TINA.org's prediction for Vemma affiliates in 2014? Unless efforts to recruit new individuals into the lowest of the low ranks are successful, fewer distributors will be able to earn a livable wage — a percentage that already stands at less than three percent of all distributors.
This story was updated on 6/9/15.
---
You Might Be Interested In
Vemma Reaches Settlement Agreement in FTC Pyramid Case
Vemma Reaches Settlement Agreement in FTC Pyramid Case
Company struggled under court-mandated customer-focused business structure.
DSA Award Winners Are Ethics Code Violators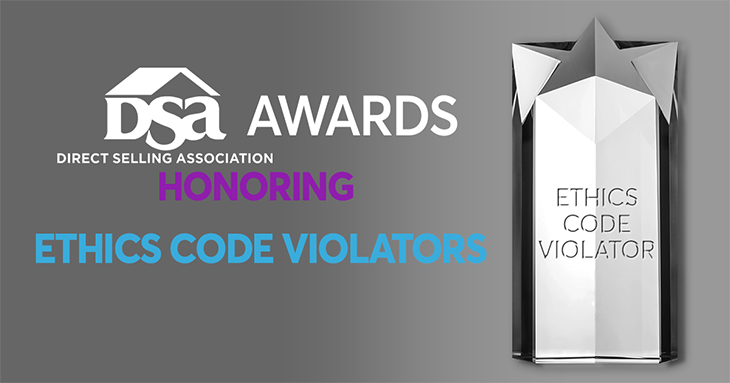 DSA Award Winners Are Ethics Code Violators
Why is this industry group honoring MLMs making illegal marketing claims?
Vemma Frenzy Ends: Judge Limits Vemma's Operations
Vemma Frenzy Ends: Judge Limits Vemma's Operations
Court concludes Vemma likely operating a pyramid scheme.