NuBiotix
Bloated belly or bloated claims?
|
This NuBiotix ad claims to sell a scientifically formulated supplement with natural ingredients that flattens bloated bellies fast. The ad touts a free trial if you call.
(See our related post on SomaBiotix, an eerily similar supplement, here.)
But ever wary of "free trials" TINA.org looked into it and called the automated number, which revealed that we were eligible for one of just "100 free trials" left. We had to enter a name to go further and when we did, we received an online reservation code to plug into a website. But there was no space to put the code when we tried to order the product. The only "free" offer readily disclosed on the site was for shipping.
The NuBiotix website advertises that the supplement contains two main ingredients. One is called "Regularis," which the company describes as a "Unique Triple Blend of Patented Probiotic Strains, Digestive Enzymes, and Natural Herbal ingredients designed to help maintain digestive balance and advance long-term digestive health." The second major ingredient is Lactobacillus acidophilus, a healthy intestinal bacteria, but which has side effects including gas and bloating.
And while consumers boast about the product in testimonials on the site, the site itself notes that "some consumers are compensated for their story." Also, testimonials claiming that the supplement treats and/or cures conditions like acid reflux constitute drug claims, which are not permitted by law unless the product has been approved by the FDA. And as a supplement, NuBiotix has not been evaluated by the agency.
Another red flag? Despite the claims on the website of "100% Customer Satisfaction Guaranteed," the fine print in the company's terms and conditions states that the company has the "sole discretion" to determine if a customer's objection is valid. Translation? You may not get your money back if you don't like the product.
NuBiotix also sells a supplement called Prilogen that the company says "improves cognitive reactions and interactions which can increase mental fitness, energy and alertness." In addition, the Prilogen bottle claims the pill can "boost memory function." But NuBiotix concedes on its website that "no clinical studies have been performed on Prilogen." The FTC generally requires such studies as evidence that a supplement works as advertised. Brain supplements have come under increased scrutiny of late, including from TINA.org, which last September filed an FTC complaint against Prevagen.
Find more of TINA.org's coverage on supplements here.
This ad alert was updated on 2/29/16.
aka newbiotics, newbiotix, knewbiotics, new biotics, nubiotics
---
You Might Be Interested In
Zederex Fails to Perform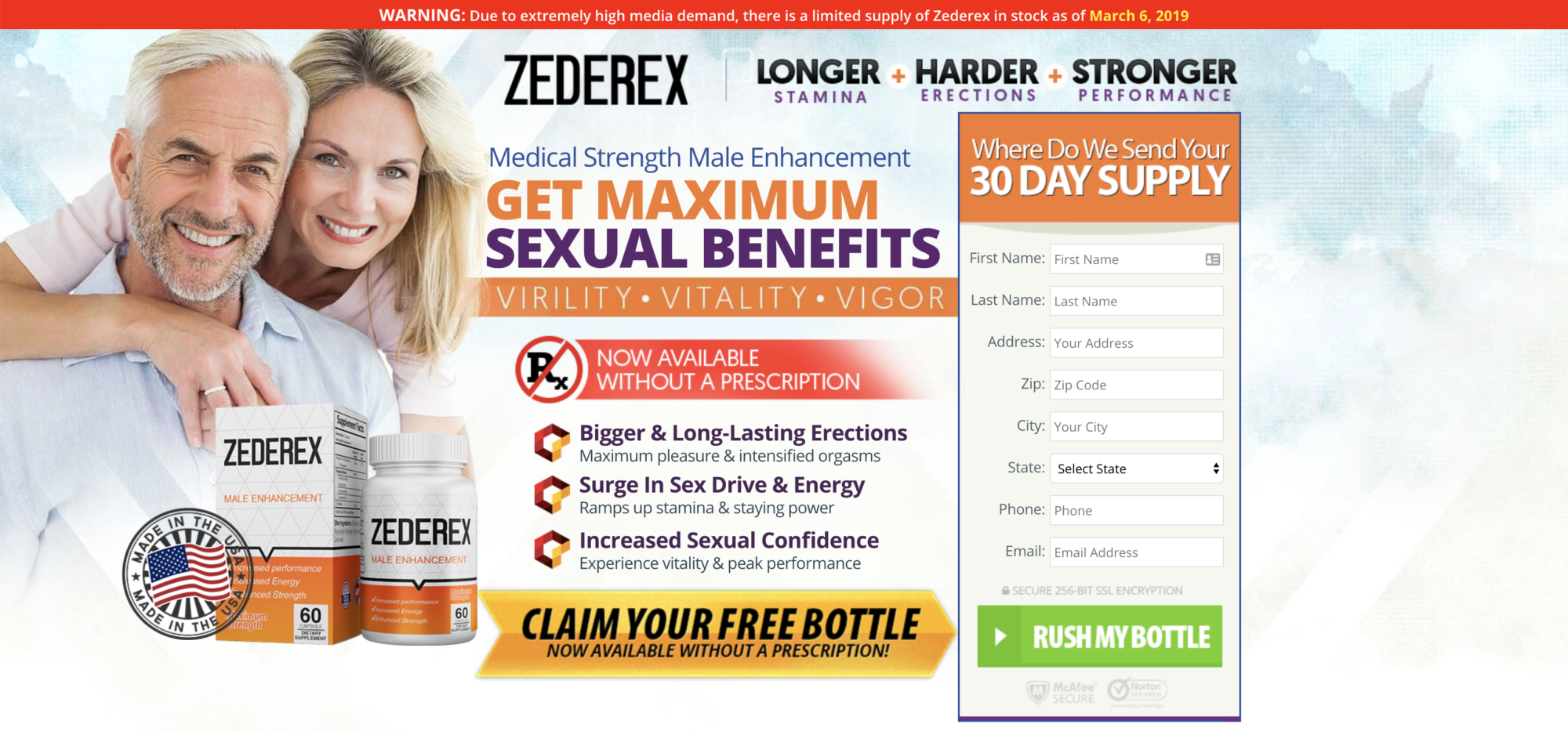 Zederex Fails to Perform
Webpage promoting ED pill is the quintessential example of fake news.
Test-O: Don't Get Your Hopes Up
Test-O: Don't Get Your Hopes Up
TINA.org gives this ED pill a failing grade.