New Balance's Made in USA Claims
Company's criteria for labeling shoes "Made in the USA" falls short of the legal standard policing such claims.
If ever there was an argument for the FTC to issue a made in the USA rule that would give it the authority to go after first-time offenders more aggressively, the agency's own 1996 administrative action against New Balance might be it.
Twenty-four years after New Balance escaped the federal inquiry into its deceptive U.S.-origin claims without having to pay any sort of financial penalty — after the FTC dropped what one lone dissenting commissioner called "the most important allegation … involving unqualified 'Made in USA' claims for products assembled in the United States from foreign and domestic components" — the now multibillion-dollar company continues to mislead consumers on where some of its shoes are made, flouting the FTC's Made in USA standard in the process.
On this patriotic Memorial Day weekend, let's take another look at how New Balance is taking advantage of consumers' preference to buy American-made.
Having been the subject of an FTC inquiry into its made in the USA marketing, New Balance should be familiar with the agency's "all or virtually all" standard for unqualified U.S.-origin claims. These are the types of claims that have no qualifying language added to them, such as "with domestic and foreign parts." It's simply: "Made in the USA." Or: "Made in America." Yet New Balance publicly acknowledges that the company labels its shoes "Made in the USA" when the "domestic value is at least 70%," which is not "all or virtually all" by any stretch of the imagination.
And where the company qualifies its U.S.-origin claims, the qualifying language is not clear and conspicuous as is required by law, rendering it legally insufficient. Take the product page for a men's Made in US 993 running shoe, where the qualifying language — stating that the sneaker is part of a "premium collection" called New Balance Made that "contains a domestic value of 70% or greater" — appears below the "add to cart" button, which consumers can easily click without scrolling down.
New Balance doesn't reveal the imported parts and/or foreign labor that constitute up to 30 percent of any one of its "Made in the USA" shoes. But a company video that takes viewers inside the company's sprawling, American flag-speckled factory in Lawrence, Massachusetts, offers some clues. In it, a factory worker says, "So the first thing we do is select a hide." But he doesn't say where the hides come from. On a related note, we've heard of hides used to make leather boots and bags that were sent to Mexico to be tanned and tanned in Europe after originating in France. What did these products have in common with New Balance's "Made in the USA" shoes? They were also marketed as American-made.
Find more of our coverage on deceptively marketed made in USA shoes here.
---
You Might Be Interested In
Kamik's 'Made in USA' Claims
Kamik's 'Made in USA' Claims
Zooming in on the fine print of a "Made in USA" tag.
New Balance: Running Afoul of the Law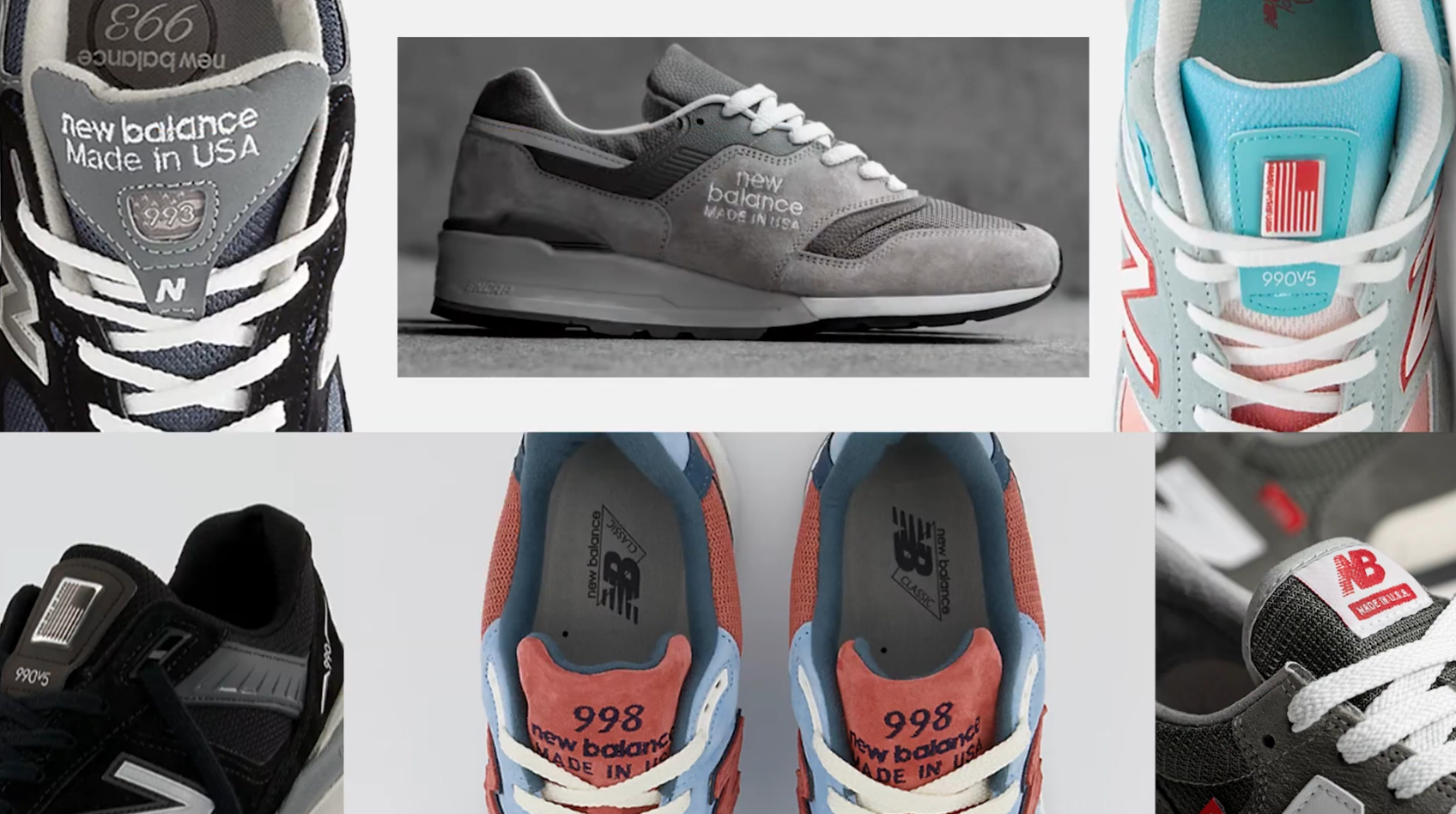 New Balance: Running Afoul of the Law
New Balance labels some of its shoes as "Made in USA." Here's why that's a problem.
New Balance, an Iconic Made in USA Brand, Defies FTC Law
New Balance, an Iconic Made in USA Brand, Defies FTC Law
TINA.org files a complaint with federal regulators over shoemaker's deceptive made in the USA claims.