What Messages Are Advertisers Receiving about Paid Content?
TINA.org reviews self-regulatory action aimed at labels.
The recent The National Advertising Division (NAD) is the advertising industry's self-regulatory body administered by the Council of Better Business Bureaus. decision requiring Taboola, a content distributor, to more clearly disclose that its recommended links are really ads (aka as sponsored content) is the latest of several actions in recent months by the industry self-regulatory board that aims to address the continually moving target of labeling paid content.
The FTC requires that paid online ads must be disclosed and labeled. But it hasn't taken any action against advertisers or publishing sites nor issued any specific guidance.
An FTC spokeswoman said the agency is studying the feedback it received from its December workshop "Blurred Lines" on sponsored content.
While the agency ruminates and ponders, advertisers and publishing sites are moving forward aggressively on pushing sponsored content, which is increasingly becoming a revenue stream for publishers. More than 70 percent of online publishers surveyed offer native advertisement opportunities, according to the FTC. And a recent study by Chartbeat found that click through rates for stories clearly labeled as sponsored content had much lower views than editorial content. So the incentive is there for advertisers to blend sponsored posts seamlessly into editorial content.
Last week, just as NAD announced its finding that Taboola had failed to adequately disclose that its recommendations were paid for by advertisers, Buzz Feed announced it was getting rid of the yellow shading surrounding sponsored posts and changing the way it labels them from "presented by" to "promoted by" and "brand publisher." Some publishing houses are preparing their own guidelines while others haven't codified any policies in writing. The IAB issued a "Native Advertising Playbook" but said it is not possible to recommend a single disclosure mechanism.
The question at the heart of the issue is where is the line? A review of NAD's recent decisions shows that like the IAB, it isn't ready to issue any specific way to label sponsored content, but it wants advertisers to make sure consumers can easily distinguish ads. In the meantime, we consumers are left guessing which links we click on are ads and which links provide editorial content.
Here is a review of NAD's decisions on the issue that may set a standard for what "clearly labeled" means and what it doesn't.
Taboola
Congoo LLC, an Internet-based advertising company, brought the challenge against Taboola saying that the lack of clear labeling on Taboola's recommendations led to consumers clicking on them believing they were going to be linked to editorial content, not sponsored content. Taboola had some interesting arguments in its defense, including that it actually wasn't an advertiser as defined by the Advertising Self-Regulatory Council and thus NAD had no jurisdiction. But NAD rejected that.
In its defense, Taboola, which serves three billion daily recommendations to more than 300 million monthly visitors on popular websites, said it used several techniques to disclose that its widget contained paid placements. But NAD says that many of Taboola's suggestions appear to communicate the message that the linked content is editorial and recommended by the publisher. NAD recommended Taboola make changes to increase the visibility of its labels and Taboola agreed to comply.
NAD rejected challenger Congoo's argument that Taboola needed to use the word "advertisement" to label the links. The self-regulatory board said it was "reluctant to mandate specific words to use for disclosure."
Shape/American Media Inc./ Shape Water Boosters
In this decision, NAD said SHAPE Magazine, published by American Media Inc. (AMI), embedded an ad in its September 2013 edition in an editorial article labeled "news" on the value of hydration. The ad in the article called "Water Works" was for its own SHAPE Water Boosters. Said the article:
The obvious solution is to stick with water, but about 20 percent of Americans reportedly don't like the taste. If that sounds like you, check out the new SHAPE Water Boosters…just a single squeeze… adds delicious flavor-but-not-calories…
AMI said because SHAPE magazine and SHAPE Water Boosters share the same trademarked name, the relationship between the publisher and the product is clear to readers. But NAD said consumers may believe that editorial recommendations in SHAPE magazine are independent of the influence of sponsoring advertisers and recommended SHAPE clearly designate content as advertising when it promotes SHAPE-branded products. AMI said it would change the way it promotes its branded products and discontinue the use of the label "news" with content that discusses products.
eSalon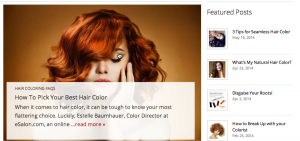 Addressing the blurring of the lines on social media sites and in reviews, NAD determined in October 2013 that eSalon had to disclose its connection to haircolorforwomen.com, which it publishes, when eSalon posts content from that Short for a web log, a blog is a kind of online diary that normal, everyday people can maintain to share details of their life or discuss their interests. A word of warning, though – a 'blog' that may appear to from a normal working mom in Nebraska, may actually be an advertising scheme by a company to promote its product(s) under the guise of a neutral, third-party endorsement. on social media sites. It also said eSalon must disclose on haircolorforwomen.com that eSalon maintains it, and should disclose any incentive it provides for posts when it redistributes them.
NAD said it reviewed the posts because it was concerned consumers would not be able to discern that the online content, which appeared to be editorial or user-generated content, was in fact generated by the advertiser. Haircolorforwomen.com now has a "by eSalon" identifier on the site.
Mashable/Snapdragon/ Qualcomm, Inc/Mashable
Whether an advertiser had to disclose that the content on a publishing site was sponsored even after the sponsorship period ends was the subject of a NAD review focusing on Mashable's series "What's Inside" that ran from November 2012 through March 2013. The articles, 20 in total, explained the technology that powers electronic devices and were sponsored by Snapdragon, a division of Qualcomm. None of the stories discussed any Snapdragon components or any devices that contained Snapdragon chipsets and Mashable created the content before the sponsorship began. During the time the stories ran, Mashable indicated on the site that they were "supported by Snapdragon." Each article in the series also contained advertisements for Snapdragon that was separate from the sponsored stories. NAD said the series could stir consumer interest in the technology that powers electronics, which could benefit Snapdragon processors.
Mashable, saying it followed the IAB's standards, removed the sponsorship label when the sponsorship period ended. Qualcomm argued that the articles existed independently before the series began and continue to exist on the Mashable website and thus it did not have to continue to indicate the articles were sponsored by them when its sponsorship period ended.
NAD agreed with the IAB and Mashable.
Our take?
NAD's recommendations are just the opening salvos in a long battle that will be waged between advertisers, regulators, and consumer advocates over letting consumers in on what is an ad. Consumers will have to contend with a bunch of different identifiers that they may or may not realize means the content is an ad. A simple solution? How about advertisers say something along the lines of: This is an ad.
TINA.org's continuing coverage of sponsored content can be found here.
---
You Might Be Interested In
Ad or Not? Google Search Results for 'Silicon Valley'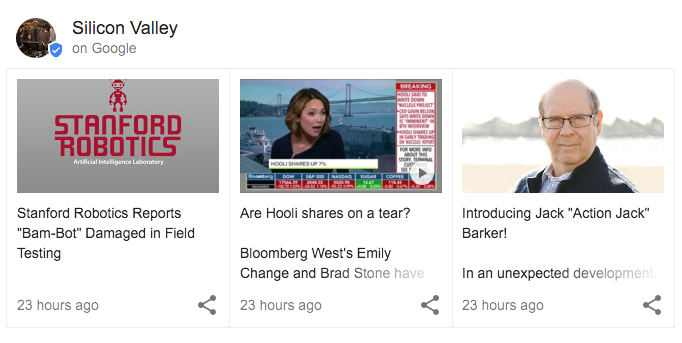 Ad or Not? Google Search Results for 'Silicon Valley'
Search engine results promote HBO show.
Ronaldo's Homeless Stunt: Is This an Ad?
Ronaldo's Homeless Stunt: Is This an Ad?
Ronaldo may very well be "a decent man" but this viral video is more ad than not.
Can You Spot the Ad: The Atlantic
Can You Spot the Ad: The Atlantic
Just how many ads does this news report lead to?