Lume Deodorant's 'Aluminum-Free,' 'Clinically Proven' Odor Control Claims
Consumers should sweat these claims.
|
UPDATE 2/26/23: Lume has deleted the link on its website to its clinical testing page (see before and after), though the page itself hasn't been taken down, nor have the company's clinically proven claims. Our original ad alert follows.
"How did we achieve such great results as an aluminum-free deodorant? It's the science behind Lume that makes us different," the deodorant brand Lume says on its website.
But after receiving a tip from a reader, TINA.org investigated Lume's claims and found that there's nothing special about an "aluminum-free" deodorant and that the "science" behind Lume comes with more questions than answers.
Aluminum-free? Big deal.
Throughout its marketing, including on its website and in a TV commercial that Lume has spent more than $5 million on since it debuted last August, Lume touts its deodorants as "aluminum-free." As our reader pointed out, this does not make Lume unique as aluminum isn't found in any deodorant. It's only found in some antiperspirants. So, yes, it may be true that Lume doesn't contain aluminum, but as TINA.org has noted before, even truthful marketing statements can be misleading.
Clinically proven? Not so fast.
Lume also states on its website that its deodorants are "clinically proven to control odor for 72 hours," citing as support "clinical testing" conducted by Princeton Consumer Research.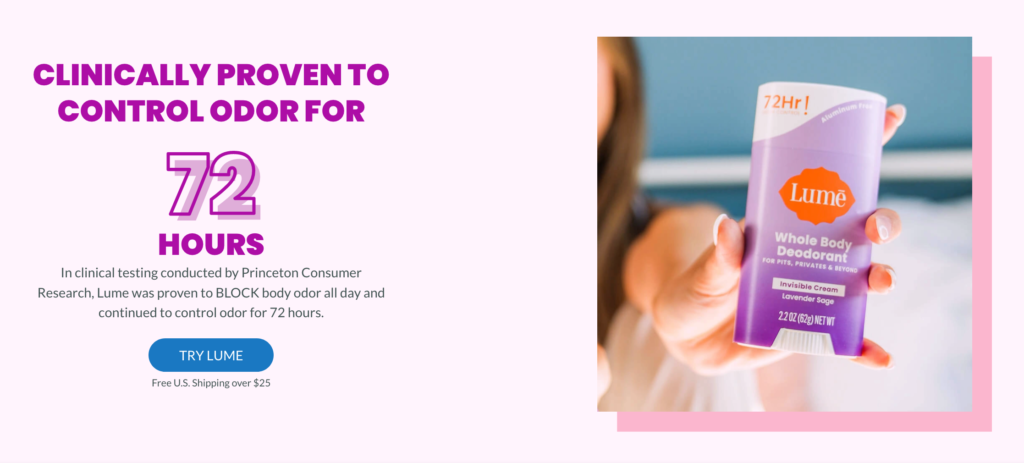 If you're thinking, "Oh wow, Princeton University!" think again. Princeton Consumer Research isn't affiliated with the Ivy League school. Rather, Princeton Consumer Research is a for-profit company that promises companies like Lume to make their "claims a fact by proving their legitimacy" through efficacy testing. In other words, it validates its client's desired results – for a price. Not exactly what we would call unbiased testing.
Lume also tells consumers that Princeton Consumer Research put its product to the test "in one of the hottest cities in the country, St. Petersburg, FL" without disclosing that the so-called research group is headquartered in St. Pete.
Lastly, Lume leaves us with a lot of unanswered questions about its study, including:
Where is the underlying data?
Were participants given directions to refrain from exercise or any other physical activity that might increase an odor score? Was physical activity recorded during the study?
Were participants' hygiene habits questioned or recorded at any point before or during the study?
Did participants know which of the three "natural" deodorants (Lume, Native or Schmidt's) they were given? (Were they also informed that the term "natural" has no regulatory definition?)
Did the researchers know which of the three deodorants the participants were given?
How were odor scores determined?
TINA.org reached out to Lume for comment. Check back for updates.
Find more of our coverage on clinically proven claims here.
---
You Might Be Interested In
Secret 'Aluminum Free' Deodorant
Secret 'Aluminum Free' Deodorant
Why is Secret making a big deal out of something that is true of all deodorants?
Safe & Healthy Disinfecting UV Light
Safe & Healthy Disinfecting UV Light
When it comes to UV devices and COVID-19, there is no magic wand.
Naples Soap Company
Naples Soap Company
From "cruelty free" to "Made in the USA," TINA.org finds personal care company's marketing awash with questionable labels.