FDA Bans Sale of Puff Bar E-Cigarettes, the 'New Juul'
The disposable e-cigarette has replaced Juul as the go-to vape for minors.
|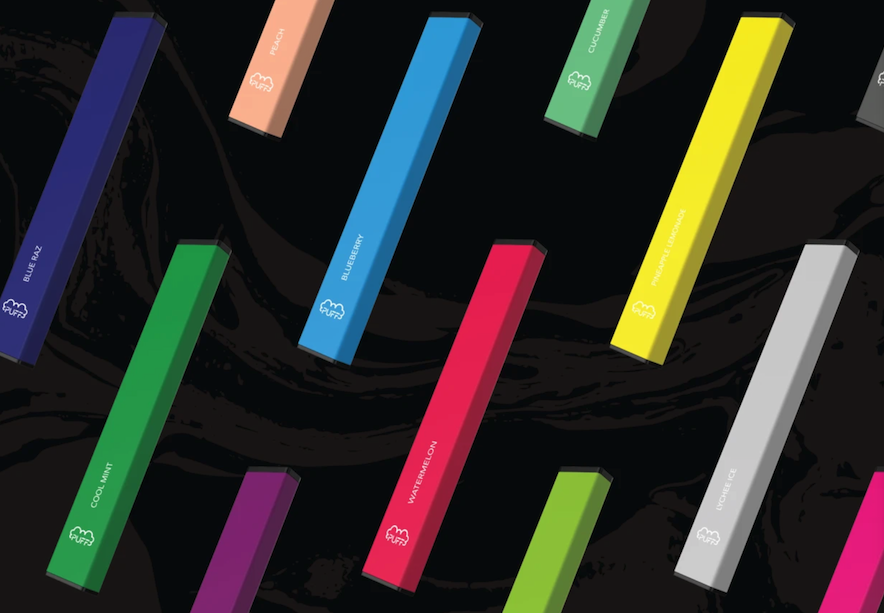 On its website Puff Bar, the disposable e-cigarette whose popularity among teens has surged during the pandemic, says that it's "doing everything we can to prevent vaping products" from getting into the hands of minors — that is, everything except marketing and selling fruity flavors that public health officials say appeal to youth and that are banned in reusable vaping devices for that very reason.
As recently as last month, the Puff Bar website popped with the colors of more than 20 flavors, including grape, watermelon and strawberry banana, just to name a few. Now, the only colors on the website are black and white, and a message on the homepage informs visitors that "Puff Bar has ceased all online sales & distribution in the U.S. until further notice."
These updates come amid mounting criticism that Puff Bar is employing some of the same sales and marketing tactics that Juul used to get kids hooked on its reusable vaping device on its way to becoming public enemy number one in the FDA's fight against the teen vaping epidemic.
"Puff Bar is quickly becoming the new Juul. It is cheap and brightly colored, resembles a Juul device and comes in kid-friendly flavors like mango, banana ice, pink lemonade, blue razz and O.M.G.," Rep. Raja Krishnamoorthi, a Democrat from Illinois, wrote in a letter to the FDA last month. (Juul now only offers menthol and tobacco flavors.)
The letter urged the agency to "immediately remove from the market" flavored e-cigarettes sold by Puff Bar, which Krishnamoorthi said was taking advantage of the coronavirus to target housebound schoolchildren. One of the ads cited in the letter (see below) portrayed Puff Bar as an escape from "parental texts."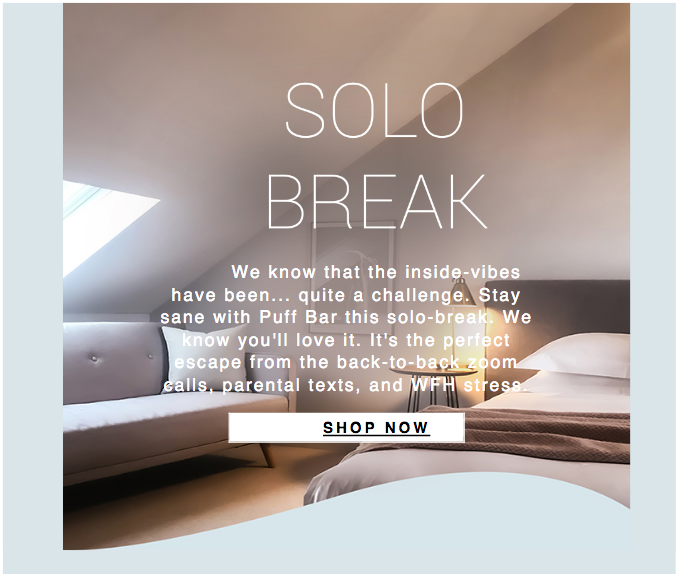 Last week, the FDA answered the congressman's letter with a letter of its own — to Puff Bar.
Closing the loophole in the federal flavor ban that allows some disposable e-cigarettes to sell flavors, the FDA sent a warning letter to Puff Bar (among nine other disposable e-cigarette companies) telling the company to stop sales of its flavored disposable e-cigarettes, saying it never approved the so-called new tobacco products to go to market. (The FDA began regulating e-cigarettes in 2016; Puff Bar didn't launch until last year.)
With respect to the message on the Puff Bar website, the letter did not limit the ban to online sales, which are separate from the reported $3 million in sales Puff Bar was reporting per week from April to at least early June. In fact, the agency told Puff Bar that it has a responsibility to ensure that its retail partners also comply with the ban, though the FDA has suspended in-person inspections at vape shops and convenience stores due to the pandemic.
It's unclear whether the company has notified retailers; a page on its website that contains information for retailers, including a breakdown of fines for selling to minors, has not changed since June, one of, if not the only, section of the website that has not been altered in the last month. Meanwhile, Puff Bar products are still for sale on various e-commerce websites, including vaporboss.com, puffecig.com and eliquidstop.com, which is reportedly owned by the CFO and CEO of Puff Bar.
In its letter the FDA also cited several unapproved claims that Puff Bar's e-cigarettes present a lower risk of tobacco-related disease or are less harmful than traditional cigarettes. These statements have been scrubbed from the Puff Bar website.
However, problematic posts targeting teens remain in circulation. Take this post that a Twitter account claiming to be the official account of Puff Bar retweeted in May:
TINA.org reached out to Puff Bar for comment. Check back for updates.
Find more of our coverage on e-cigarettes here.
This article was updated on 2/24/21.
---
You Might Be Interested In
Companies Accused of Greenwashing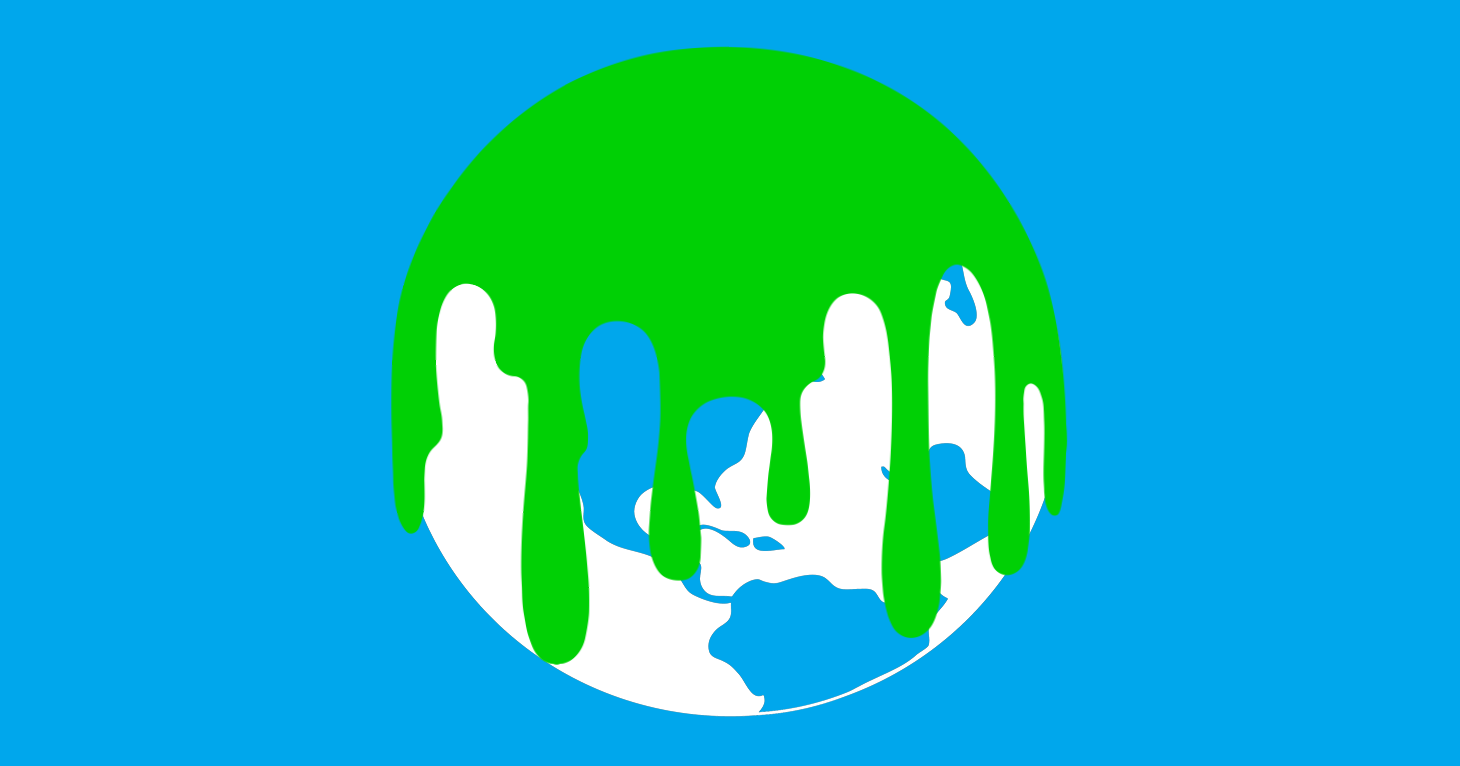 Companies Accused of Greenwashing
When companies green it, they better mean it.
Puff Bar Flavors Resurface Following FDA Ban
Puff Bar Flavors Resurface Following FDA Ban
FDA says it is aware of the situation but declined to comment on the regulatory status of disposable e-cigarette brand.
TINA's Take: Juul's 'Make the Switch' Campaign Violates Federal Law
TINA's Take: Juul's 'Make the Switch' Campaign Violates Federal Law
TINA.org agrees with health groups that Juul's current campaign disseminates an illegal smoking cessation claim.