Ciroc Vodka's Gluten-Free Claims
One thing's for sure: Ciroc is not the only vodka "out there" that's gluten free.
Hip-hop producer DJ Khaled says he drinks Ciroc vodka for several reasons, including that it is "the only vodka out there that's gluten free." (Another reason is his endorsement deal with the brand, which a TINA.org investigation earlier this year found was not adequately disclosed in hundreds of his social media posts.)
But contrary to Khaled's assertion, broadcast in a backyard video published on Instagram in February, Ciroc is not the only gluten-free vodka you can buy and some Ciroc flavors may actually contain gluten.
According to The Daily Meal, there are more than 30 vodka brands producing gluten-free spirits. Like Ciroc vodka, which is made from grapes ("cheap" grapes, according to this video from Business Insider), these vodkas are distilled from gluten-free sources, such as potatoes and corn. Tito's, for example, is made from corn.
Some experts say even those vodkas made from gluten-containing grains like wheat or rye should be safe for people with the autoimmune disorder celiac disease (CD) or a gluten intolerance as a result of the distillation process.
"Distilled spirits, because of the distillation process, should contain no detectable gluten residues or gluten peptide residues," Steve Taylor, co-director of the University of Nebraska–Lincoln's Food Allergy Research and Resource Program, told Scientific American in 2013. "Proteins and peptides are not volatile (not easily evaporated) and thus would not distill over."
The problem for people with CD or a gluten sensitivity comes when stuff is added after distillation, such as certain flavoring.
"All vodka is gluten-free unless there is some flavored vodka out there where someone adds a gluten-containing ingredient," Taylor said.
Ciroc vodka comes in eight flavors, only half of which (coconut, peach, red berry, amaretto) are described in blurbs on the Ciroc website as "gluten free." In the below Instagram photo, hip-hop mogul Sean "Diddy" Combs poses with a bottle of Ciroc Peach, which he tags #glutenfree in the caption. (Diddy has a lucrative marketing deal with Ciroc, or more precisely its owner, British-based liquor giant Diageo, hence the #ad.)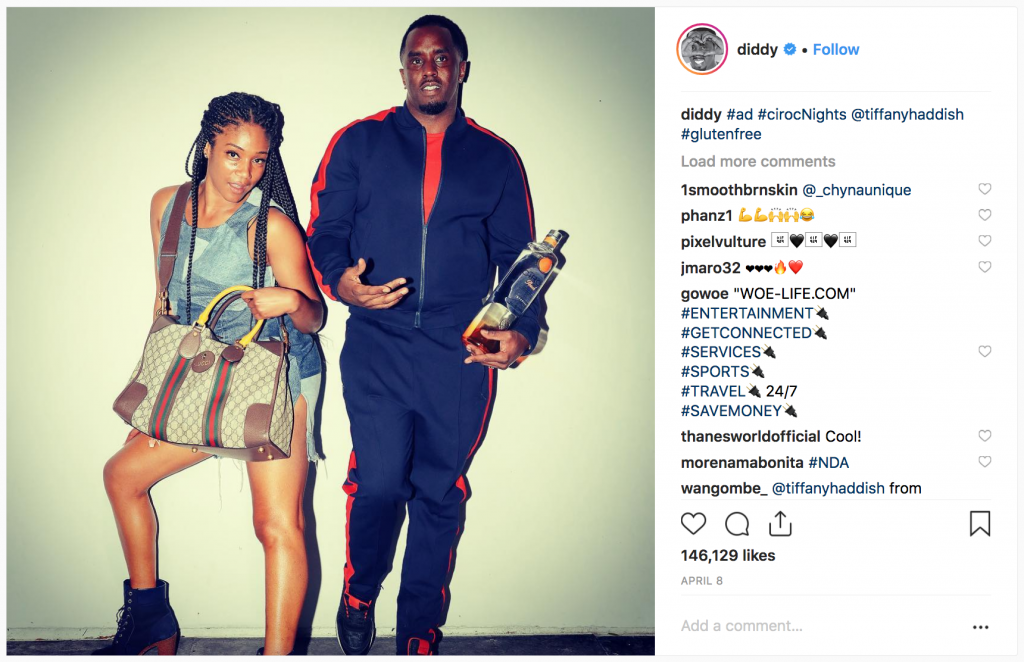 TINA.org reached out to Diageo to inquire whether all Ciroc vodka is gluten free, as this Ciroc Google ad would seem to suggest.
A Diageo spokeswoman responded with a list of eight varieties of Ciroc that she said the company "can confirm … are gluten free." Included on the list was the unflavored "blue dot" bottle featured in the Khaled video. Among those excluded was Ciroc Amaretto, which appears in the Google ad and is described on the Ciroc website as "gluten free."
Find more of our coverage on gluten-free claims here.
---
You Might Be Interested In
Michelob ULTRA Hard Seltzer
Michelob ULTRA Hard Seltzer
Consumers aren't the only ones who watch the ads. Competitors do too.
Iberia Olive Oil Blend
Iberia Olive Oil Blend
One ingredient is given prominence on the front of the bottle but it's not the primary one.
Bud Light: 'Brewed with no Corn Syrup'
Bud Light: 'Brewed with no Corn Syrup'
"The bottom line is that the claims regarding corn syrup in brewing are more marketing than science."