Brain Juice
Think hard when considering this supplement's cognitive claims.
Is Brain Juice worth the squeeze?
The company claims on its website that both its caffeinated and decaffeinated ready-to-drink supplements, as well as its powdered drink mix, provide an immediate brain boost helping "improve focus, clarity, memory and mood." Those claims are echoed in posts on the company's Instagram page and in its Amazon listings, one of which features this image touting a number of "brain power benefits."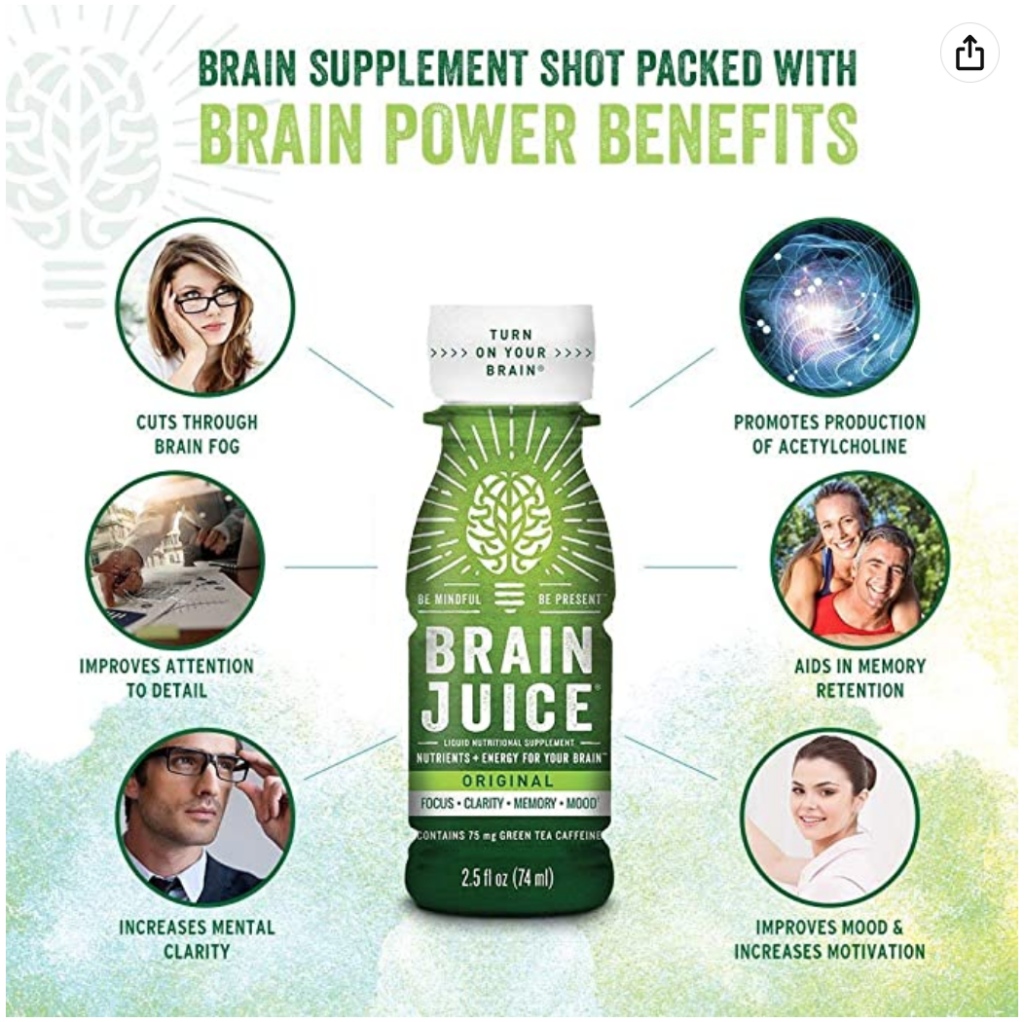 But there are several issues with these cognitive claims.
For starters, the FDA has established that claims to enhance focus and mental clarity are drug claims requiring its approval, which Brain Juice does not have. If you zoom in on the product packaging for the drink mix (a step you're not likely to take browsing products online) you'll see a disclaimer. It notes that the company's claims on the front label to help with focus, clarity, memory and mood "have not been evaluated by the Food and Drug Administration," and that the "product is not intended to diagnose, treat, cure or prevent any disease."
The reality is the FDA doesn't review supplements for safety and effectiveness before they're sold to consumers, much less approve the products.
Brain Juice also sells a supplement for kids, which it markets with similar cognitive claims.
Where's the science?
While the FDA requires its approval to make drug claims, the FTC demands marketers have competent and reliable scientific evidence to substantiate health claims.
Brain Juice claims in a Google ad that its supplements are "backed by science." But the company doesn't share any of the product testing it says proves its products are effective. In fact, clicking "learn more about the science" on the Brain Juice homepage (see below) doesn't do anything. The same goes for "Science" at the top of the page. While the words appear hyperlinked, clicking on them doesn't take consumers anywhere.
The bottom line
According to brain experts, buying supplements to boost your brain health is likely a waste of money. Consumers looking for help with attention, focus and memory should consult with their health care provider.
TINA.org reached out to Brain Juice for comment. Check back for updates.
Find more of our coverage on brain supplements here.
---
You Might Be Interested In
Medical Mike's CBD Oils
Medical Mike's CBD Oils
Don't Be Like Mike and get an FDA/FTC warning letter regarding COVID claims.
Agora's 'Coronavirus Vaccine Survival Guide'
Agora's 'Coronavirus Vaccine Survival Guide'
Guide has some surprising health advice based on its anti-Big Pharma marketing.