BlackOxygen Organics-Turned-Youngevity Reps Say BOO is Back
Nearly recalled by the FDA, BOO is purportedly back on the market.
In February 2022, Youngevity International, a California-based, publicly-traded MLM that sells a variety of products, sent an email to former distributors of BlackOxygen Organics, an MLM that went out of business the previous fall as the FDA was pursuing a recall of its fulvic acid powder and tablets after the agency found the products contained elevated levels of lead and arsenic. The email, marked "a warm hello from all of us here at Youngevity," said:
After the executive team of Black Oxygen Organics closed their doors, they approached Youngevity through mutual contacts and wondered if there might be an opportunity for us to assist with their displaced Brand Partners and Customers. They expressed to Youngevity that they still have an interested, tight-knit community, and they'd love to settle somewhere where they can continue to participate in a compensation program. Youngevity has that, along with an amazing set of products in a number of different verticals—including a line of organic minerals in the health & beauty space. So, together, we felt there may very well be a fit for previous BOO Brand Partners.
Not only did Youngevity offer former BOO distributors the opportunity to participate in its compensation program, which is available to anyone who purchases a distributor kit, it offered them the chance to claw back commissions owed by their previous company. But what may have convinced the largest number of displaced BOO distributors to join Youngevity was a new skincare product featured in the email called Midnight Minerals.
In private Facebook groups, BOO-turned-Youngevity distributors say Midnight Minerals is "the same thing" as BOO, which is used interchangeably to refer to both the company and its "magic dirt," and that "BOO is now Midnight Minerals." The ingredients are the same: fulvic/humic acid. Some even say the safety report for Midnight Minerals, which can be downloaded from the product page on the Youngevity website, is actually the safety report for BOO. The safety report claims Midnight Minerals is safe despite containing low levels of toxic heavy metals such as inorganic arsenic.
Exposure to inorganic arsenic does not necessarily mean that adverse health effects will result; toxicity of exposure to inorganic arsenic depends on dose and duration of oral exposure.
The report says the same thing about exposure to inorganic lead, another toxic heavy metal in the product.
In December 2021, the FDA advised consumers who had purchased fulvic care powder and tablets from BlackOxygen Organics to immediately stop using the products and throw them away due to elevated levels of lead and arsenic.
When discovered, the FDA pursued a recall, however, the firm went out of business on November 23, 2021 before performing the product recall.
Health Canada got to BlackOxygen Organics before it closed its doors, announcing a recall of the company's fulvic acid products due to potential health risks in September 2021.
In a request for comment, TINA.org asked Youngevity if distributor claims that Midnight Minerals is the "exact same product" as BOO and the "same product relabeled" are true, and if the safety report for Midnight Minerals actually belongs to BOO. We have not heard back.
Find more of our coverage on Youngevity here.
---
You Might Be Interested In
Young Living's Unapproved Drug Treatment Claims, Part 5?
Young Living's Unapproved Drug Treatment Claims, Part 5?
Latest FDA warning cements MLM's status as a repeat offender.
BlackOxygen Organics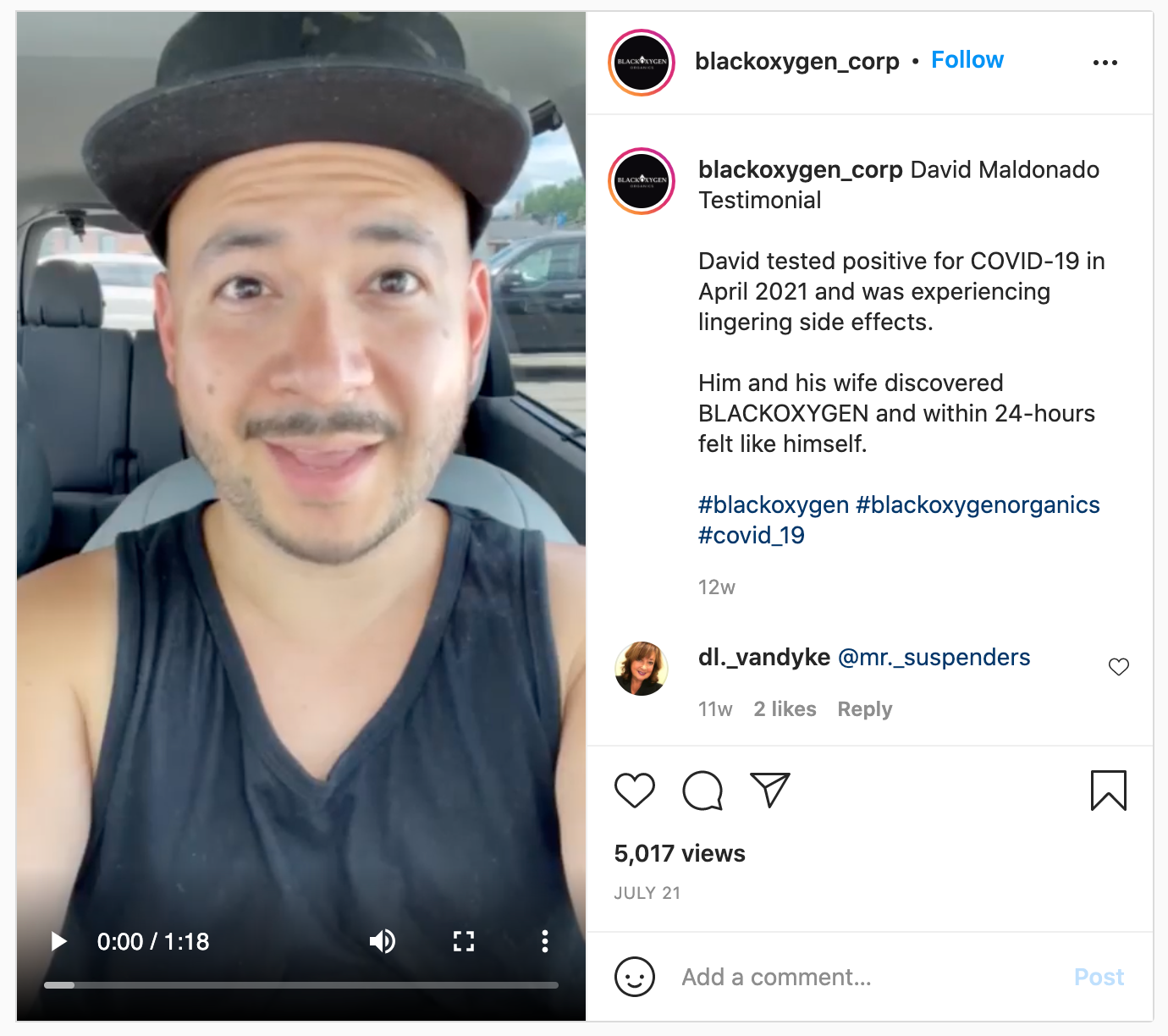 BlackOxygen Organics
Spoiler alert: MLM's products have not been proven to alleviate the symptoms of long-haul COVID.