The Higg Index
Sustainability ratings tool comes under fire.
Introduced in 2011 by a trade group consisting of some of the world's largest fashion brands and retailers, the Higg Index is touted as a sustainability ratings tool that measures the environmental impact of individual products based on factors such as water use, carbon emissions and labor conditions. But critics say the methodology behind the Higg Index, which is also sometimes referred to as the Higg Materials Sustainability Index (MSI), is flawed and accuse companies that use the index to broadcast a sustainability message of greenwashing.
Despite questions regarding the environmental toll of synthetics made from fossil fuels, the index strongly favors synthetic materials, such as polyester, over those that come from natural sources, such as cotton, wool or leather, according to a recent investigation by the New York Times. A fashion industry analyst and critic of the ratings system told the Times: "The index is justifying the choices fashion companies are making by portraying these synthetics as the most sustainable choice. They're saying: You can still shop till you drop, because everything is now so sustainably sourced." Others say the index doesn't account for the full life cycle of products, excluding environmental factors such as whether a garment is biodegradable.
On June 27, the Sustainable Apparel Coalition (SAC), which developed the Higg Index, announced that it was pausing the use of consumer-facing sustainability profiles based on index data after the Norwegian Consumer Authority (NCA) told the trade group and two of its members – fast fashion giant H&M and a Norwegian outdoor clothing brand – they cannot use data from the index to support environmental claims.
We have made the decision to pause the consumer facing transparency program globally as we work with the NCA and other consumer agencies and regulators to better understand how to substantiate product level claims with trusted and credible data. This specifically means temporarily removing the published Higg Index seal and scorecard from the participating online retail platforms while further evaluation takes place.
While the SAC said it was responding to a notification from the NCA, H&M's alleged misleading use of sustainability profiles based on Higg Index data was simultaneously being scrutinized by the business news site Quartz.
According to the Times, companies pay a fee to submit new data to the SAC and obtain company-specific scores. Currently, there are 151 SAC members that use the Higg Index, including Amazon, ASOS, Canada Goose, Disney, H&M, L.L. Bean, lululemon, New Balance, Nike, Patagonia, Puma, REI, Target, The RealReal, Under Armour and Williams-Sonoma.
In its statement the SAC said it hoped to "reactivate the program upon alignment with the NCA and other regulatory bodies. To further support this, we are, with urgency, commissioning an independent third party expert review of the Higg MSI data and methodology."
Check back for updates.
Find more of our coverage on greenwashing here.
---
You Might Be Interested In
Nike's 'Sustainability' Collection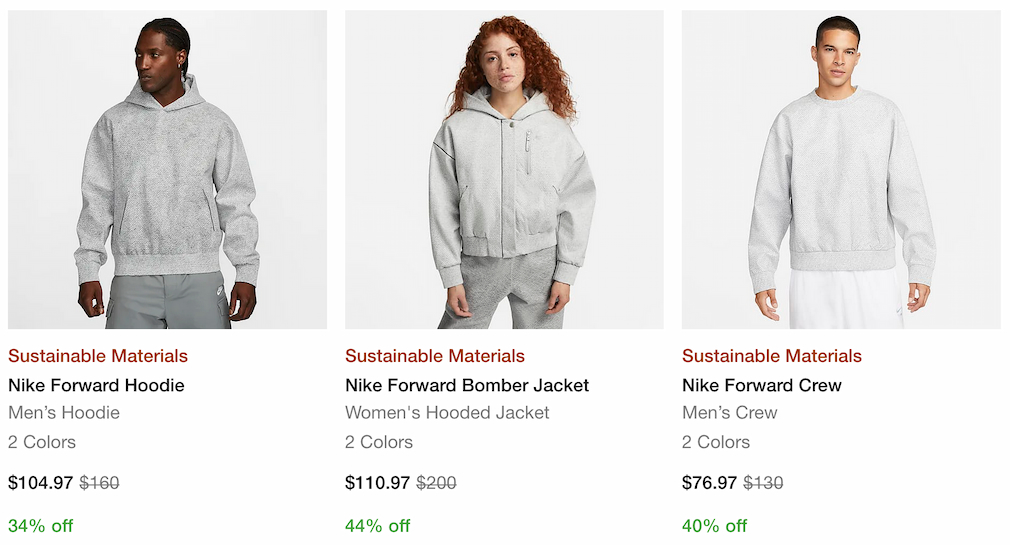 Nike's 'Sustainability' Collection
Lawsuit accuses retailer of greenwashing.
H&M's Sustainability Profiles, Environmental Claims
H&M's Sustainability Profiles, Environmental Claims
What's sustainable about fast fashion?
Poland Spring ORIGIN
Poland Spring ORIGIN
Poland Spring charges consumers a premium for its ORIGIN water. What are they getting in return?