T.G.I. Friday's Cheddar and Bacon Chips
One key ingredient appears to be missing from these chips and it's not cheddar.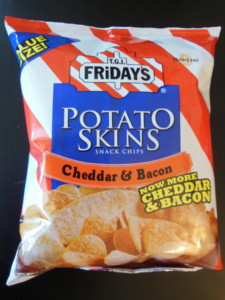 T.G.I. Friday's advertises on its bags of cheddar and bacon potato skins chips that the snack contains more bacon than ever before. But a TINA.org review of the snack's ingredients following a reader's tip brings into question if the chips had any real bacon to begin with.
"No bacon whatsoever," wrote a TINA.org reader who surveyed the ingredients on the back of the bag. Indeed, TINA.org found that the word "bacon" does not appear once among the more than 30 listed ingredients, which led with soybean oil and/or sunflower oil. "How can you claim 'more bacon' when there is no bacon!?!"
Good question, reader. Maybe more accurate product packaging would have read bacon flavored in the same way some fruit snacks are labeled fruit flavored.
In any event, if it's real bacon you're after, label this bag of chips T.G.I. Fail.
T.G.I. Friday's did not respond to requests for comment.
Find more of our coverage on food advertising here.
---
You Might Be Interested In
Michelob ULTRA Hard Seltzer
Michelob ULTRA Hard Seltzer
Consumers aren't the only ones who watch the ads. Competitors do too.
Iberia Olive Oil Blend
Iberia Olive Oil Blend
One ingredient is given prominence on the front of the bottle but it's not the primary one.
Bud Light: 'Brewed with no Corn Syrup'
Bud Light: 'Brewed with no Corn Syrup'
"The bottom line is that the claims regarding corn syrup in brewing are more marketing than science."