StubHub's Hidden Ticket Fees
Site continues to mislead consumers on its ticket prices.
More than five years after having its fee-disclosure practices referred to a federal regulator, StubHub continues to mislead consumers on its ticket prices.
In January 2018, the National Advertising Division alerted the FTC to StubHub's deceptive pricing tactics after the company declined to comply with a recommendation by the self-regulatory group to clearly and conspicuously disclose service fees alongside initial ticket prices – as opposed to at the end of the checkout process. NAD wrote in its decision:
[T]he initial advertising interaction between a consumer and an advertiser should be truthful as this initial contact affects consumer behavior and determines whether the consumer will choose to learn more about the product and ultimately make a purchase.
Using the hottest ticket in town, Taylor Swift's "Eras Tour," as an example, TINA.org found that StubHub continues to advertise initial ticket prices that fail to account for service fees, which are a whopping 23 percent of the total ticket cost and are only disclosed after consumers provide a trove of personal information including their email address and billing address.
The first ticket prices are provided after consumers select a show and the number of tickets they want.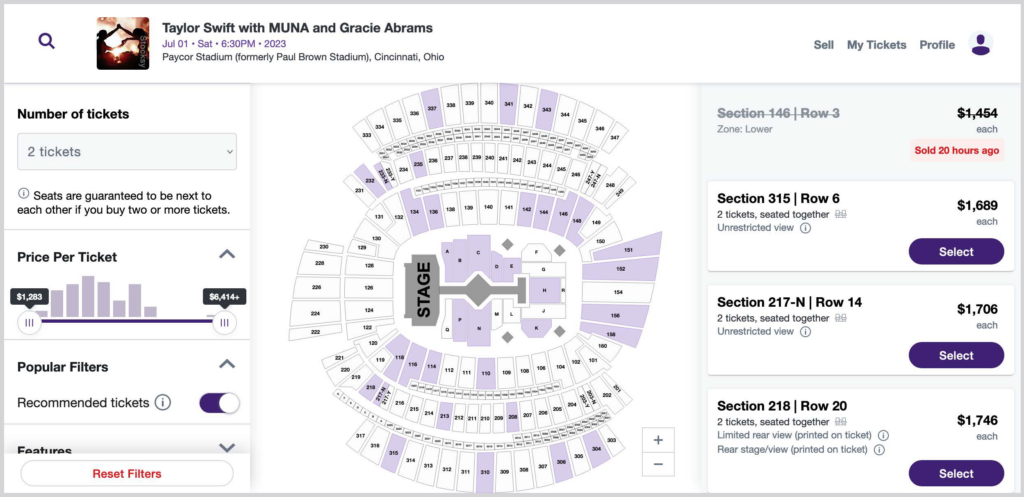 In these results, StubHub shows comparable ticket(s) that sold 20 hours ago for $235 less than the lowest available price shown on the screen. (This "recently sold" tactic is commonly used. For example, in the days before a Taylor Swift concert over the weekend, StubHub showed comparable ticket(s) that sold as recently as "45 minutes ago" for over $400 less and "2 hours ago" for over $1,000 less.)
StubHub then repeats the advertised ticket price when consumers make a selection.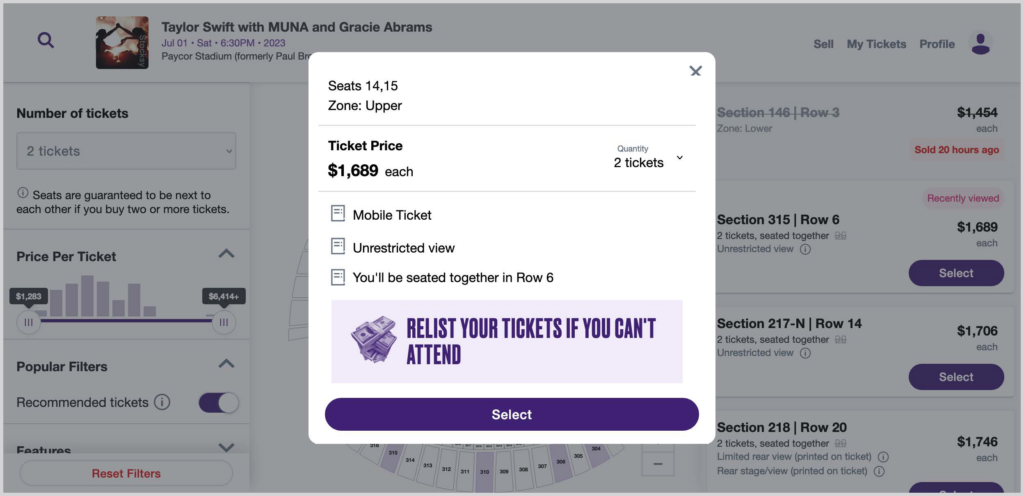 Up next: more time pressure tactics.
On the following page, StubHub informs consumers that they only have 10 minutes left to complete their purchase. "Your price is only guaranteed for this time!" the site warns as consumers are put on the clock.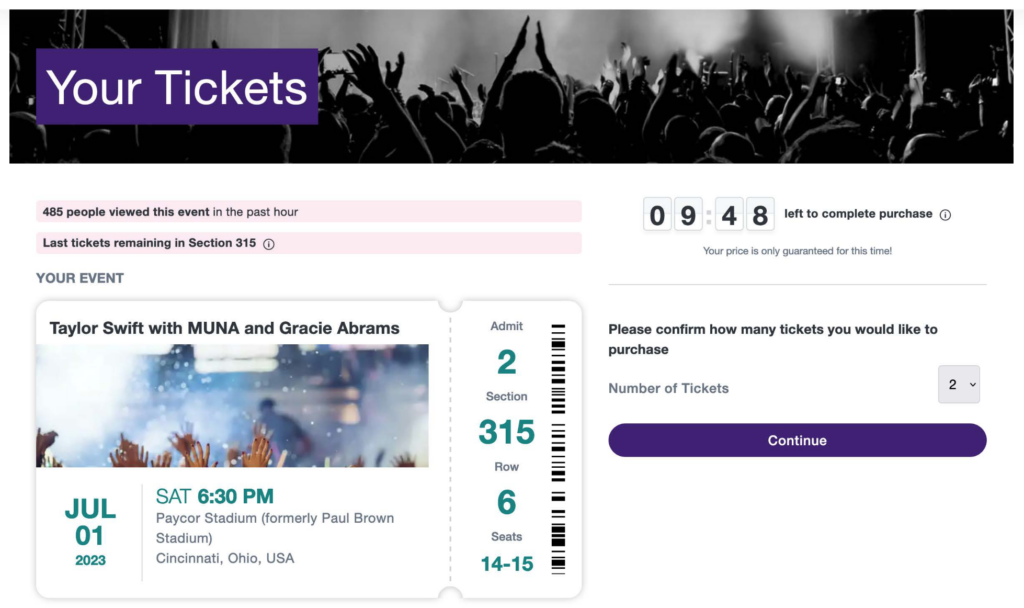 The countdown timer – and the messages to the left of it notifying consumers about the hundreds of people who have viewed the event in the past hour and informing them that these are the "last tickets remaining" in the selected section – follow users through the entire checkout process.
A dozen steps into that process and with time on the countdown clock dwindling, StubHub, after obtaining the ticketholder's name, email address and billing address, among other things, finally reveals the total ticket price after a "fulfillment and service fee" is added. In this case, the fee accounts for 23 percent of the total ticket price.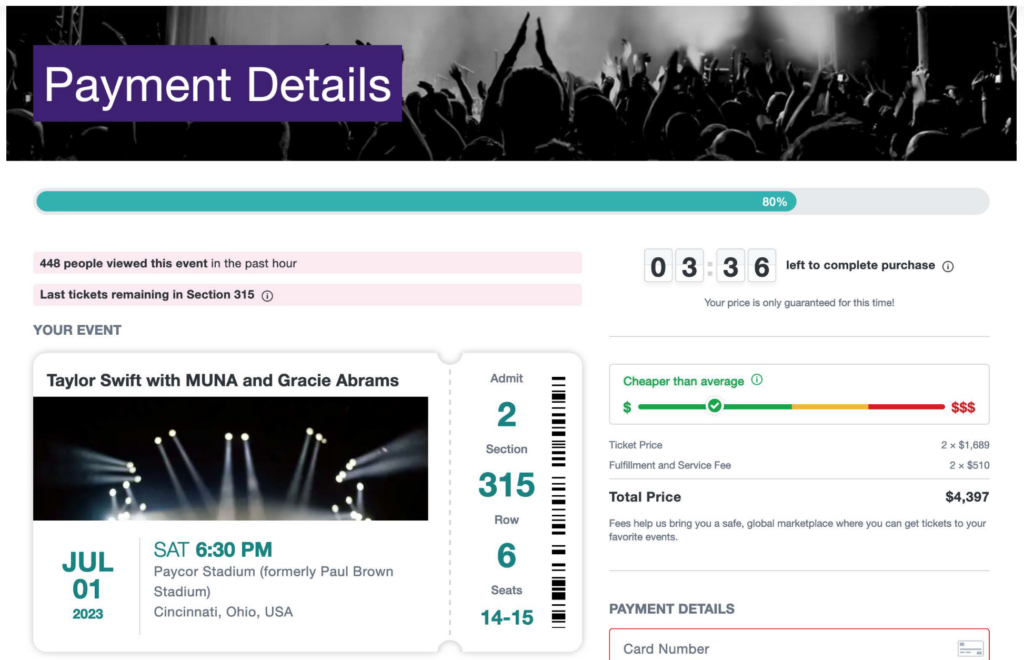 StubHub provides its rationale under the total price: "Fees help us bring you a safe, global marketplace where you can get tickets to your favorite events."
Unlike taxes or standard shipping fees, the service fee is not a set fee or a set percentage on every purchase and can range from 24 percent to 29 percent of the ticket cost, NAD noted.
Referral in limbo
When it referred StubHub's fee-disclosure practices to the FTC, NAD seemed confident that the agency would see things its way, writing in its press release:
[T]he FTC has made it clear that when advertising and selling are combined on a website or mobile application, and the consumer will be completing the transaction online, disclosures should be provided before the consumer makes the decision to buy…
However, more than five years after the NAD referral, the ball is still in the FTC's court.
"The FTC has not issued a closing or resolution letter," an NAD spokesperson told TINA.org.
An end to hidden ticket fees?
As TINA.org noted when the company's deceptive pricing tactics were referred to the FTC, StubHub is not the only ticket reseller that tacks on fees at the end of the purchasing process.
Opaque pricing is rampant throughout the live events ticketing industry, to the point where StubHub had argued that consumers generally understand that fees will be added at the end of the transaction because all major online ticket vendors and resellers do it, an argument that NAD didn't buy.
But there's hope for Swifties and the millions of fans of live music, sporting events and theater who use sites like StubHub to buy tickets but who currently cannot make informed purchasing decisions due to the lack of upfront pricing and time pressure tactics (which is a type of dark pattern, an area of focus for the FTC).
Last month, a bill was introduced in the Senate that targets hidden ticket fees for live events. The Transparency in Charges for Key Events Ticketing Act, or TICKET Act, would, among other things, require ticket sellers to display the total ticket price, including all required fees, in any advertisement, marketing or price list. The bill has bipartisan support.
Upfront pricing is already the reality in New York, which last year passed a law requiring ticket sellers to display "all-in" prices for concerts and other live events held in the state. That's why StubHub discloses the ticket fees for Billy Joel's June 2 show at Madison Square Garden in New York City earlier and in a different manner than it does for the singer's June 16 show at Lincoln Financial Field in Philadelphia.
TINA.org reached out to StubHub for comment. Check back for updates.
Find more of our coverage on online ticket sellers here.
---
You Might Be Interested In
StubHub
StubHub
NAD says service fees should be disclosed alongside initial ticket prices, as opposed to at checkout.
Vivid Seats
Vivid Seats
Online ticket reseller kicks offs NHL season with a misleading email promotion.