Root Wellness
The root of the problem: an MLM's inability to remove unsubstantiated health claims.
Concluding that its attempts to resolve the matter "through industry self-regulation have been unsuccessful," the Direct Selling Self-Regulatory Council referred unsubstantiated health claims disseminated by Root Wellness distributors on social media to the FTC for further review.
Earlier this year, the Tennessee-based MLM assured the DSSRC that social media posts that were the subject of a 2021 DSSRC inquiry had been removed, even as the MLM argued it wasn't responsible for the claims of its distributors (the FTC would disagree).
Not only was this not true and the posts remained in circulation, the DSSRC said it found additional social media posts from Root Wellness distributors claiming that the company's health and wellness products treat everything from joint pain to Alzheimer's to childhood ADHD, without competent and reliable scientific evidence to back up the claims.
[A]lthough Root Wellness has stated that it is "continually working to have customers remove these posts," 24 of the 29 social media posts identified by DSSRC in the 2021 inquiry and the 2022 compliance inquiry remain publicly available.
So now they're the FTC's problem.
This is the third time in as many months that the DSSRC has referred an MLM's deceptive marketing to the government.
Since the DSSRC launched in 2019, the industry-funded program has referred 18 MLMs to the FTC, excluding a "government referral" that did not specify the agency. In addition to unsubstantiated health claims, the DSSRC has flagged atypical earnings claims for possible enforcement action. The FTC has yet to publicly pursue any DSSRC referral.
Find more of our coverage on MLMs here.
---
You Might Be Interested In
Young Living Distributor Violates Law with COVID Claims
Young Living Distributor Violates Law with COVID Claims
TINA.org alerts regulator to unsubstantiated claims.
CalmOptics
CalmOptics
Don't let the claims about these blue-light blocking glasses blind you to the facts.
JoAnne Bassett's 'Corona Virus Oil'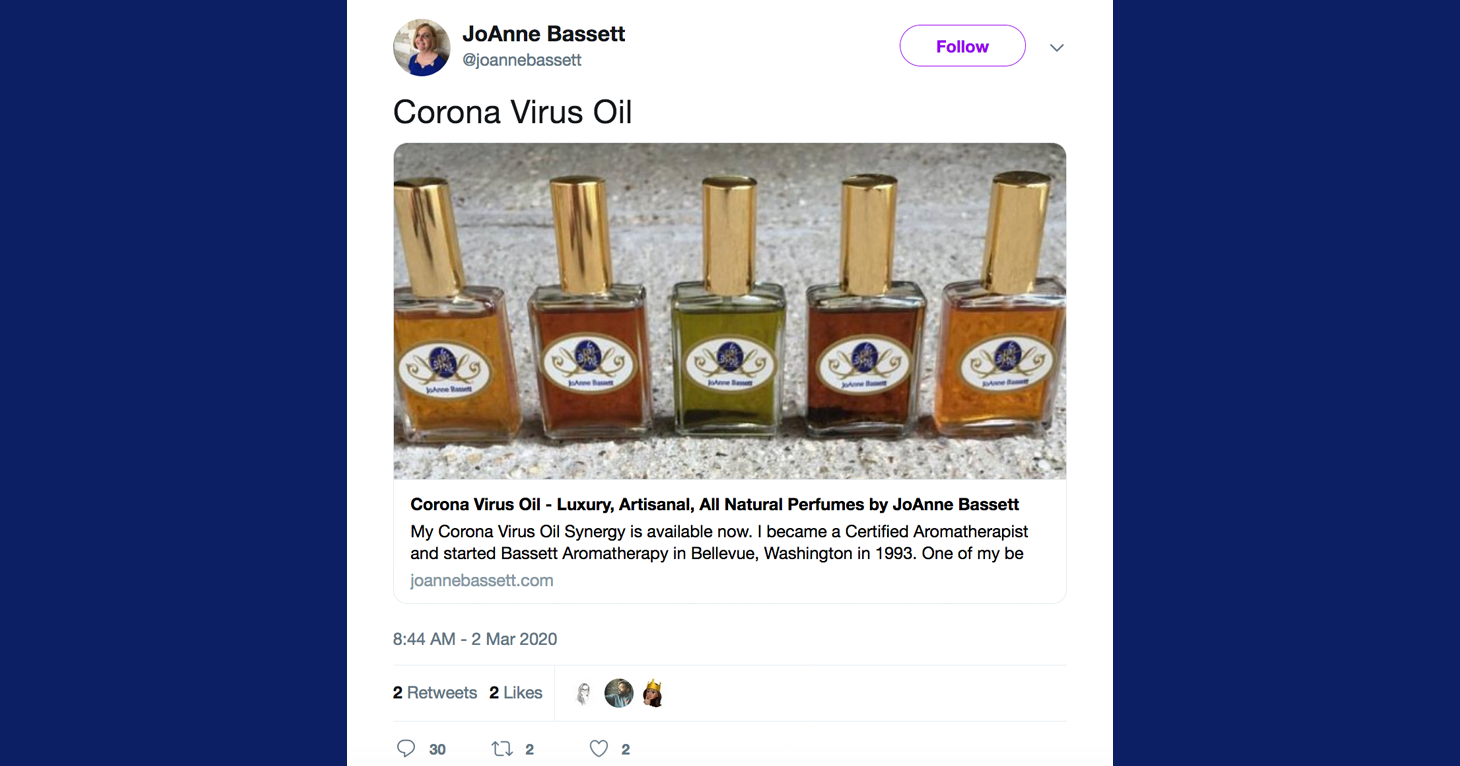 JoAnne Bassett's 'Corona Virus Oil'
Self-proclaimed aromatherapist claims essential oil can help combat the coronavirus.