Pulp Fiction? Florida's Natural Now Made with Orange Juice Concentrate from Mexico
Longtime 'not from concentrate' product is now a blend.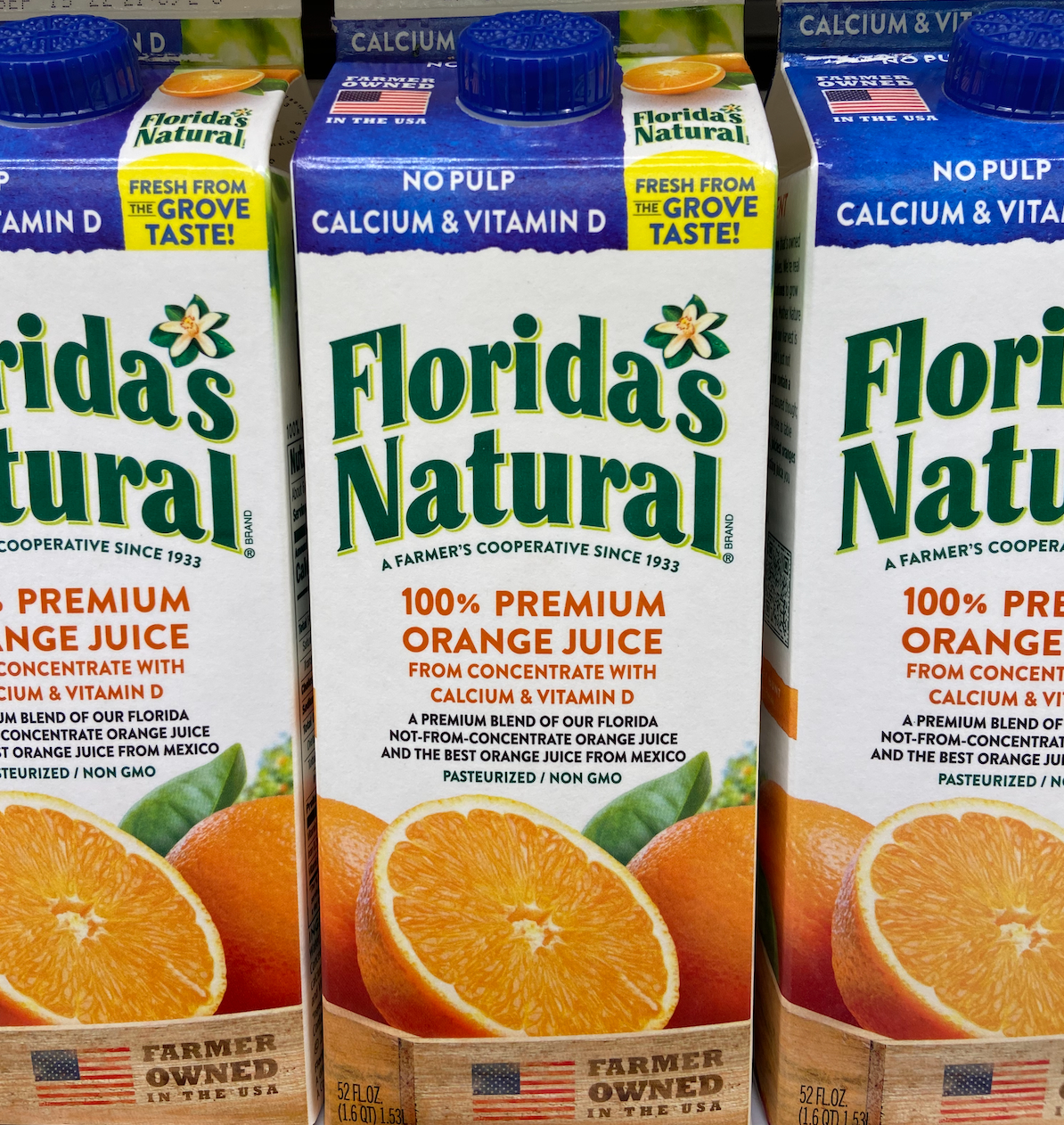 For years and as recently as April, Florida's Natural orange juice was marketed as "not from concentrate," meaning processed without any water removal and reconstitution, and made fresh by Florida growers. Then, as reported by Mouseprint.org last month, with little warning to consumers, the formulation changed. And now the OJ is "a premium blend of our Florida not-from-concentrate orange juice and the best orange juice from Mexico," according to fine print on the front of the carton. The side of the carton explains the reason behind the formulation change:
Florida's Natural is a proud citrus cooperative that's owned by hundreds of Florida farmers and their families. We're real people, working together for over five generations. Unfortunately, Mother Nature has been pretty harsh over the past years, and our harvest is about 70% lower than a decade ago. There's just not enough juice in Florida, so all our varieties now contain a blend of juice from Florida and Mexico. …
The Florida orange shortage is real. Business Insider reported this week that Florida growers are producing less than half of the oranges they produced a decade ago, which is in line with the numbers provided by Florida's Natural, due primarily to an incurable plant disease called citrus greening. But while Florida's Natural can't control Mother Nature, it can control how it communicates changes to its product caused by Mother Nature, as its customers have become accustomed to an orange juice that is made a certain way.
And outside of inconspicuous disclosures on the carton itself – i.e., the fine print on the front that is easy to overlook and the explanation on the side that requires shoppers to rotate the carton to read it – the company doesn't seem very eager to broadcast that its longtime "not from concentrate" product is now a blend containing an orange juice concentrate from Mexico. For example, there is no mention of the formulation change in the YouTube version of a new commercial, ironically titled "Different," that has already accumulated more than 10 million views since Florida's Natural posted the video on its YouTube channel on July 12.
In response to a request for comment by TINA.org, Florida's Natural said it began distributing the new blend in May. That's two months before the video was published, which would seem like plenty of time to insert a message regarding the formulation change.
Prior to the July 12 video, the last commercial published on the company's YouTube channel was posted in August 2020. In that video, titled "Corporate Executives," Florida's Natural asks viewers, "Who do you think takes more pride in how they craft their orange juice, the corporate executives of Coke and Pepsi," referring to the makers of competing products Simply Orange and Tropicana, respectively, "or the farmers of Florida's Natural? Only Florida's Natural is always made in Florida, by Florida farmers."
However, Florida's Natural must have known then that it would be tough to keep its promise as the company told TINA.org that the "Florida orange crop has been shrinking for more than two decades." It just happened that the most recent season delivered the smallest Florida orange harvest since the end of World War II, according to the company.
'Deeply sickened by the change'
Several customers have lodged complaints on the Florida's Natural Facebook page about the new blend, including one consumer who said she was "[d]eeply sickened by the change" and another who demanded that the company change its name. In response, Florida's Natural has vowed to "use as many Florida oranges as possible based on what Mother Nature delivers." Meanwhile, a carton pictured on the Florida's Natural website displays two words longtime customers probably don't want to see: "from concentrate."
Find more of our coverage on orange juice here.
---
You Might Be Interested In
Fireball Cinnamon Malt Beverage
Fireball Cinnamon Malt Beverage
Lawsuit accuses spirits maker of misleading consumers into believing Fireball Cinnamon contains whisky.
Whole Foods Grilled Over Its 'No Antibiotics, Ever' Beef Claim
Whole Foods Grilled Over Its 'No Antibiotics, Ever' Beef Claim
Consumers also have a beef with claim that meat is 'animal welfare certified.'
Michelob ULTRA Hard Seltzer
Michelob ULTRA Hard Seltzer
Consumers aren't the only ones who watch the ads. Competitors do too.