Medicare Coverage Helpline
This helpline may be trying to sell you something.
|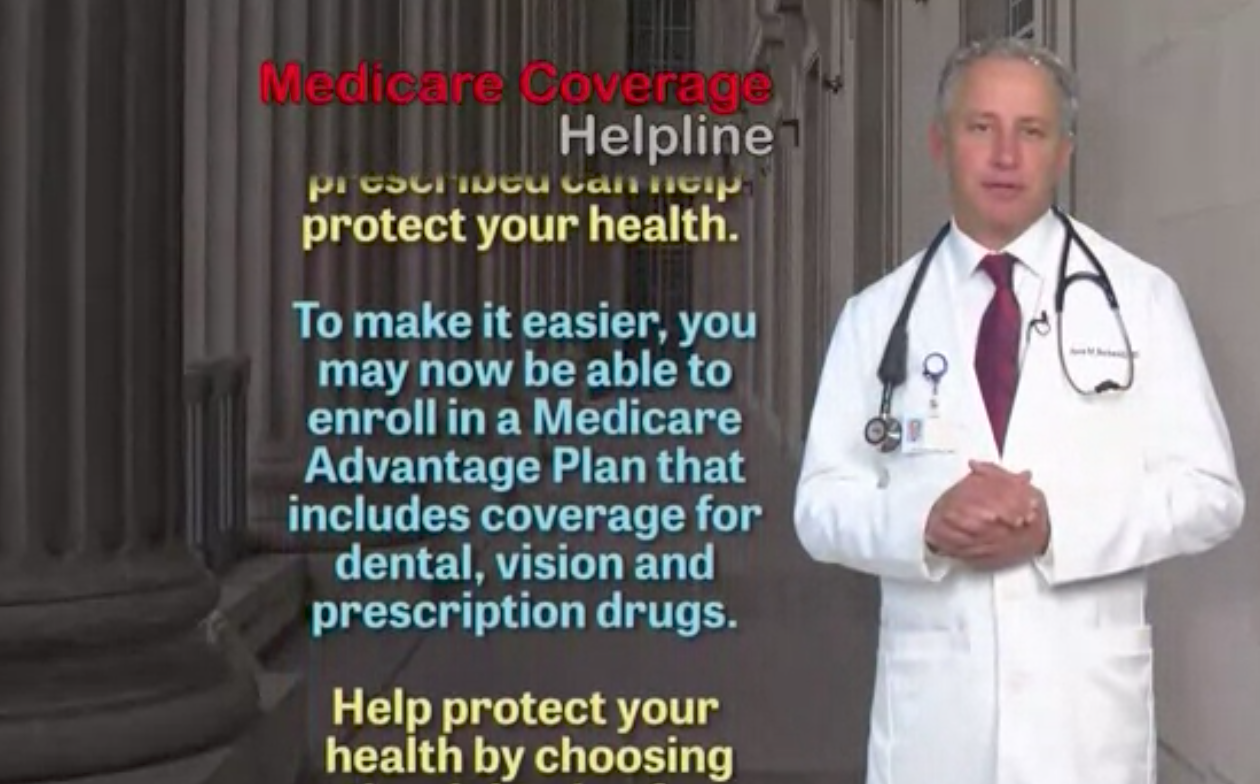 Editor's Note: Updates have been posted at the end of this article.
With heath care uncertainty front and center in the news of late, an advertisement by the Medicare Coverage Helpline alerting consumers about extra benefits, such as hearing, dental, vision and prescription drug coverage, certainly sparks interest.
The ad, complete with an American flag, features a man identified as Dr. Jason Buchwald and urges consumers to call a special hotline to find out about coverage they may not know is available. Don't delay!
But what may not be as apparent is that the Medicare Coverage Helpline is not a government hotline at all and Buchwald is a paid spokesman (did you catch those disclosures? Probably not, as they flash by quickly in fine print within a couple of seconds). The helpline is part of TogetherHealth, a Delaware incorporated limited liability company based in Florida for which Buchwald is listed on state business records as a manager (that part is not disclosed at all in the ad).
What also flashes by quickly in the commercial is a bunch of other important caveats squished into one page of tiny print in the ad. The hard to read screen print reveals that your phone call to the hotline is actually "sold" to a licensed insurance agent. And those additional vision, dental and prescription drug benefits repeatedly mentioned in the ad? Those benefits may not actually be available in your region. In fact, consumers have to check their state insurance commission to find out what is offered in their areas.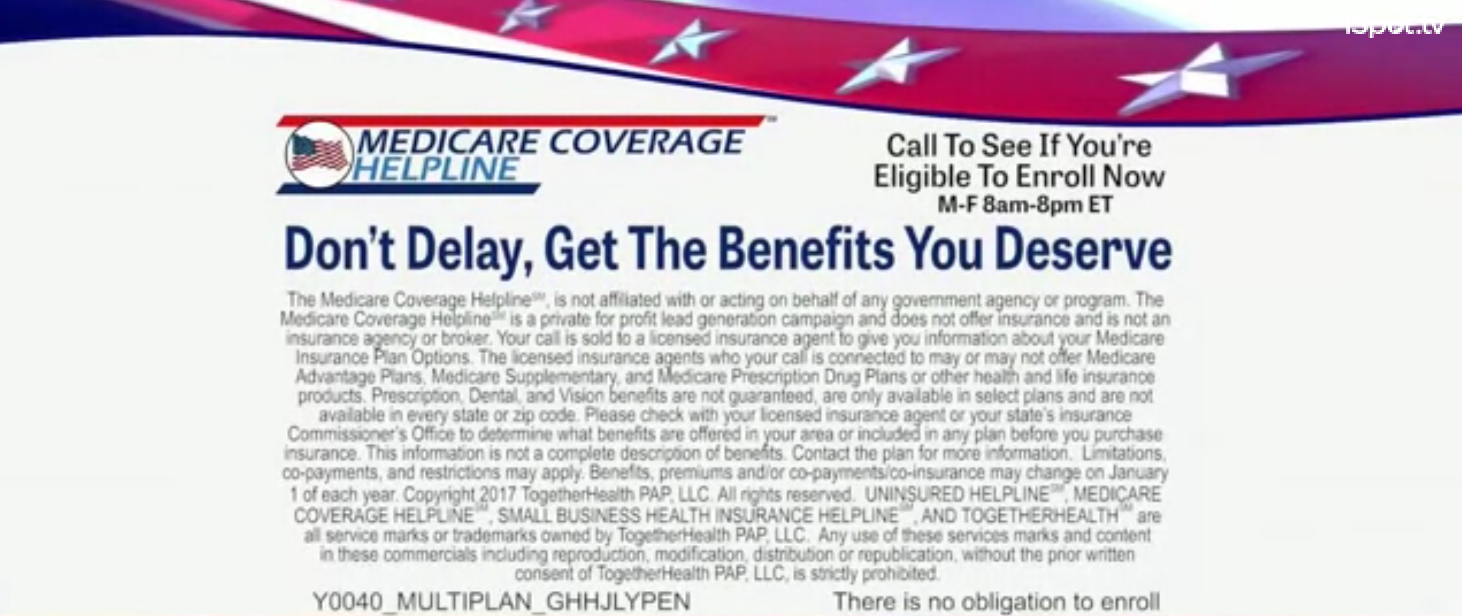 Before calling, beneficiaries may want to do more research into what consumers are saying about TogetherHealth and reach out to Medicare.gov, which is the government agency.
Find more of TINA.org's coverage of health insurance here.
UPDATES
10/23/20: Medicare Coverage Helpline, which it is important to remember is in no way affiliated with the government, continues to mislead consumers on the benefits it can offer Medicare recipients, only now it has the help of New York Jets legend Joe Namath as a paid spokesperson. Specifically, as was the case more than three years ago when TINA.org published this ad alert, the benefits touted in the helpline's ads may not be available in your area and in order to find out if they are, the helpline itself says (in the fine print of TV commercials) that consumers should call their licensed insurance agent or their state insurance commission, not the helpline. The benefits that the helpline may not be able to offer include dental, vision, hearing and prescription drug coverage, in addition to telehealth options and meal-delivery services, both of which have taken on increased roles as a result of the coronavirus pandemic.
In addition, since the publication of this article, there have been at least two notable changes to the text that appears on screen at the end of commercials. First, instead of saying "Don't Delay, Get The Benefits You Deserve," the call to action above a large paragraph of fine print that would require viewers to pause their television to read in full now says, "Don't Delay, Get What You Deserve." (Emphases added.) Second, in the paragraph of mouse print the company no longer says that it sells your phone number to a licensed insurance agent but rather that your call is "directed" to a licensed insurance agent. However, the sentence before describes the Medicare Coverage Helpline as a "for-profit lead generation campaign." So you can do the math.
6/13/19: TogetherHealth has been acquired by a company called Health Insurance Innovations that is currently facing at least two class-action lawsuits over its alleged role in a health insurance scam that bilked millions of dollars from consumers and that the FTC shut down in the fall of 2018.
---
You Might Be Interested In
Rent-A-Center's Free Same-Day Delivery
Rent-A-Center's Free Same-Day Delivery
In short, the company may not deliver on the promise.
Clearlink Insurance Agency
Clearlink Insurance Agency
Email thanked consumer for "choosing" Clearlink. There was just one problem: She never did.
Personnel Concepts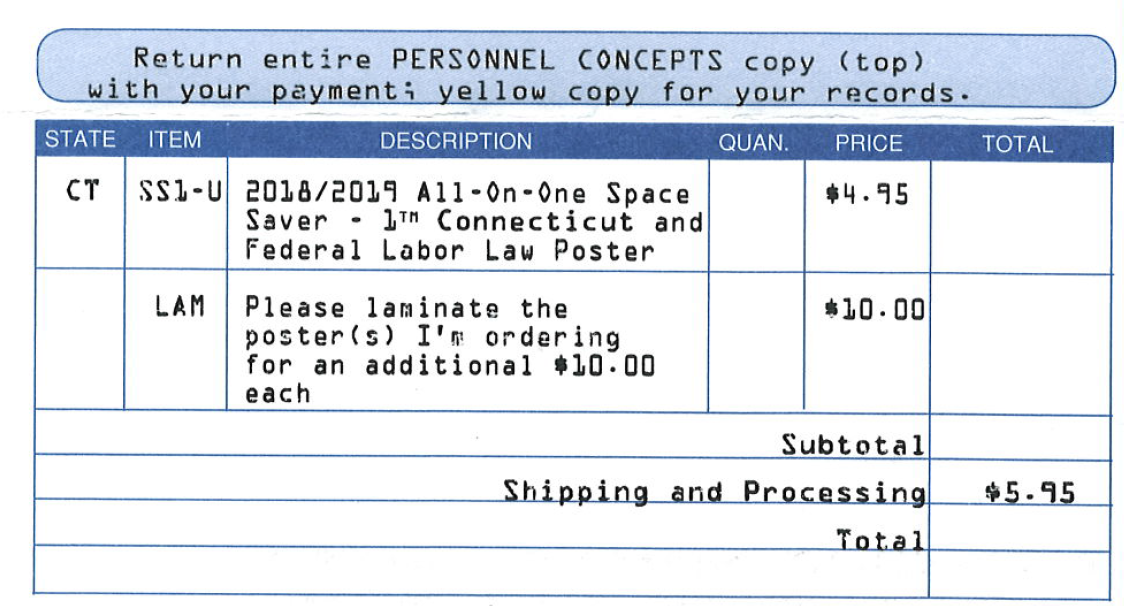 Personnel Concepts
Beware of government imposters in the mail.