LegXercise Pro
Device maker does not have the clinical proof to back up its clinically proven claims.
IntelliBrands advertises that its "automatic leg mover" device – the LegXercise Pro – is "clinically proven" to soothe pain and promote healthy circulation in legs – the "drug-free way." Unfortunately for those with leg pain, the company does not have the clinical proof to back up its clinically proven claims.
"Have you ever felt leg pain, restlessness, cramps, tingling, swelling, numbness, itchiness or coldness?" the company volunteers in the commercial above. "Then you need the new clinically proven LegXercise Pro, the natural circulation booster that uses continuous automatic leg movement to soothe pain and promote healthy circulation the natural, drug-free way."
The ad shows people encountering sudden leg pain – you've seen infomercials – and then finding relief with the LegXercise Pro, which mimics walking by moving the feet back and forth along a concave track while the user remains seated. The device costs $200.
If you watch any TV, you may have already seen the spot as it's aired more than 5,000 times across numerous networks since its debut in March 2022, for an estimated national TV ad spend of $2.9 million, according to iSpot.tv. In fact, TINA.org was alerted to the ad by a reader, who expressed doubt about the company's claims after finding "no mention of products being 'clinically proven'" on the LegXercise website.
Our reader was correct to be skeptical. While IntelliBrands does not publish the study that serves as the basis for its clinically proven claims for its LegXercise Pro device, the company provided it to TINA.org in response to a media inquiry. And the study has a number of noteworthy concerns, including:
IntelliBrands sponsored the study;
A small sample size: 44 subjects completed the study, only 16 of which were actually tested for improvements in blood flow "due to limitations of the instrument" used to collect readings;
A methodology that largely relied on responses to a "subjective questionnaire" taken two weeks after using the LegXercise Pro;
A short period of time during which subjects were instructed to use the device at home without any supervision;
Informing subjects about the "potential benefits" of the study, including a reduction in "pain sensations in lower leg, ankles and feet," before the study even started;
A sample population that was more than 80 percent white, which is not representative of the general population; and
The absence of a placebo group.
In its inquiry TINA.org informed IntelliBrands that, under FTC law, "clinically proven" claims require the support of competent and reliable scientific evidence in order to not be misleading. TINA.org told the company that the study it provided does not support the marketing message that it is promoting and asked when it will correct its deceptive marketing.
Check back for updates.
Find more of our coverage on clinically proven claims here.
---
You Might Be Interested In
Young Living Distributor Violates Law with COVID Claims
Young Living Distributor Violates Law with COVID Claims
TINA.org alerts regulator to unsubstantiated claims.
CalmOptics
CalmOptics
Don't let the claims about these blue-light blocking glasses blind you to the facts.
JoAnne Bassett's 'Corona Virus Oil'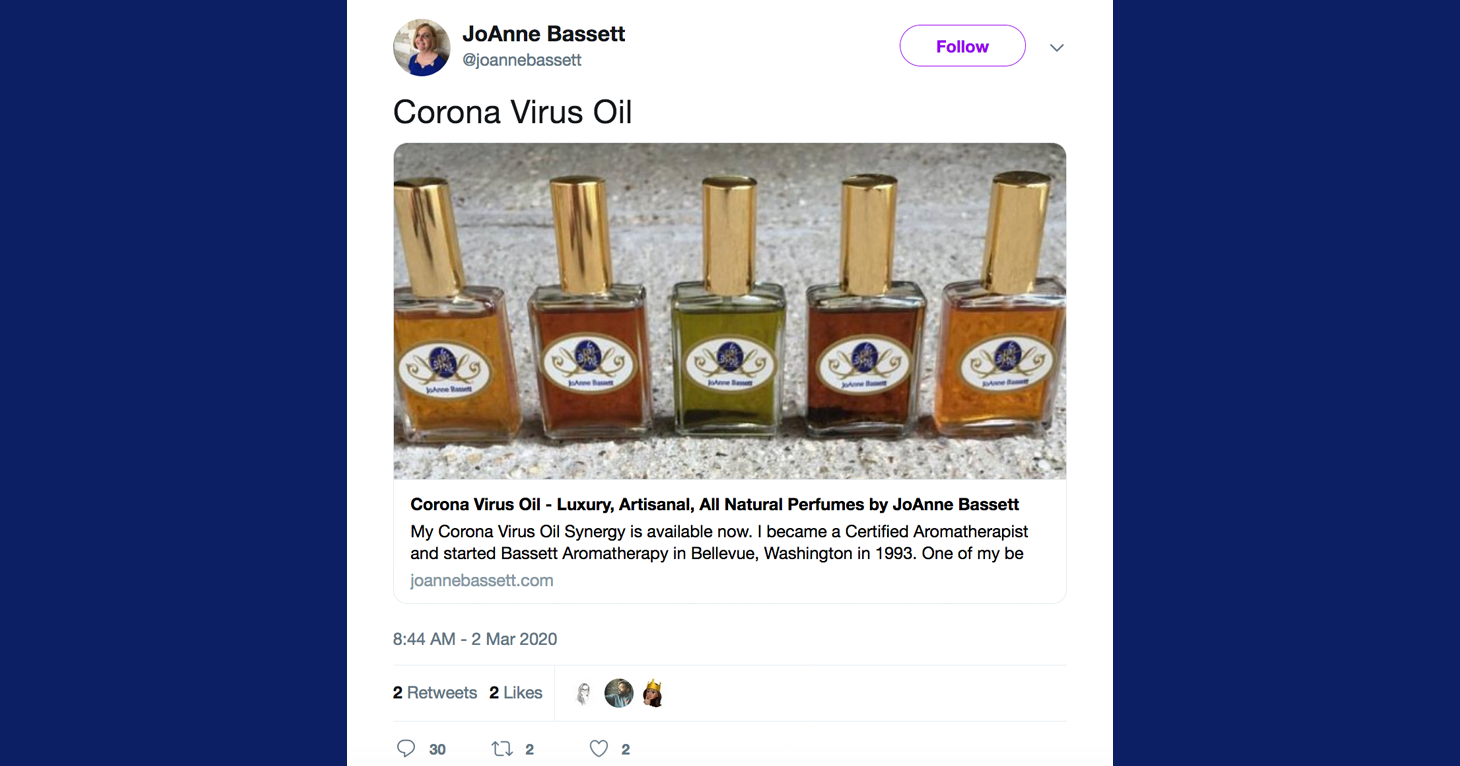 JoAnne Bassett's 'Corona Virus Oil'
Self-proclaimed aromatherapist claims essential oil can help combat the coronavirus.