Keto Diet Pill Scams
Spotting a keto diet pill scam is not hard if you know what to look for.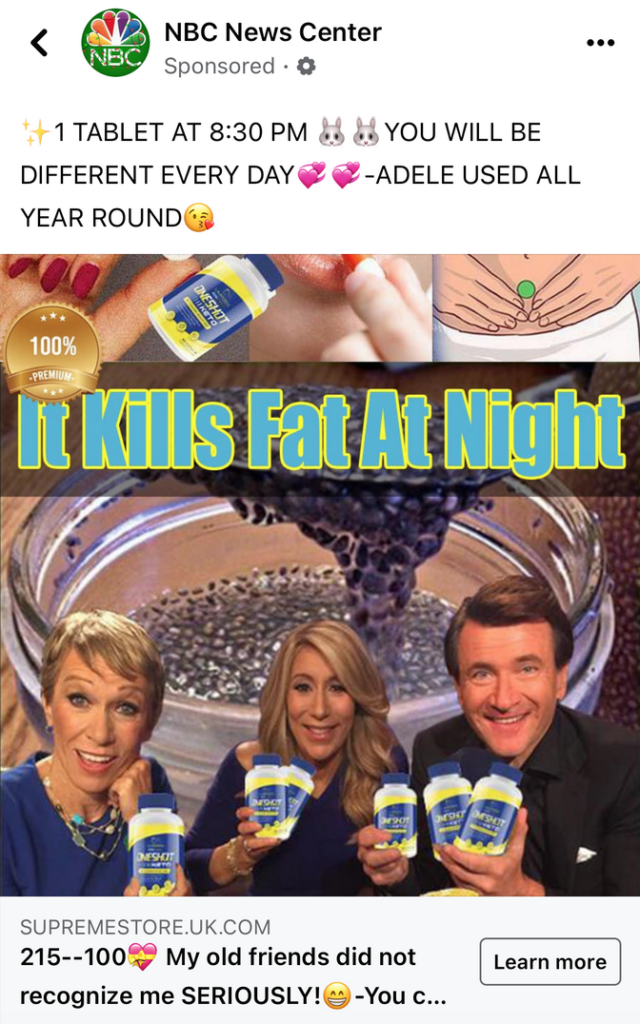 If you've ever wondered if that keto diet pill you saw advertised on social media was actually endorsed by the judges on "Shark Tank," the answer is no – no such product has ever appeared on the pitch show.
Social media ads like the one above for One Shot Keto, featuring a photoshopped image of three of the Sharks, including Lori Greiner (pictured center), posing with the product, are scams.
BEWARE – I DO NOT DO ANY KETO PRODUCTS. My image & name, are being used on FAKE Facebook/Instagram/Twitter ads. – I do not promote any Keto, weight loss or diet products, it's a scam. PLEASE SHARE! #SharkTank #FakeNews #Keto #ketodiet #FakeKetoAds #KetoAdScams #KetoScams pic.twitter.com/dw3I39TtMG

— Lori Greiner (@LoriGreiner) November 18, 2019
Spotting a keto diet pill scam is not hard if you know what to look for. Using the One Shot Keto Facebook ad, which a reader sent in, as a guide, here are some common red flags:
Fake endorsements. It's not just the Sharks that love Trim Life Keto, celebrities love it too, says the website that the ad directs to. Jennifer Hudson, Wendy Williams and Drew Carey are all falsely advertised as bona fide users (in addition to Adele).
The product – or at least the product name – changes. Did you notice we referred to a different product in the above bullet point? That wasn't an error on our part. While the ad shows the Sharks holding bottles of One Shot Keto, the website that the ad links to promotes a supplement called Trim Life Keto. The media organization that these scammers are using in an attempt to look legitimate also changes after you click on the ad, from NBC News to Fox News. Make no mistake, this is a fake news article as all the sections (U.S., World, Opinion, etc.) link to an order page.
Deceptive weight-loss claims. On the order page, the marketers of Trim Life Keto claim that their product helps users lose up to 5 pounds in the first week and up to 20 pounds in the first month "without diet or exercise." According to the FTC, claims that a product "causes weight loss of two pounds or more a week for a month or more without dieting or exercise" are automatic red flags. Not to mention, on the previous page, see above, the scammers claim their supplement enables users to lose 28 pounds or more in four weeks – they just can't seem to get their story straight.
A false sense of urgency. The website uses a number of time pressure tactics or dark patterns to hasten a purchasing decision. These tactics include telling consumers that there is a limited supply and that the offer is only available for a limited time, neither of which appears to be true. The site warns that the "sell out risk" is "high." There is also a timer set to 15 minutes, allegedly indicating when an "offer expires." But when the timer hits zero, the offer hasn't gone anywhere.
That "free" bottle. While the order page encourages consumers to enter their name, address, email address and phone number to claim their "free" bottle, that's not actually what's being offered. Providing this information and clicking "rush my order" brings up a page with three options: buy three bottles, get two free; buy two bottles, get one free; buy one bottle. The cost for a single bottle: $60.04 plus $9.95 shipping. (Also on this page, the website makes unauthorized use of the FDA's logo.)
Remember these red flags the next time you see a social media ad promoting a keto diet pill.
Find more of our coverage on supplements here.
---
You Might Be Interested In
COVID-19 Vaccine Scams
COVID-19 Vaccine Scams
FTC offers tips on how to avoid falling victim to a vaccine scam.
Your Super
Your Super
TINA.org review finds supplement company's website riddled with inappropriate disease-treatment claims.
Viralis RX – A True Downer
Viralis RX – A True Downer
This erectile dysfunction pill disappoints on all counts.