Judge Approves Facebook Settlement
Agreement gives members used in sponsored stories ads enough for nice lunch.
Facebook users included in sponsored stories on the A website that allows you to build a profile and connect with others who filed claims will receive $15 each as part of a $20 million settlement agreement approved by a federal judge this week.
Under terms of the class-action lawsuit settlement approved by U.S. District Court Judge Richard Seeborg Monday, Facebook payouts will also go to attorneys and organizations involved in consumer privacy issues.
The settlement stems from a class-action lawsuit filed in California by five users in 2011 who said Facebook shared their "likes'' of certain advertisers without their consent in the form of sponsored stories. Facebook earned about $73 million in profits from the sponsored stories, or 60 cents per user included in the ads, according to court papers.
Some advocates objected to the agreement, saying it didn't go far enough to prevent Facebook from engaging in the same conduct in the future, still doesn't have sufficient protections for minors, and doesn't sufficiently award users.
Under the agreement Facebook can still post users' content in ads but will give users more control over how their content is used. Children have to opt out if they don't want to be used in Facebook's sponsored stories, instead of being automatically excluded as some consumer advocates had sought.
Judge Seeborg said the plaintiffs in the case faced a hurdle of proving harm from the sponsored stories. He wrote:
Going forward, operation of the Sponsored Stories program will be more transparent, and Facebook users will have a greater ability to see how and when their activities result in generation of Sponsored Stories, and to limit recurrences. The minor subclass, and parents of minors, will have further opt-out options. The injunctive relief, while not as robust as some would prefer, contributes to the conclusion that the settlement as a whole is fair, reasonable, and adequate.
Read more here about social networking sites and user content.
---
You Might Be Interested In
Ad or Not? Google Search Results for 'Silicon Valley'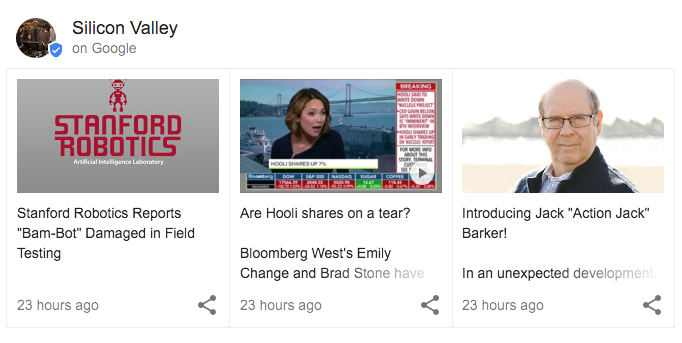 Ad or Not? Google Search Results for 'Silicon Valley'
Search engine results promote HBO show.
Ronaldo's Homeless Stunt: Is This an Ad?
Ronaldo's Homeless Stunt: Is This an Ad?
Ronaldo may very well be "a decent man" but this viral video is more ad than not.
Can You Spot the Ad: The Atlantic
Can You Spot the Ad: The Atlantic
Just how many ads does this news report lead to?