Fungus Eliminator
Forty-five million Americans are 'fighting a losing battle' against toenail fungus. Could this supplement be the solution?
There is a fungus among us.
Forty-five million Americans are "fighting a losing battle" against toenail fungus, PureHealth Research, the maker and marketer of Fungus Eliminator, claims in a video on the supplement's website that a reader sent in and that is embedded above.
Part of the problem is that toenail fungus is "one of the sneakiest" funguses  — or fungi, if you prefer – on the planet, the company asserts. To illustrate this point, the video shows a woman sitting on a couch looking at her your phone while the fungal spores that allow toenail fungus to spread – and that are invisible to the naked eye – fill the air all around her. Watch out, grandma!
Next comes the sales pitch: PureHealth Research claims that while topical treatments and drugs have proven ineffective at stopping toenail fungus, Fungus Eliminator is "a scientifically backed way to eliminate toenail fungus for good."
However, marketing supplements as having the ability to treat, cure, alleviate the symptoms of, or prevent developing diseases like fungal infections is simply not permitted by law. If a supplement could really do all that, then it would be a drug subject to rigorous study and testing to gain FDA approval.
PureHealth Research states in a disclaimer at the bottom of the supplement's website that the information on the site "has not been evaluated by the Food and Drug Administration" and that its "products are not intended to diagnose, treat, cure or prevent any disease." But the company's marketing suggests otherwise.
In addition, TINA.org took a look at the ingredient studies the company cites in support of its claims – which are also linked at the bottom of the supplement's website – and they aren't that impressive. (They're also not product studies – more on that to come.)
For example, one of the studies for garlic bulb – one of three "biblical herbs" in Fungus Eliminator – found that "garlic offers antifungal potential," emphasis added, but it tested the ingredient on "healthy and infected Swiss mice," not toenail fungus-infected humans. Meanwhile, the abstract of an ingredient study for wormwood – another of the biblical herbs – concluded it can be used for flavor and fragrance, as opposed to protecting against toenail fungus.
But, as we've noted before, even if PureHealth Research had more robust scientific studies to back up its claims, studies examining individual ingredients instead of the product as a whole may not be adequate to properly substantiate marketing claims. Among other things, certain ingredients may not be as effective when mixed with other ingredients than they are on their own.
But wait, there's more.
TINA.org found that PureHealth Research is also:
selling Fungus Eliminator as a

Recurring offers or subscriptions that continue to bill you until you take steps to shut down the account. These types of offers put the onus on the consumer to remember and to take action, allowing a company to keep gathering in cash from forgetful or busy customers. Be wary of these types of offers, and remember to stop services you no longer want.

, ranging in cost from $44.10 for one bottle to $178.20 for six bottes, that automatically bills consumers when their supply runs out unless they cancel their subscription, the details of which appear above an "add to cart" button but in fine print (consumers have complained to the BBB about unauthorized charges and difficulties canceling subscriptions);
using atypical testimonials that not only make unsubstantiated disease-treatment claims but also do not reflect the experience of the average customer (and simply saying "results not typical" is not enough to save the day; also, the company can't use testimonials to say what it can't say directly, i.e., that its product treats disease);
claiming in the title of the video on the supplement's website that consumers can "try this tonight" when it takes 2-5 days for the supplement to arrive;
requiring that consumers wait until "adequate time has elapsed to consume the product as directed on the label" before they can return the product for a refund; and
claiming Fungus Eliminator has zero side effects because it is "100% natural" when just because a product is marketed as natural doesn't necessarily mean it is safe.
PureHealth Research, which sells a bunch of other supplements, also uses scare tactics and dark patterns, such as claiming that "supplies may not last," to trick consumers into making decisions they would not otherwise make. Such deceptive tactics, among others, were the focus of a 2021 TINA.org investigation into publishing giant Agora.
TINA.org reached out to PureHealth Research for comment. Check back for updates.
Find more of our coverage on supplements here.
---
You Might Be Interested In
Olly Gummies
Olly Gummies
Unapproved drug claims abound.
Micro-Particle Colloidal Silver Generator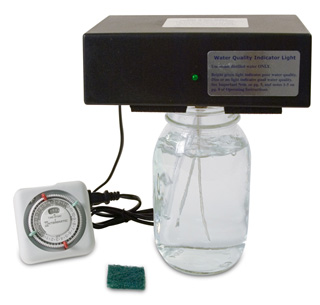 Micro-Particle Colloidal Silver Generator
NAD inquiry generates a referral to the FTC after company fails to substantiate health-related claims.