If you've ever had the stamina to sit down and try to read a credit card disclosure statement (often the size of a paperback novel), you know that the Sometimes termed "mouse print" or, more benignly, "disclosure language", and presented in miniscule font. It is there to take back every enticing offer made in the ad. can be particularly bewildering.  We've highlighted a couple of attractive product ads that appear fairly straightforward – until you get to the fine print.
 Example 1:
This American Express ad grabbed plenty of attention with the super attractive 5% cash-back feature on its AmEx Blue card, which the company had been promoting since 2003:
 But this An online ad (which may or may not be in the shape of a banner) that, when clicked, will take you to the advertiser's website. Has the distinction of being one of the first kinds of internet advertising. never bothers to point out that you don't start getting 5% cash-back unless and until you make over $6,500 in charges on groceries, gas, and drug store products.  Until you reach that mark, you're earning all of 0.5% or 1.0% back on your purchases.  Oh, and once you spend the required $6,500, your 5% cash-back is only good until the end of the calendar year.
 American Express was slapped with numerous lawsuits from furious card holders who alleged that they were duped by the misleading ads.  The company discontinued its tiered rewards program in 2011.
Example 2
Here's an online ad for a Citibank card that boasts a 0% Annual percentage rate; the amount of interest charged to a credit card, loan or mortgage account balances annually. for the first 21 months of the life of the account, and no annual fee.  That's definitely a compelling offer.  Let's take a closer look and figure out if we should apply for the card.
 Now, let's take a look at the accompanying disclosures:
As you might expect, the APR on the card increases after the introductory period to either 12%, 17%, or 21% depending on the credit risk of the customer.  Note that Citibank doesn't explain at all how it decides the creditworthiness of the customer.  In the 2008 financial crisis major lending institutions routinely assigned loan applicants higher interest rates than those for which they were eligible – and did so purely as a way to make more money off of its customers.
Citibank also declines to mention in its ad that the APR it will charge on cash advances is a stiff 25.24% – a very high interest rate by any measure.  What's worse, customers who run into repayment difficulty will be charged a whopping 29.99%.
Customers are often drawn into applying for a card with an attractive teaser rate, then sign-up to accounts that have terms and conditions that are favorable to the bank, not the customer.  For consumers looking for credit who might stumble upon ads like these, we'd recommend that they read the disclosures carefully –  very carefully – before signing on the dotted line.
To do some comparison shopping for credit cards (as well as a host of other financial services products), you can visit websites such as BankRate.com.
---
You Might Be Interested In
American Express Mailing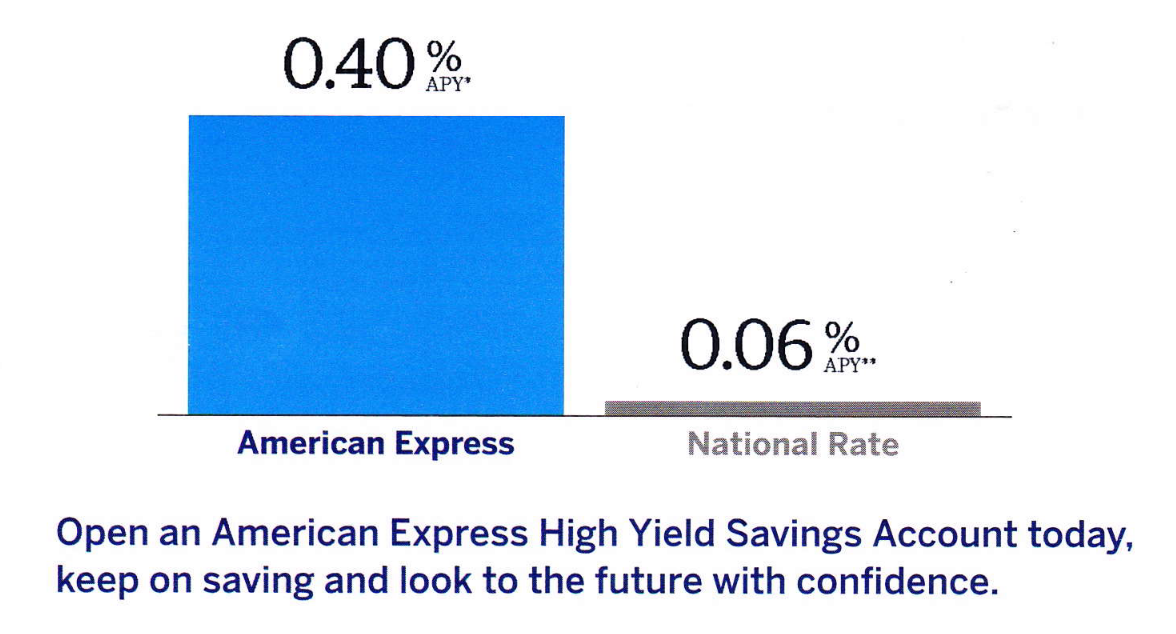 American Express Mailing
Bar chart in Amex mailing exaggerates annual rate of return for advertised savings account.
TINA.org Webinar: FTC's Remedial Authority After AMG
TINA.org Webinar: FTC's Remedial Authority After AMG
In case you missed it, watch the webinar with FTC Commissioner Rohit Chopra.
When an Amex Gift Card Winds Up in the Wrong Hands
When an Amex Gift Card Winds Up in the Wrong Hands
Amex will send you a replacement card. It just might not have the original balance on it.