FanDuel and Gronk's Kick of Destiny Super Bowl Promotion
Think you can bet on Gronk to make (or miss) a field goal? Think again.
|
UPDATE 2/13/22: Gronk missed the kick but it didn't matter — FanDuel's deceptive $10 million in bonus bets was awarded either way. Our original ad alert follows.
For its first-ever Super Bowl commercial, FanDuel is going big. The sports betting app has enlisted former NFL player and non-USAA member Rob Gronkowski, aka Gronk, to attempt a field goal on live TV during the game with "$10 million on the line." FanDuel is calling it the "Kick of Destiny."
But if you want to bet on Gronk to make (or miss – he did play tight end) the kick, which will reportedly be a 25-yarder, that's not actually how the promotion works. Rather, you bet at least $5 on the Super Bowl with FanDuel, such as which team will win or how many total points will be scored, and, win or lose, you get your share of $10 million in bonus bets if Gronk "kicks a field goal."
The terms and conditions of the "Kick of Destiny Bonus" promotion state:
If you place an Eligible Wager, regardless of if your Eligible Wager wins or loses, you will receive Sportsbook Bonus Bets equal to an amount ranging from Five Dollars ($5) to Twenty Dollars ($20) ("Promotion Bonus") if Rob Gronkowski kicks a field goal live during the third quarter of Super Bowl LVII (the "Kick of Destiny"). … The Promotion Bonus amount received may vary depending on the number of participants in the Promotion and your prior wagering activity on FanDuel.
In the ad above there is no verbal disclosure regarding how awards will be doled out; there is a written one — "in bonus bets" — which appears in a smaller size font under "$10,000,000" for two seconds as the narrator of the ad boasts about "$10 million" being "on the line." (And according to the ad's illegible fine print, $20 in bonus bets is the "projected" max award and bonus bets, which cannot be withdrawn, expire in seven days.)
Does Gronk have to actually make the kick to win?
However, nowhere in the ad, its fine print or the terms of the promotion does it say that Gronk has to actually make the field goal to win, even if that's how it's being reported by various media outlets. A YouTube user picked up on this, commenting on another Kick of Destiny ad uploaded to FanDuel's YouTube account:
Not trying to be that girl but the ad says he has to kick it. You can kick a field goal and miss it lol so does he have to make it. The wording on the ad is strange. I'm new to this just learning
Betting odds comparison site OddsChecker must have also noticed the language choice, leading to this apparent scoop:
A FanDuel spokesperson has stated that as long as Gronk turns up and attempts the Kick of Destiny, your share of $10 million in bonus bets, will be paid out. So bet $5+ on Super Bowl LVII now, knowing your bonus will be paid once Gronk kicks the field goal, even if he misses.
Meanwhile, the terms of the promotion state that:
FanDuel reserves the right to pay out the Promotion Bonus if the Kick of Destiny is not completed, or the field goal is missed. Prizes will not be awarded based on chance.
(…because that would be illegal gambling.)
So does Gronk need to make the field goal or not? Does he even need to show up? Or is FanDuel manufacturing this whole drama to get more people to watch its Super Bowl ad and place bets on its site?
TINA.org reached out to FanDuel for comment. Check back for updates.
Find more of our coverage on online sports betting here.
---
You Might Be Interested In
What You Should Know about Free Bets
What You Should Know about Free Bets
Seven terms that may apply to that enticing free bet offer.
PlaySugarHouse Sportsbook
PlaySugarHouse Sportsbook
Click here to read the full terms of this '$250 match bonus.' Then here. Then here.
DraftKings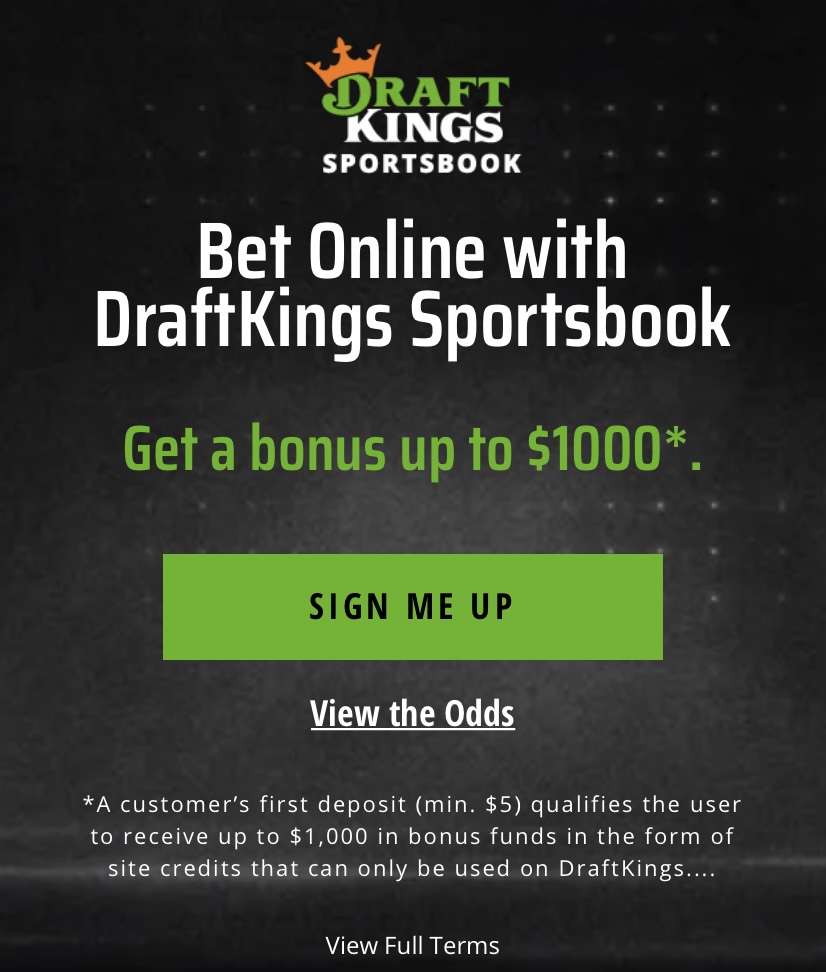 DraftKings
The lowdown on sportsbook's 'up to' $1,000 bonus.