So, by now, we hope that you have taken our advice on how to block pop-ups ads and limit the amount of spam filling up your inbox.  But though you may try your best to control the number of Internet ads in your life, marketers will always find ingenious and innovative ways to penetrate your ad-free zen.
Case in point, social media giant, Facebook, who is estimated to have generated over $3.8 billion in ad revenue in 2011, and is planning a $100 billion IPO in 2012, will soon begin to expand its "sponsored stories" feature.  Sponsored stories are ads promoting products or services that you or your friends "like."  Aha!  So that's why businesses were offering all those promotions in exchange for likes.
Until recently, sponsored stories were restricted to a space designated for ads on the right side of the screen.  Now, Facebook will be moving these ads directly to where the action is – into users' news feeds.  So, in addition to updates on your friend Elise's new puppy or highlights from your Uncle Aaron's birthday festivities, you may now find a story on how your BFF loves KFC chicken.  According to Facebook, the ads will be labeled as "sponsored," limited to one per day (for now) and will only feature stories from your friends or pages that you like.  Unfortunately, while you can click away individual ads, there is no way to opt-out of the program entirely or prevent being the star of what is essentially a commercial for a product or company that you like.  Small price to pay, some would say, for the FREE service that Facebook provides.  Plaintiffs in California don't agree, though, and have filed a lawsuit against Facebook for violating the state's Right of Publicity statute that prohibits the use of a person's name or photo in a paid ad without consent.
UPDATE: A federal judge approved a $20 million settlement August 26, 2013 regarding the lawsuit. Under the terms of the agreement, Facebook can still use faces in ads but will give users more control to over how their content is used. Consumer advocates, however, said the settlement did not go far enough, especially when it comes to protecting children. Children have to opt out if they don't want to be used in Facebook's sponsored stories. The settlement money will be shared by the class-action attorneys, all Facebook users who appeared in sponsored stories who filed claims and organizations involved in consumer privacy issues.
---
You Might Be Interested In
Ad or Not? Google Search Results for 'Silicon Valley'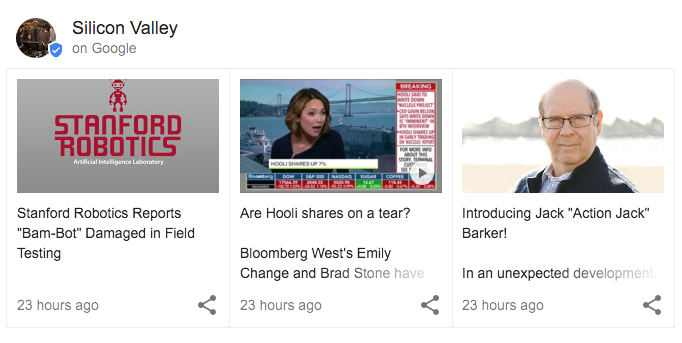 Ad or Not? Google Search Results for 'Silicon Valley'
Search engine results promote HBO show.
Ronaldo's Homeless Stunt: Is This an Ad?
Ronaldo's Homeless Stunt: Is This an Ad?
Ronaldo may very well be "a decent man" but this viral video is more ad than not.
Can You Spot the Ad: The Atlantic
Can You Spot the Ad: The Atlantic
Just how many ads does this news report lead to?