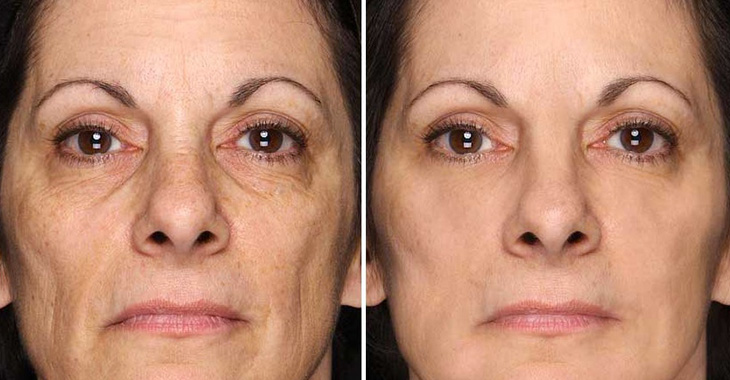 We recently received a tip from a reader about Equinox Anti-Wrinkle products, which are currently being advertised around the web. Equinox sells moisturizers that are supposed to dramatically improve the appearance of facial wrinkles.
Equinox claims it can "eliminate wrinkles to 83% within just 2 days" and "increase moisturization of the skin 440% in less than 2-days."  Human skin is about 64% water to begin with. We can only assume that one of the instructions for use of these products is "stick your head in a bucket of water."
Results like this are simply not possible with a cream. One of the pictures (not the lady at the top) used on the site is from a before-and-after picture illustration of dermal filler results posted on at least a couple other sites, if you need a more compelling hope-killer.
Equinox's free trial is a Recurring offers or subscriptions that continue to bill you until you take steps to shut down the account. These types of offers put the onus on the consumer to remember and to take action, allowing a company to keep gathering in cash from forgetful or busy customers. Be wary of these types of offers, and remember to stop services you no longer want.. If you order the free trial (which comes with a $3.95 shipping fee), you will have 14 days from your order date to receive the product, try it, and send it back before you are charged. At that point, you will be charged. From their terms (emphasis added):
If you do not cancel before the end of your 14-day, we conceder you as our valued member of automated home delivery program and charge the credit card on file the full price of $99.00. $105.95 ($99.00 + $6.95 Shipping & Handling) will be charged on the 30th day from the order and 30days there after your credit card on file will be billed for the fresh pair of full 30-day supply of EquinoxDnA until you choose to cancel the autometed home delivery program. No further notice will be sent by the Company to you.
We see a lot of negative option-offers at TINA.org; this one is a gem. First of all, does "a fresh pair of Equinox" sound like underwear to anyone else? Second of all, they use super-fun (i.e., really bad) spelling and grammar in the offer terms, which are supposedly official. Lastly, why are you charged shipping twice for that first month's supply?
There are enough complaints online in search results for Equinox and enough evidence from looking at their site to advise caution in ordering their free trial.
The reader also mentioned another anti-wrinkle product called RVTL, which has a similar set of claims and similar negative-option offer terms written by a similar spelling-challenged lawyer. Probably worth using similar caution.
So what do you do if you already signed up and you want to stop getting charged? First, remove your head from the bucket of water. Then, contact (better to do in writing in case it doesn't work) Equinox or RVTL and cancel. If that doesn't work, the fastest way to get your money back is to dispute the charges with your credit card company and get a chargeback. If you used a debit card, cancel it and get a new one. If you are sending them cash, stop doing that.
For more information about canceling payments, see How to File a Dispute with Your Credit Card Company.
To read more about things people do to their faces, see In Your Face.
---
You Might Be Interested In
Safe & Healthy Disinfecting UV Light
Safe & Healthy Disinfecting UV Light
When it comes to UV devices and COVID-19, there is no magic wand.
Theraworx Relief
Theraworx Relief
Pharmacist testimonials at the center of advertising inquiry head to the FTC for further review.
Naples Soap Company
Naples Soap Company
From "cruelty free" to "Made in the USA," TINA.org finds personal care company's marketing awash with questionable labels.