April 2020: This case was voluntarily dismissed When a complaint is dismissed with prejudice, it cannot be refiled., the reasons for which have not been disclosed.
August 2019: Plaintiffs filed an amended complaint adding allegations that the company misleadingly claims that the products contain "0g Sugar" without also disclosing that they are not low in calories, in violation of federal regulations. The amended complaint also omits the Rainforest Alliance certification allegations.
May 2019: A class-action lawsuit was filed against Bulletproof 360 for allegedly deceptively marketing Bulletproof Cold Brew Coffee as:
A healthy alternative to regular coffee when, according to plaintiffs, the products contain a high level of saturated fat;
"Power[ing] your brain," providing "efficient high-energy fuel," and "giv[ing] you [] energy and focus" when, according to the complaint, the company does not satisfy the federal requirements for making such claims and scientific evidence does not support the claims;
Containing "grass-fed butter" that "helps push the calcium to your bones – not your arteries" when, according to plaintiffs, scientific evidence does not support this heart health claim; and
"Rainforest Alliance Certified" when, according to the complaint, they are not certified by the Rainforest Alliance.
The complaint also alleges that the coffee is misbranded because it meets the federal definition of an over-the-counter stimulant without also satisfying the federal requirements to be considered safe and effective. The company also allegedly fails to disclose the fat and saturated fat content, as required by federal regulations for products with high levels of fat. In addition, plaintiffs claim that the "Essential for Hair, Skin, & Nails" claim on Bulletproof Cold Brew + Collagen Protein products is not allowed by federal regulations and, therefore, unlawful. (Altes et al v. Bulletproof 360, Inc., Case No. 19-cv-4409, C.D. Cal.)
For more of TINA.org's coverage of the marketing of coffee products, click here.
Bulletproof Coffee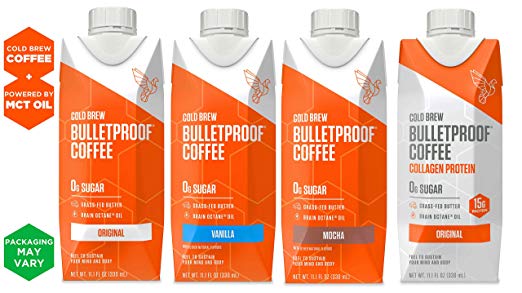 Bulletproof Coffee
If you take your coffee with a stick of butter, be wary of miracle health claims.