The Prize Is (Not) Right
Auto dealership prize is not all it's cracked up to be.
| Roger Kimball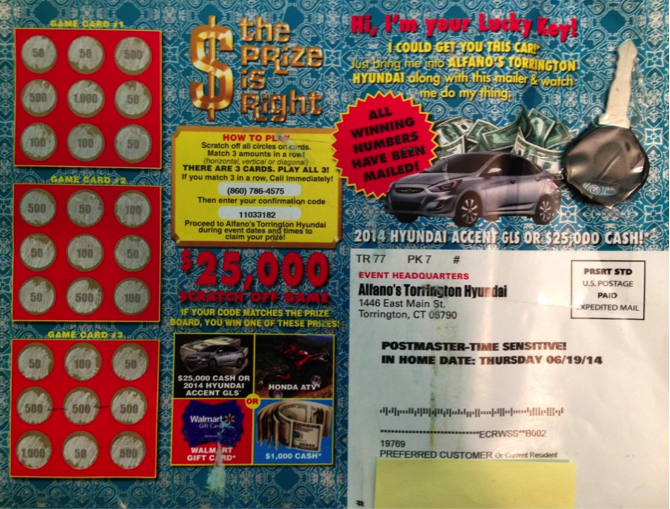 Last week I received an exciting piece of mail from the local Hyundai dealership. Bold gold dollar signs on the left side of the flyer beckoned me to scratch away at three game cards, while a "Lucky Key" taped to the flyer urged me to bring it into the dealership to "watch me do my thing." Among the prizes in the offing: a new 2014 Hyundai Accent GLS or $25,000, a Honda ATV ($5,000 value!), $1,000 cash, and $5 Walmart gift card.
According to the rules of the scratch game, you scratch off all of the circles and if you match three amounts in a row, "Call immediately!"
I was skeptical about my chances. But what the heck. No harm trying my luck. I scratched away. Game Card #1 … two in a row, but nope. Game Card #2 … again, two in a row, but no cigar. See, I knew I wouldn't win anything. Game Card #3 … 500 … 500 … and … wait for it … 500!!!
Seriously? This never happens to me. I never win anything. I managed to reel in my enthusiasm and started plotting how to collect the money and exactly what I would do with it.
I figured I might need to stop by the dealership and indulge in a brief sales pitch. The purpose of this promotion, after all, was to sell cars. But I could handle that. I searched the fine print camouflaged on the flyer as "OFFICIAL RULES" that stated: "No purchase or submission to sales presentation necessary…" Cool.
Next, I called the phone number, as instructed, expecting to discuss the logistics of how I'd receive my money. I was prompted to enter my confirmation code. Then I was prompted to answer some questions. Like when would I be able to purchase a new car? And what was my income? I didn't really want to provide this personal information, but it seemed like the only way to advance through the call and get to a live person. I wasn't going to let a few basic questions get between my cash prize and me. But after answering the questions a recording informed me that was the end of the call and directed me to visit the dealership. Fair enough.
To the dealership I went. The salesman was in fact a straight shooter – someone I might actually be willing to buy a car from – and undoubtedly the highlight of my visit. He was quick to point out that the promotion was actually organized by a third party, "American Hole 'N One" based in Buford, Ga. We went through the motions of the promotion and briefly discussed my own car needs, etc., etc.
Here's the bottom line:
The very real looking key taped to the flyer does not do anything. It's simply a gimmick designed to get people in the door who figure, based on that "do my thing" promise, you could physically turn it and win big.
My confirmation code, of course, did not match any of the winning codes for the big prizes.
The three 500's I scratched off in a row? I learned that "everybody gets those." And more importantly, the only way to redeem them is in the form of $1,500 applied toward the purchase of a new car. No purchase, no redemption of your $500's.
On the bright side, I was due a $5 gift card to Walmart. They had run out of them, though. Not to worry – they'd mail it to me.
Although I was not surprised by the outcome, I was, nevertheless, disappointed. The scratch off 500's were certainly misleading and in retrospect were no more than a ploy strategically designed to get people's personal information and get them into the showroom. On the face of it this promotion cost me nothing. Yet it did cost me the personal information I shared on the phone, the time and fuel expense to visit the dealership, and a fraction of my dignity.
Having given the Hyundai flyer an undeserved benefit of the doubt, I have redoubled skepticism for promotional mailings and car dealers. And so should you.
---
You Might Be Interested In
Taxes Shouldn't Be This Taxing
Taxes Shouldn't Be This Taxing
How tax preparation services may actually make your life harder.
Midas Oil Change Coupon Stalls at Checkout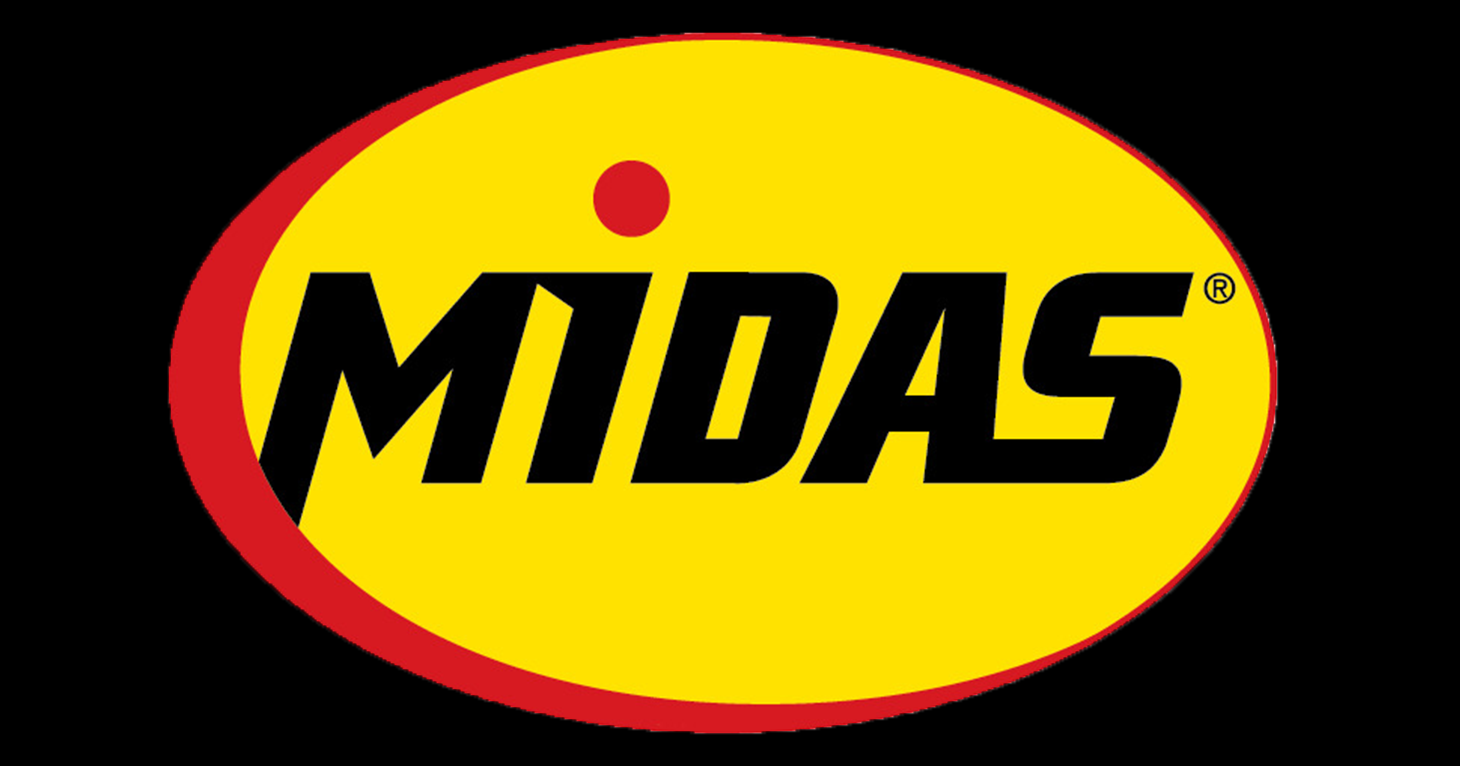 Midas Oil Change Coupon Stalls at Checkout
A coupon only a mechanic can love.
Chevy Says Its Silverado Is 'The Official Truck of Real People.' Really?
Chevy Says Its Silverado Is 'The Official Truck of Real People.' Really?
Not all of the puffed-up claims in this TV ad can be defended as puffery.