Flat Tummy's Outrageous Marketing Tactics Need to Stop
"Detox" tea company's influencer-driven marketing claims fall flat.
| Bonnie Patten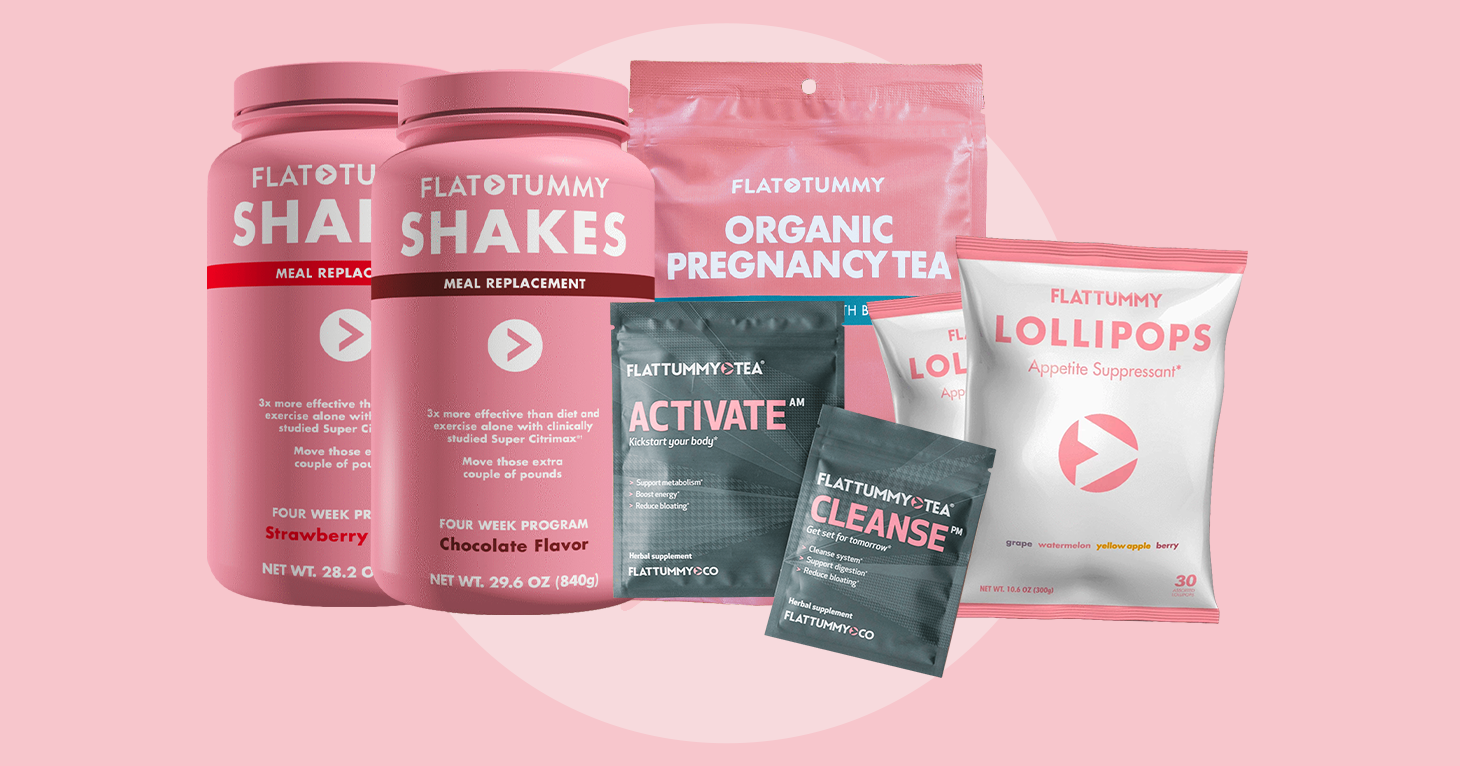 While there's no doubt that the Flat Tummy Company has done an impressive job of marketing its products all over social media, I have issues with at least three of the marketing tactics the company is currently using to sell some of its products, including its flagship detox tea — a pretty, pink and magical product that is nothing more than a laxative in a bag — plain and simple. (Consumption of the tea will have you looking for the loo 6 to 12 hours later. And the product is not about to help you lose weight, either.)
1. Using Teenagers to Market a Laxative
On Flat Tummy's product packaging for the detox tea it says, "Millions of babes on social[.] Check it out @flattummyco," and it's not kidding. The company is literally marketing its detox tea — which contains the laxative senna — using teens. To be precise, yesterday it posted a photo of a 16-year-old dancer to its Instagram account with the caption, "'Been a bit off track lately, but ready to get back to feeling light and boost my energy!' we got you, [16-year-old influencer] #flattummytea #flattummyco." No! Teenagers should not be using laxatives in an attempt to "feel light" or "boost their energy." It's a dangerous and irresponsible marketing ploy for this company to promote its laxative using kids.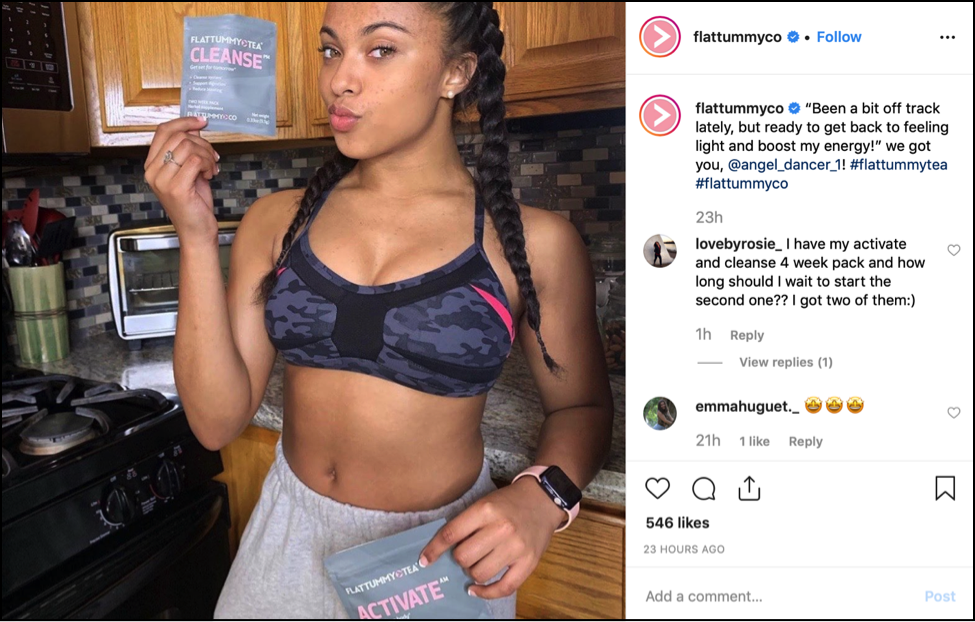 In case you thought this was an isolated incident, the company followed up about 12 hours later with a photo of a 17-year-old to promote another one of its products. Oh, and let's not forget about the delights of its supposed appetite-suppressing lollipops — I'm sure the kids are going to love them!
2. Making Inappropriate Health Claims to Pregnant Women
Flat Tummy has recently launched an Organic Pregnancy Tea, which it claims can "Reduce Occasional Nausea" and "Helps boost the immune system . . .." Hmm. This sounds an awful lot like inappropriate health claims. In fact, it's not too far off the type of health claims that got Kim Kardashian in hot water a few years ago. But fear not, according to Amber Rose, Flat Tummy's pregnancy tea is "safe to take while pregnant and breastfeeding."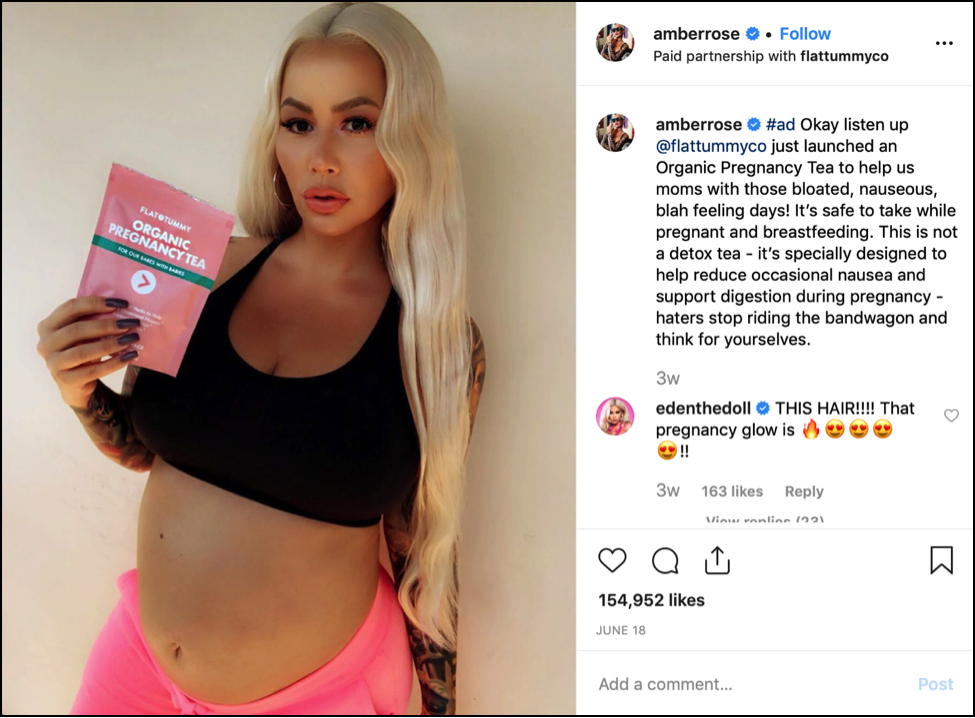 A rather curious statement given that the company's website says, "Please do not use the products available on the Site when pregnant or breast feeding."

3. Failing to Disclose What's Really Behind the Flat Tummy
Call me crazy but I don't believe that the Kardashians look the way they do as a result of using Flat Tummy products. In fact, some have questioned whether the sisters even consume the various products they endorse on social media (if they don't, that would be a violation of the FTC endorsement guidelines but that's another matter). No doubt exercise and proper diet, among other things, play a substantial role in these women's lives and Flat Tummy should disclose such material facts when it's using endorsers, like the Kardashians, to promote its products.
---
You Might Be Interested In
Prevagen: The Dismal Facts & Figures that Led to TINA.org's Objection
Prevagen: The Dismal Facts & Figures that Led to TINA.org's Objection
Pending class-action settlement leaves consumers behind.
TINA Weighs in on New Rules for Investment Adviser Advertisements
TINA Weighs in on New Rules for Investment Adviser Advertisements
After almost 60 years, it's time to update advertising law.
Prevagen Is Going to the Dogs
Prevagen Is Going to the Dogs
Second Circuit rules FTC/NY case against Prevagen can proceed.