Zyia
Prohibited income claims remain in publication despite consumer complaint to MLM's compliance department.
When it comes to the typical earnings of its representatives, Utah-based activewear Multilevel Marketing – a way of distributing products or services in which the distributors earn income from their own retail sales and from retail sales made by their direct and indirect recruits. Zyia (aka Zyia Active) doesn't have the numbers. Or it does but it's not sharing them with distributors.
Whatever the case may be, Zyia representatives are prohibited from making income claims because of a lack of data, according to section 13 ("Income Claims") of the company's policies and procedures. This section states that:
Because ZYIA ACTIVE Representatives do not have the data necessary to comply with the legal requirements for making income claims, a Representative, when presenting or discussing the ZYIA ACTIVE opportunity or Pay Plan to a prospective Representative or to others in any context, may not make income projections, income claims, or disclose her or his ZYIA ACTIVE income (including, but not limited to, the showing of Commission information, bank deposit records, bank statements, tax records, etc.)
In a subsequent section of the policies and procedures Zyia warns that a failure to abide by these terms and conditions may result in suspension or termination of the representative.
Yet neither consequence appears to have befallen a top distributor, even after the company was made aware of a July 11 Facebook post by the representative, Emily Foster Eisenach, touting clear income claims. Among them:
"All I wanted was to replace our Previous companies income. Little did I know that it would succeed what we made in our previous company."
"paid off some SERIOUS debt and saved our home that we thought we would lose"
"paid for a sprinkler system, driveway, grass, mulch, an above ground pool"
"cut back from 3 days a week to 2 at the hospital"
In fact, according to emails between the MLM's compliance department and the consumer who alerted it to the Facebook post, provided to TINA.org by the consumer, Zyia defended Eisenach, writing, "Since she is not disclosing dollar amounts, then it is not a violation of policy."
However, this point of view is at odds with the FTC's Business Guidance Concerning Multi-Level Marketing, which does not limit income claims to explicit references to specific earnings. Also, the language used by the Zyia compliance department does not appear anywhere in the policies and procedures.
As of this writing, the July 11 Facebook post is still up, as are these additional Facebook posts by Eisenach containing similar income claims related to the Zyia business opportunity.
Zyia did not respond to a TINA.org request for comment. Check back for updates.
Find more of our coverage on multilevel marketing here.
---
You Might Be Interested In
BlackOxygen Organics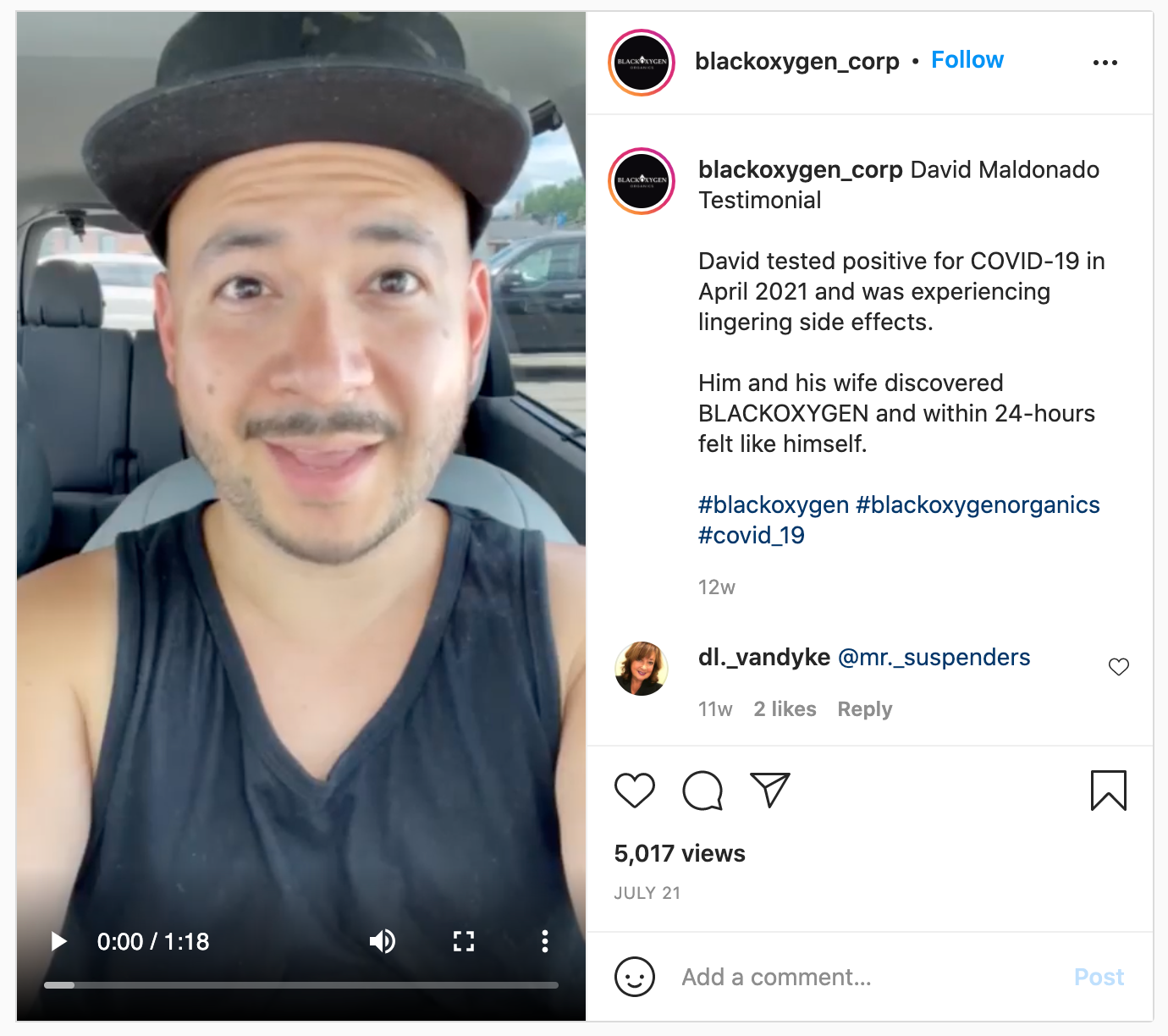 BlackOxygen Organics
Spoiler alert: MLM's products have not been proven to alleviate the symptoms of long-haul COVID.
The Hundred Thousand Dollar Puzzle by David Dobrik
The Hundred Thousand Dollar Puzzle by David Dobrik
YouTuber-turned-TikTok star pieces together a deceptive pitch.
Court Unseals Revealing Docs in LuLaRoe Pyramid Case
Court Unseals Revealing Docs in LuLaRoe Pyramid Case
LuLaRoe's founders on the hotseat in Washington's pyramid case against the company.